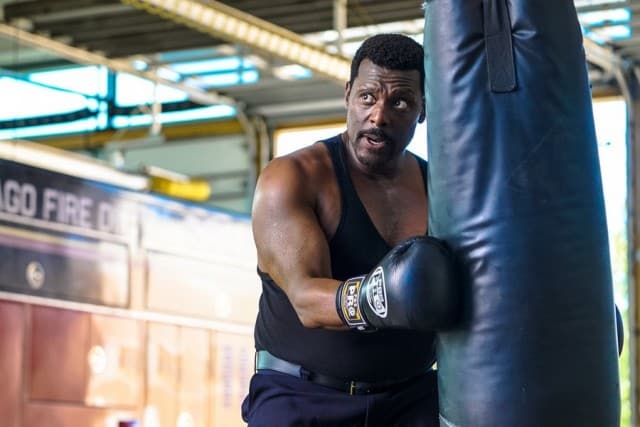 This week on Chicago Fire, the investigation against Chief Boden intensifies. Clues surface as to who is really behind the set-up, but is it already too late to change the outcome?
The strain of the situation with Boden has everyone on edge. Not only is the whole house worried, Donna is fit to be tied. The assistant state's attorney, Steve Cott, informs Boden that his assault case puts him at risk as a viable witness against Maddox, the arsonist who Gabby helped catch. The detective on Boden's case won't listen to his theory that Maddox is setting him up, especially since Serena has now disappeared. Boden becomes even more enraged when he sees the strain the situation is taking on Donna. He does the one thing he shouldn't do and confronts Maddox himself to put him on notice.
Mouch relays even worse news that Riddle wants Boden's head even more after the display at the gala. Severide wants to help his Chief so badly that he swallows his pride and goes to see Jamie. He asks her to help them find the truth, but she won't compromise herself. She does however, react to hearing Serena's name, so Severide knows he's on the right path. Time will tell if she does the right thing and helps the Chief out.
After last week's conversation with Severide, I had hoped that Patterson would cool down on playing politics, but my hope was all for naught. He starts by telling Cruz that Freddie can't be such a regular fixture at the firehouse anymore. Even worse, he continues to play both sides of Riddle's conflict by offering to take over for Boden should he need to take some time off. Boden sees Patterson is very good at this game, but eventually, he's going to have to choose a side.
While the whole house is present, one member seems a bit lost. Chili chose the worst day to be late for shift. When Boden calls her out, she offers a half-hearted apology and an even worse excuse. He warns her she's on thin ice, and rather than be affected by it, she acts as if nothing is wrong. Worse so, when Jimmy stops by her place to check on her, her life and attitude shows signs of disarray. Something is definitely going on with this girl.
To bring some sort of levity into the episode, the house rescues a turtle from a fire. With animal control at capacity, the team is left in charge of the turtle. Mouch dubs the tortoise Leonardo, and he becomes the unofficial house mascot while they try to find his owner. Turns out Brett and Chili rescued Leonardo's (whose actual TMNT namesake is Donatello) owner, who should make a full recovery. Otis tries to ask Brett out for another date, but he's beaten to the punch by a handsome man the house rescued earlier from a car crash. Still not sure this was the best pairing to begin with, but regardless, Otis is overdue for a nice girl.
That's about as much happiness that happens in this episode, all leading up to the worst moment of the season. Boden tries to relax with his house, only to be arrested at Molly's in the final minute.
When will this conspiracy end? When it does, whose side will Patterson be on?
[Photo credit: Elizabeth Morris/NBC]