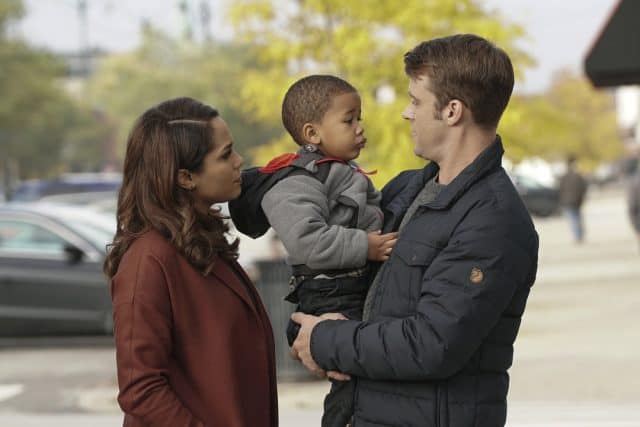 It was inevitable that the building joy of watching Chicago Fire's residents go through during the first half of Season 5 would come to a heart-wrenching halt. The show really did dole out some difficult emotional and physical pain to its firefighters. After all, these are people who are used to dealing with life and death situations everyday. They're not afraid to risk their lives to save people; risking the heart is a whole other matter.
The day actually starts out promising for all concerned. Everyone seems to be getting their way. The biggest worry in the house is Brett trying to learn chess to bond with Antonio's son and Otis trying to shoot an edgy recruitment video for the CFD. The little problems soon seem insignificant.
Severide's day starts out pretty great when Clarke tells him that the bone marrow donation is back on. Unfortunately, Severide has to jump out a window to save himself on a call. Miraculously he survives with nothing more than severe bruising, but that is enough to disqualify him from the bone marrow donation. Severide's been in more life-threatening situations than most people ever have, and he's never looked more helpless than when he had to apologize to Anna for not being able to donate. What Severide doesn't realize until Dawson brings it up, is that the reason they won't perform the surgery is because of the general anesthetic. Of course this gets Severide thinking he has a superabundance of strength, and he demands to go through with the procedure without anesthesia. Initially Ms. Goodwin shoots down the idea without question, but when has Severide ever taken no for an answer? God only knows how Severide managed to not only push through the excruciating physical pain, not to mention downplaying it later, but Severide does donate his bone marrow to Anna. Despite Stella being his friend through this entire process, it would seem that the bond between donor and recipient has grown, and will only grow stronger.
Dawson and Casey get good news about Louie, but it comes in an unexpected way. It is with great difficulty that Andre relinquishes his parental rights because he is deploying back to Afghanistan. Given the circumstances, they feel that Louie should spend a little time with his biological family before Andre deploys. That kind gesture backfires when Andre decides he can't live without Louie. Instead he asks his superior officers for a reassignment closer to home so he can take full custody. Dawson and Casey want their son, but are reluctant to get excessively dirty and put Louie through an ugly custody battle. Once Andre shows them that he has a big, loving family, Dawson and Casey just can't go through with the fight. With tears in their eyes, they let Louie go.
Has Severide unexpectedly found his new match, or is this just another passing flame? Perhaps Severide can be our hope for Firehouse 51 while Casey and Dawson heal from losing their son. Whatever happens next, Boden's strong words in the CFD video about family will still hold true.
Chicago Fire Season 5 Episode 10 Review: "The People We Meet"
Summary
Dawson, Casey, and Severide try to push through tremendous emotional and physical trauma on this week's heart wrenching Chicago Fire.