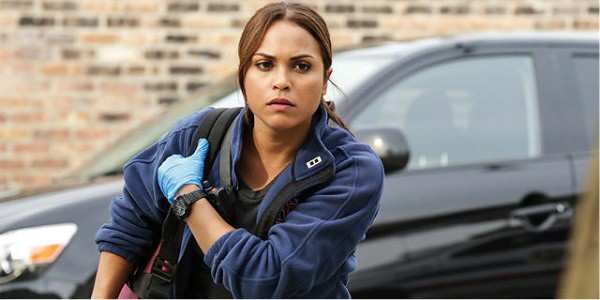 Fans of Chicago Fire have been experiencing lots of emotions over the last week. NBC confirmed that the series would return for a 7th season alongside sister dramas Chicago PD for season 6 and Chicago Med for a fourth season. The network also announced that for the first time all three shows will air on the same night. Wednesdays have never looked this awesome! However, it was confirmed that one of Chicago Fire's stars will not be back in the fall. Monica Raymund, who has played paramedic Gabriela Dawson since day one, has vacated the series.
The actress took to social media to announce her departure from Chicago Fire. She announced, "It has been an honor to play Dawson on Chicago Fire and one of the most meaningful experiences of my life. I am so thankful for the journey and especially to all of you for watching, but I have made the decision that it's time for me to move on to the next chapter of in life. I'll always be proud to have played a fierce paramedic with such an incredible cast and crew. On to the next. See you on the ice."
Chicago Fire ended season six with Dawson possibly heading to Puerto Rico to assist with the victims of Hurricane Maria. This ending could have been created as Raymund was in contract negotiations regarding her return to the series. Had the actress not agreed to come back, there was already a story in place to write out her character who has been a staple on the show since its inception.
Fans of the Chicago franchise also said good-bye to Elias Koteas, who will not be back to Chicago PD. His character was killed in the first few moments of the season finale. Last year, star Sophia Bush left the series due to a hostile work environment. Hopefully no more stars will be vacating the franchise, or NBC is going to have several million angry fans to deal with during the summer break.
Are you sad to see Dawson leaving Chicago Fire? Let us know in the comments section below.
Photo by: NBC