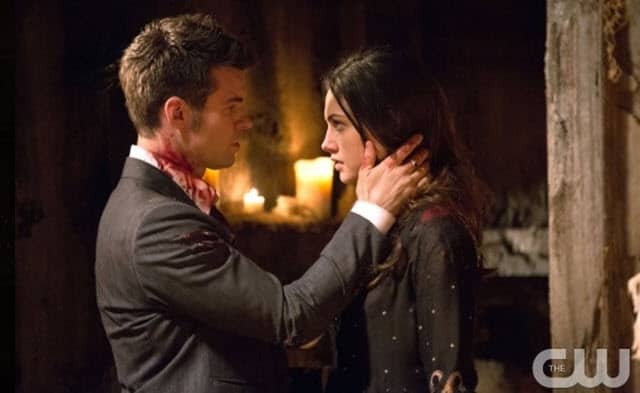 Talk about an emotional rollercoaster. This was such a fantastic season finale of The Originals, but did you really expect anything less? I thought a couple of my favorite characters were goners at different points in the hour but it all worked out perfectly in the end.
Starting off with that beautiful dream with Hayley's voice over of a letter to her unborn daughter, I was a little nervous that maybe this was a hint that Hayley isn't long for this world anymore. Then after the witches delivered her baby and consequently slit Hayley's throat, I really thought she was dead. Klaus was right there to witness the birth of his daughter (although he was kept away by the witches) but he wasn't even able to save Hayley once they did cut her throat, grab the baby, and run.
Possibly the most gut-wrenching scene followed after Elijah found Klaus cradling Hayley on the altar of the church. They took off after the witches to save the baby at least, but Elijah's devastated. Klaus has to console his brother by gently reminding him of the greater issue at hand, which is to find and save his niece from being sacrificed so that her mother's death wouldn't have been in vain. Cut to Hayley waking up in the church. Yay!
Hayley finds the brothers in the cemetery, which is actually one massive illusion set up to throw the vampires off from finding the witches. Anyway, Hayley is in transition to become a hybrid because she died with the baby's hybrid blood still in her system. That makes sense, but what I still don't understand is why it was necessary for her to drink her daughter's blood to complete the transition. I thought all transitioning vampires just need to drink any human blood, not the same vampire whose blood was responsible for changing them. I'm curious to see if Hayley's new status as a hybrid will complicate things with Jackson next year. Maybe it'll void her betrothal? On the other hand, this solves her problem of not having a moonlight ring now that she's not pregnant anymore.
Mama wolf feels a connection to her baby which brings them right to her just before Genevieve is ready to kill the baby. Genevieve flees the scene and Klaus takes out witch #3. Marcel showed up just in the nick of time to use one of Kieran's weapons on Monique as she was about to complete the sacrifice herself. I am so happy that witch with a capital B is finally gone. She's been nothing but trouble ever since she came back from the Reaping.
Hayley and Elijah catch up to Genevieve and torture her for answers about this sacrifice. Before Hayley's heard enough and stabs the witch, Genevieve did reveal that Esther is responsible for basically putting this hit out on the baby. She assures them that "as long as that child lives, the witches of New Orleans will never stop coming for it." Uh-oh.
In the mean time, Marcel fled the cemetery with the baby to lure Klaus back to the compound. He has no ill intentions toward the baby, and he was accepting his inevitable death from Klaus' deadly bite. "This is the last note in a song that I started a century ago when I brought your dad to town. For that I am sorry," Marcel apologizes to Klaus. Klaus forgives him for ultimately saving his daughter's life and saves Marcel in turn. This was such a sweet scene when Klaus finally got to hold his daughter for the first time, and of course a recently resurrected Mikael was witnessing it unbeknownst to them.
Davina succeeded in bringing Mikael back to life since the birth of the miracle baby essentially gave her all the power she needed to draw on for this spell. Just as Mikael was about to enact his revenge on Klaus, Davina proved that she had something else up her sleeve when she concocted the spell. By adding a special ingredient of her own, she alone has control over Mikael with the intention of keeping him locked up in the church attic as a secret weapon to be used when she finds that the timing is right to punish Klaus. Honestly, can't Davina just leave well enough alone though? She was able to save Josh, and she'll soon learn that Marcel made up with Klaus, so can't she move on already? If it wasn't Klaus who killed her friend Tim, surely he'd have been caught in the crossfires of any of this supernatural warfare eventually.
I absolutely loved the ending. Hayley, Klaus, and Elijah decided that it's in the baby's best interest to be as far away from the city as possible. They couldn't risk this miracle baby being adopted into a human family anywhere, so it only made sense to send her off with her Auntie Bex. That's right, Rebekah was back! Klaus brought his daughter to her while Hayley and Elijah made a public appearance to grieve the death of the baby in order to convince everyone that she died in an attack by the wolves.
"In spite of our differences, Rebekah, there is no one I trust more with my daughter's life," Klaus said as he handed the baby over to his sister. If you weren't in tears for the 5th time at this point in the episode, you're lying. This was a brilliant way to bring Rebekah back, and hopefully once they defeat Esther for good, Rebekah and baby Hope can come back to New Orleans for good. I'm not sure if Hayley agreed on the name Hope in a deleted scene or if Klaus really came up with it on the spot when Rebekah asked what her name is, but it is very fitting. Earlier in the episode a distraught Elijah was declaring the baby and Hayley as this family's last hope and (at the time) they were both gone.
After that touching scene, we're taken back to a cemetery with who appeared to be a couple more random resurrected witches. It isn't until the name on the headstone they're visiting is revealed to be Esther's before we realize that somehow the Original witch is back with a son in tow (Finn, probably?) I'm assuming she's here to do her bidding herself since none of the witches were able to fulfill the sacrifice. She'll know that the baby's death was faked and will no doubt stop at nothing before she finds her. Hopefully Rebekah finds a really powerful witch to help protect the baby!
We saw a handful of witches die tonight, but there will surely be more to rise to power. There's still the problem of the Guerrera and Crescent wolves. Add onto that the fact that Mikael and Esther are both back, and we're set up for another thrilling season in the fall!
What'd you think of the finale and the season as a whole?
[Photo via The CW]