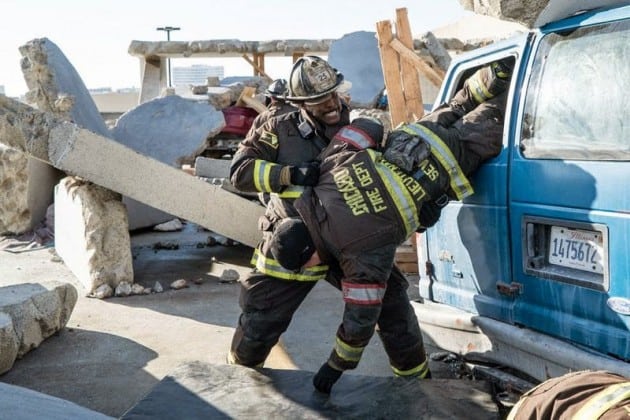 Boden is back and all is right with the world! At the very least we've seen the last of Chief Incompetent and have some order restored to the house this week on Chicago Fire.
Severide pitches an old friend to Boden as a new member for the firehouse rescue squad. We know Severide has a history of loyalty to his friends, even the ones who don't necessarily deserve it. His friend Scott seems to fit in well the group, but the problem is Mills was counting on getting his old position back on squad. Mills seems to be falling back into old patterns, pushing his way into non-paramedic needed situations in order to prove himself. It looks as if Scott may be here to stay, though. The first reason is because Mills has to go through an intensive series of medical tests before he can be cleared for the squad, and he can't fail even one. The second reason is that Scott truly does need the job more than Mills, since he is a single widowed father.
Speaking of fathers, after deciding not to meet his child last week, Mouch receives a visit from the boy he walked away from. It turns out Mouch doesn't have a son, but rather a daughter with a very overprotective brother who wanted to check Mouch out before letting him near the girl. After some encouragement and intel gathering from Trudy (seriously, Mouch really lucked out in the girlfriend department), Mouch goes back to Emmett and pleads with him to allow him to see his daughter. Mouch ends up meeting his daughter Lizzie, and it should be interesting to see what kind of father Mouch turns out to be moving forward.
The firehouse may be the same, but spring brings change no matter how much you may not want it to come. Casey's working a new on-the-side construction job, but intuition tells me working next to a strip club can only spell trouble. Brett and Dawson are getting into a little trouble themselves going out clubbing. While this is great news for a single and ready to mingle Dawson, it may not be good news for Cruz. The experience gets Brett thinking about how similar her life has become the life she left behind, leading us to believe Cruz is in for some major heartbreak soon.
Finally, through Severide, we are beginning to see the trickling in of information regarding the upcoming Chicago Med crossover, which will launch the new series next year. Severide and Scott reminisce about high school and bring up an old friend of theirs who now works at Chicago Med. Severide later reunites with his friend April Sexton, played by Yaya DaCosta, who is now an ER nurse. The only problem is that apparently their friendship did not end on good terms. We should see more of this develop in the weeks to come leading to the Chicago Med spin-off introduction.
Who else is excited that Boden is back? Who is also excited at the upcoming introduction to Chicago Med?
[Photo via NBC]