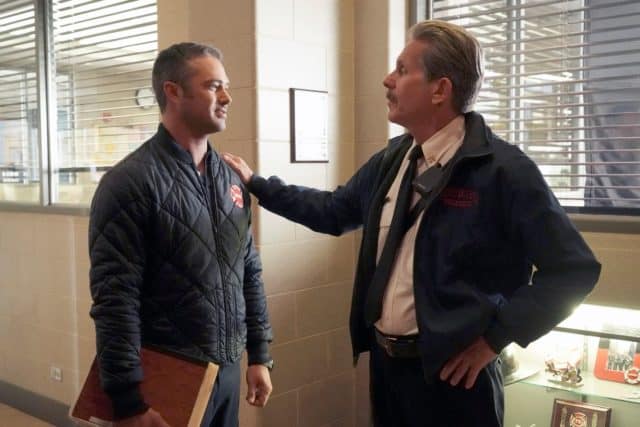 Relationships that develop in the vacuum of Chicago Fire get more complicated when they're between two people who work in house. Sometimes it works out, and sometimes it becomes the week's gossip that the rest of the firehouse gets to tease about. When it gets to the point of being a merry-go-round of 'what if' relationships, it's a bit much. Whoever shall come out a solidified couple, it's important that the relationship naturally progresses, and isn't pushed to an uncomfortable point.
The good news is that not only is Bria not lying in the morgue, Gabby lets Matt stay with her through the rest of her search for Bria. Here is where the problem comes in. It was clear from the beginning that Gabby wanted to become Bria's guardian. When Bria does resurface, Gabby thinks everything is going to be okay. However, DCFS has very strict rules, especially if someone wants to switch from fostering a toddler to a teenager. This is what is special about Matt and Gabby. Gabby is always so sure of herself, and sometimes has to be the one that pushes in the relationship. Sometimes she pushes back too hard, to the point where she isolates herself. Matt takes a big longer to catch up because he considers all the possibilities and potential for heartbreak. When he does step up, he steps up in a big way. His insistence that Bria will be safe in their home until her father gets out of rehab pays off. There are so many people obsessed with when these two are going to have a baby, but maybe they have a greater purpose. Perhaps their purpose is to give a safe home to whatever child needs it, and eventually a family will naturally form.
Cruz comes up with a combination hammer and sledgehammer invention to use in the field. Herrmann is in once he hears the name 'Slamigan'. Thanks to Brett's mechanical know-how and can-do attitude, the Slamigan proves its worth. But this creative endeavor shakes up some old feelings. Brett has no idea, but Cruz has fallen for her again, or perhaps never stopped caring at all. Except it has been years since they dated, and they are now roommates. Unless they get married and live happily ever after, Otis is right. This has disaster written all over it.
I'm not quite sure how to feel about the neverending 'what if' of Kidd and Severide. When Severide fell for Anna last year, it seemed like that would end the cycle. Then Anna died, and after some time, the seesaw began once again. They don't date, though they used to, and they live together. Yet, it's unsure if they would ever be right together, since they are almost too alike. Stella goes out with the Hazmat guy, but then cancels the second date to attend a fundraiser with Severide. I'm a believer in "Time will tell", but is it just a merry-go-round at this point?
Something has to give on some aspect of Severide's life sometime soon. Severide's old friend, Chief Grissom comes by under the guise of a fundraiser, but has an agenda with his protegee. Grissom had his eye on Severide years ago, and doesn't like where Severide's path has led him. All he sees is Severide in a firehouse constantly under attack, with Casey at the helm. The only reason Severide would ever want to be in charge is to protect his people from being railroaded by the overly ambitious. Severide is a leader, but he doesn't have the temperament for schmoozing and rubbing elbows with the higher up's to get ahead. It's not his game, and he doesn't much like being pushed into it.
Which potential reunion has the greatest recipe for disaster?