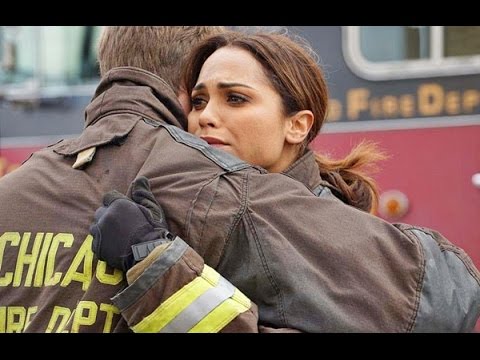 The world we live in now is doused in fear. It seems that mass man-made catastrophes are becoming the norm. If it follows us in the real world, there's no reason it shouldn't follow us in the fictional. So is the case this week as Chicago Fire tackles a mass shooting, and yes, there are casualties.
In the beginning of the episode Casey is furious that the alderman he assisted last week is skimming profits off a charity. He wants to turn him in, but Dawson warns him that he needs to be sure this is what he wants to do lest his actions come back on the house. So Casey tries a different approach, warning the alderman that the support of a fireman goes a long way to make, and break, a politician in the city's eyes. The alderman tries to sweep everything under the rug and bribe Casey. I get the feeling this guy's not done with Casey yet.
Despite Chili's promise to get her act together, she shows no signs of doing so. As if this wasn't bad enough, Brett finds out that Chili was actually forced out of her last house because of a drinking problem. Brett confronts Chili as a friend, and Chili has to nerve to go to Boden to request a new partner, even saying she'll go above his head if she doesn't get what she wants. Wow, she really has lost all self-respect. It's no wonder that Brett loses her cool and screams at Chili in the middle of the house. Boden is furious that he didn't know about Chili's history. When he talks with her old boss, he is warned that getting rid of Chili could open up a can of worms with the Union that could come back to bite Boden. Boden doesn't back down from a fight though, especially when he's fighting for one of his own. He tells Chili she's at her fork in the road, her last chance to decide which way she wants to turn.
Amidst the trouble following Casey and Chili, strange things are happening in Chicago. Firehouse 51 is called to a structure fire emitting an unusual purple smoke, which turns out to be nothing serious. If that wasn't disturbing enough, Severide's FBI fling is involved in the investigation. She informs Boden, Casey, and Severide that too many fake threats have been called in for the threat not to be real. She even confides to Severide that she herself is afraid that it's not a matter of if there will be an attack, but when. Sure enough the house gets called to a scene on the other side of town from a mass evacuation from a bomb threat. Members of the house end up trapped inside with two active shooters, and those on the outside are unable to help due to a sniper on the roof. Severide's FBI girlfriend is able to take the sniper out during a save, but she is hit herself. After a time, the shooters inside get tired of looking for their targets and so decide to smoke them out. Casey makes the call that they have no choice but to move. As quietly as they can, the firefighters make it out to safety just in time. Chili and Brett however, come face to face with a shooter, and are barely spared by a timely SWAT team. All beloved members of 51 survive, but the body count leaves 4 dead and 7 critically wounded.
The day ends somber. Severide's FBI girlfriend survives, but says goodbye to Severide after she is reassigned to work in Miami. Everyone else takes the time to heal at Molly's. The one good thing that came out of this day is that after a horrific day where she is faced with her mortality, Chili is finally able to admit she needs help.
Do you think Chicago Fire's latest harrowing episode hit it out of the park?
Chicago Fire Season 4 Episode 13 Review: "The Sky Is Falling"
Summary
The latest Chicago Fire stuns in a heart-pounding episode involving a mass shooting.