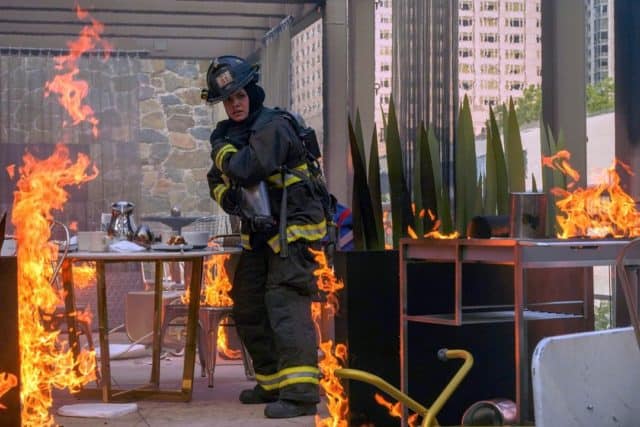 Chicago Fire's midseason finale was a good mixture of focus and chaos. On the one hand, this was the week that Stella Kidd shined. It wasn't because of an extraordinary save either, but because there was no high or low to her character development. Every step of the difficult few days Kidd faces, she does just by being herself. The chaos isn't in figuring out why or how Kidd has to handle her predicament, but in that last minute which served up one hell of an emotional cliffhanger.
Stella has a purpose, and she knows it. No matter what else is going on in her life, she knows she is meant for this work. That much she is 100% certain of. It makes absolutely no sense that after a great save, Stella is transferred out of 51 to CFD Public Relations. Casey tries to do his best on his end to figure out why Kidd was transferred. While Kidd's life is falling apart, Hope is bucking for Most Valued Employee. It's not a coincidence. Hating Kidd is one thing, but to go so far as to forge Chief Mullins's signature on a transfer form? Not only is that going too far, it might actually be insane. From beginning to end, this whole transfer reeked of Hope's stench, but what's horribly alarming is the reason the rest of the department goes along with it. Kidd's temporary transfer to Public Relations is sold as a way to parade the female minority around like a show pony. The fault does not lie with Chief Mullins, since he is a fair firefighter who believes that Kidd's place is on a truck. The fault is with the system that felt it was appropriate to do that. Kidd would and should file a complaint, if she hadn't been so desperate to get her job back.
It's looking like some love connections are going to be moving forward in the new year. Kidd and Severide's moment comes out of a weak moment on Kidd's part, but that doesn't make it any less real. What makes their pairing so great is that no matter their relationship status, they have worked too hard to maintain their friendship. They would never try to cheapen it. Plus, the slow burn makes the longest lasting flames. Case in point, Otis hasn't had a real love interest in a long time. Otis makes a connection with the daughter of another bar owner, going so far as to partner with the bar to create "Molly's North". He saves the bar, expands his business, and gets the girl. Not a bad story, but will it actually succeed?
Dawson reaches her breaking point with her father, who seems to think that he can cut corners in his life now. He tells his bosses how to do their jobs, throws his son-in-law's name around to ask for favors, and causes tension in his daughter's marriage. She doesn't want him to be sorry, she wants him to understand that his actions affect other people. It figures the one time he goes out of his way to be selfless, he is punished for it. It doesn't matter how angry Dawson is with her father. Nothing can prepare her for answering the call for a good samaritan violently stabbed, only to see it's her father.
Hit the comments for predictions on what will happen when Chicago Fire returns in 2018.