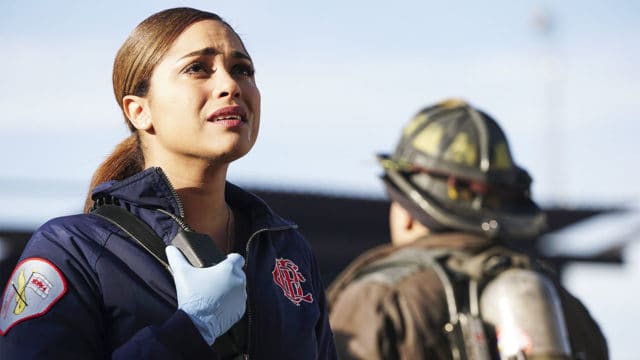 TV fans are rejoicing as their favorite series will be returning in just a few weeks. One of the most anticipated fall returns is Chicago Fire. The NBC drama has been heating up the network since 2012 and the sixth season looks like it will continue to delight fans.
When we last saw the crew of Firehouse 51, several key characters were trapped inside a fire and it looked like all hope was lost. Casey was located in a section of the building with no exit. He was starting to accept his fate as he was saying goodbye to his wife Dawson as she watched the flames overtake the building from outside. Hermann was attending to Mouch who was unconscious while Otis, Kidd, Severide, and Kannell were stuck in other parts of the building.
We do know that one of these faithful fire fighters will not make it out of the building alive. Producer Derek Haas has admitted that, "not everyone is back this season."A recent promo for the series' sixth season, which will debut on a new night Thursday, September 28th at 10 PM, makes viewers believe that Casey is the one to perish. Check out the promo clip below:
https://youtu.be/Ru3IhnX1KYE
A season six promo photo was also released which features Casey. It would be odd to add a character that would be killed off in the first episode of the new season in your promotional materials, but maybe this is a marketing ploy by NBC? The photo can be viewed below. Other promotional photos for season six have been leaked that feature both Severide and Otis. So unless these are flashback moments, these characters should be still with us.
Information for episode two of the series has leaked and describes Severide, Casey and Mouch all as alive and well. Additionally, Severide will be steaming things up with a new love interest (again?!) named Hope. She will be played by Eloise Mumford and make her debut on the October 5th episode. It has also been revealed that Dawson will be put into her own near death experience when she is in an underground parking garage when it collapses. This will occur in episode 4.
Are you excited for the return of Chicago Fire? Let us know in the comments section below.
Photos by: NBC
Save