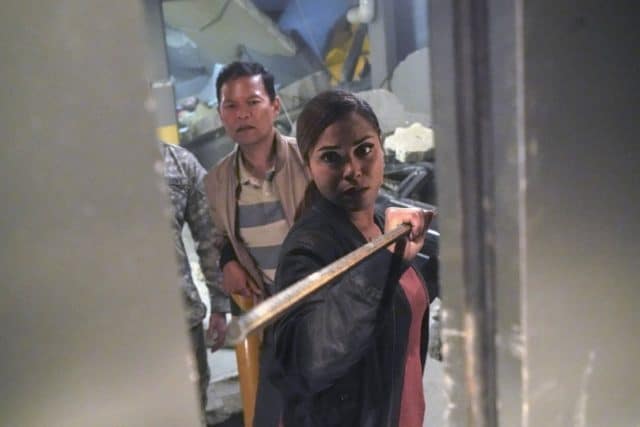 Gabby Dawson is tough as nails, something she proves everyday on the job. Going the extra mile means not walking away from a dangerous situation before it turns into a disaster. Gabby does that and more when she sees an unstable construction site. She walks right into danger, not knowing that her swift actions would save lives, or potentially cost her her own. Gabby ends up trapped, and she has to use all of the skills Chicago Fire has trained her for to save everyone who is trapped.
On the day of her husband's promotion, Gabby has no reason to stop and intervene in anyone else's business. When she sees too much weight put on a freshly paved garage, there is no way that Gabby can not say something. She gets trapped in the ensuing collapse for her trouble. She gets stuck with a social worker trying to ignore an ignorant woman, an Army sergeant who has never seen combat a day in his life, a bank teller with anxiety issues, and a Chinese-American electrician who spends a good portion of the episode trying to convey that his daughter is stuck in the elevator. From that point on it is crisis after crisis with no way out. No cell signal, jammed emergency phone lines, no stairwell or elevator access, carbon monoxide poisoning, and a general distrust of strangers.
Of course, no one from Firehouse 51 has any clue that Gabby is near the collapse, let alone inside it. She is supposed to be getting a gift for Casey, who is discovering the joys of his new job. Yup, you guessed it-paperwork. The only levity Casey gets is a gifted guinea pig that goes missing. It's not as if anyone can help him lighten the load. Hope can't even do the job she was just hired to do, and she has an excuse for everything.
By the time 51 figures out that Gabby is inside the collapse, she and the others are under great threat from carbon monoxide poisoning and another collapse because of firefighters digging in the wrong place. Luckily the electrician gets the phone working in time for Gabby to know which direction the survivors should head in. The last thing Gabby does is make sure no one gets left behind, and she ends up saving the Army sergeant who was so hellbent on giving her directions in the beginning of this mess. Because of Gabby, everyone makes it out alive. On the day of Casey's promotion, it is his wife who is the hero. It's no surprise. The woman saved six lives, and managed to track down a badge from the Captain who handled the 1910 Union Stock Yards Fire as a gift for Casey, all in the same day.
Now that Casey has been promoted, the only question is when it will be Gabby's turn. Tune in to Chicago Fire next week when Casey's new rank becomes an issue in the house.
Tell us what's wrong with this post? How could we improve it? :)
Let us improve this post!