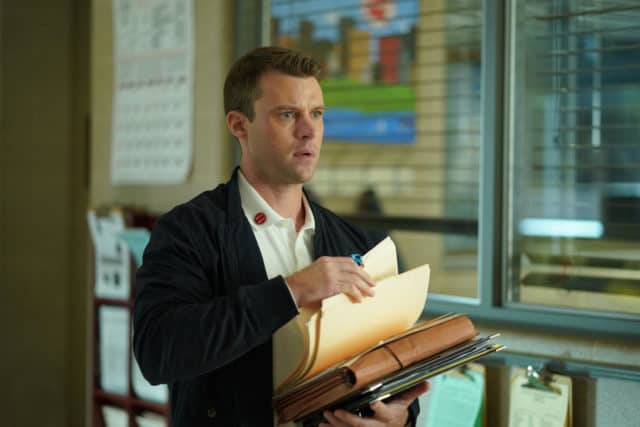 The key word this week's episode of Chicago Fire is teamwork. Teamwork in a house, teamwork in a partnership, teamwork in a marriage. It all connects. The team needed each other to air out the firehouse. Riding in an ambulance or a truck, you need your partner to have your back. And in a marriage, you need your spouse to support you. Only two out of three of these situations work out, and the reason for the outlier is a bit puzzling. Dawson has become attached to Bria, a teenager who has gone missing while her father is in rehab. Dawson is so concerned that this girl could be staying somewhere unsafe, she takes matters into her own hands to track her down. That's a good thing to do. What's not good is that Dawson has chosen to go on this quest on her own.
Dawson and Casey have had trouble communicating in the past, but I'm not quite sure where this is coming from on Dawson's part. Dawson has become worked up about certain cases and people she's saved, but she's been able to talk about it. Why does everyone think Casey has a problem with getting close to victims? He's been close to victims, and the times he's commented on it with other people it's been because he saw hurt coming. Yet Dawson is acting like Casey wouldn't support her, or would try to stop her. Not to mention, this isn't behavior that is good for their marriage. Severide wants to find Bria too, but at least he is communicating with Casey.
While Dawson is out on her field trip, Stella and Sylvie spend the day on ambo. Their first task is to help a woman who accidentally mixed her pool chemicals (let this be a lesson that high school chemistry matters). Their second task is to help the guys figure out what crawled into Firehouse 51 and died. Clearly help was needed, as Otis's bright idea is to report black mold. Sylvie and Stella come up with a better solution. They call Zach, the cute Hazmat guy they met on their earlier call. It turns out what died in the firehouse was actually invited in, and then carelessly let free with no way to find food or water later. Poor Mr. Sprinkles never had a chance. Herrmann knows better than to tell his son the firefighters killed the class gift, and he makes sure the fellas pay for Mr. Sprinkles's death – to the tune of $200 to the human society. I hopes Mr. Sprinkles can rest in peace knowing he died for something.
Dawson spends this whole day of madness away from the firehouse, only leaving one voicemail for her husband. What really scares Casey isn't just that his wife isn't communicating with him, but that she isn't communicating with herself. The last time Dawson was this dedicated to taking care of a kid, it was Louie. That story almost had a happy ending, until the last minute when it didn't. Casey's just afraid that his wife is going to get hurt when all this is over. Considering Dawson gets a call at the end of the hour from the morgue, Casey might have been right.
Is Dawson setting herself up for heartbreak?