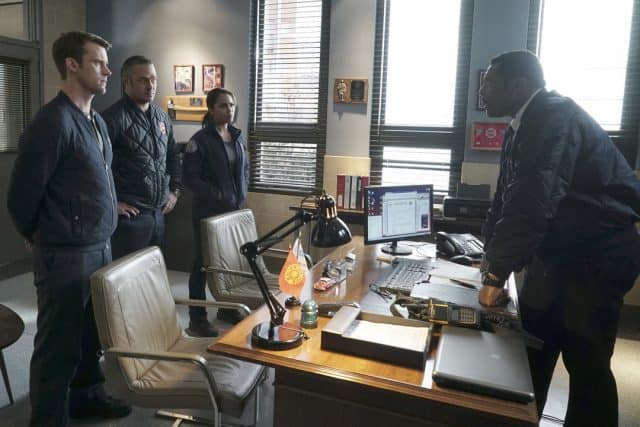 Leaders who put are willing to put lives on the line to make a point about their own power, what a concept! Last week Boden poked the bear in order to save innocent civilians' lives and those of his own men. This week his actions cost him almost an entire house full of capable staff. Chicago Fire has suffered through arrogant leaders on power trips before, so it's nothing they haven't been able to handle. This time Boden has to seriously question if he wants to get down in the mud to make his family whole again.
Brett and Stella are stationed at a house where misogyny and bullying is the name of the game, Herrmann and Mouch get stuck in a house where crickets go to die, and Otis spends his day playing story time. Talk about wasting the days, two qualified squad members like Cruz and Cap working the call center is just ridiculous! More importantly, making a political point is not worth putting lives in danger. Because Firehouse 51 is filled up with 'floaters', also known as firefighters who have never had permanent residency at a firehouse, truck and squad are nearly too late to save a victim.
Boden tries to go over Anderson's head to set things right, for all the good it does. None of the battalion chiefs at other houses can help Boden either. The best they can do is suggest waiting out Anderson's temper until he finds someone else to pick on. Because that's the best advice to dealing with a bully on a power trip. Everyone's fuses begin to run out very quickly. Herrmann goes so far as to take his frustrations out on Boden. Drastic times call for drastic measures. Though Boden has never sank deep into the mud to solve a department problem, he decides the time has come to call Benny Severide for a favor. Before Severide Jr. can call to pull the trigger, more than five different houses are called to a massive hotel fire under Boden's command. The original firehouse 51 is reunited, and Otis is the hero of the day jumping in to save Boden. As an added bonus, Boden is pleasantly surprised to realize the victim he pulled out of the fire was the Deputy Mayor! Instead of a commendation for his heroics, all Boden wants is his house back.
There's just one unanswered question after all of this. Given the hellish uncertainty 51 just went through, does Severide really want to take the new job in Springfield? Though it seems like his best chance at true love, Severide can't leave Chicago. It's his home, it's where he belong. He's floundered in other areas of his life, but his place at Firehouse 51 is not something he's ever questioned.
Now that Chicago Fire has effectively bruised the shark away, let's gear up for the first 4-way Chicago series crossover and the introduction of a new show, Chicago Justice.
Chicago Fire Season 5 Episode 14 Review: "Purgatory"
Summary
Nerves run high during Chicago Fire's power-induced separation.