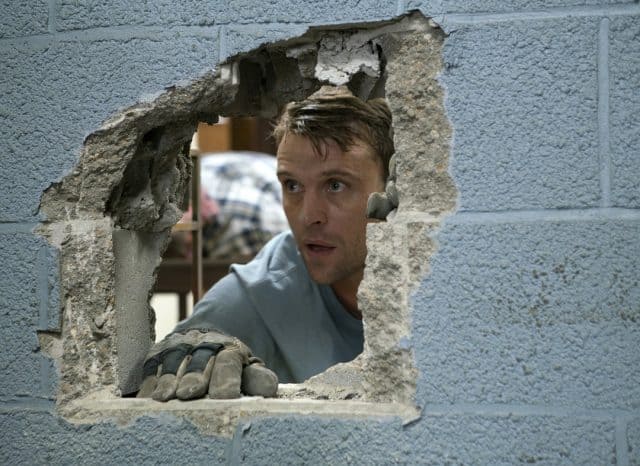 Saturdays are supposed to be easy days, especially when you're a city worker with the day off. You can sleep, recoup your energy, relax a bit. That's not the case for Matt Casey, who has not one, but two jobs working for the city. As has been the case lately, Casey's two jobs intersect this week as a routine inspection puts him in great danger. Normally this is nothing out of the ordinary for a firefighter, but the stakes are raised when you become a parent. Chicago Fire isn't just about the job, it's about what's at stake when you get off the job.
That's not to say down time doesn't include some silliness. Mouch and Brett have been having so much fun writing together. Now they are ready for the hard part, actually getting their book published. By now the house knows that something is fishy between these two, they just don't know what. The whole house definitely doesn't need to know that their first publishing offer is a scam. After a text miscommunication the person who does need to know is Trudy. After she's done laughing (let's face it, everyone does the first time they hear it) Trudy reminds her husband that her friend's husband is in publishing, which she's told him a thousand times. It's a wonder how Mouch ever got by without Trudy. If you think that's the silliest thing you could hear out of the firehouse today, you'd be wrong. Evidently Otis makes the short-list to be one of the first to colonize Mars. He starts doing crazy training exercises and eating dried food. No mission to the little red planet is worth eating cricket protein powder. Thank goodness Cruz just made up the email to slowly dissuade his friend from this madness.
Dawson and Brett have to deal with a senior whose assigned Senior Advocate won't let them take her to the hospital, despite concerns over her multiple dizzy spells. The idea of Senior Advocates seems like a good one. Too many seniors are forgotten, mistreated, and unfortunately, abused. I'm all for it, but not when it interferes with someone's health. It's completely counterproductive then. The dear stubborn woman has to fall a second time, requiring stitches, and have a seizure before Brett and Dawson can take her to the hospital. The senior advocate has the nerve to try to order them to take the old lady to a hospital further away. Don't tell Dawson how to take care of her patients unless you want your phone smashed too.
Between his job as a firefighter and his job as an alderman, Casey really doesn't get time off anymore. His Saturday is spent going over alderman business, including a visit to a chemical storage warehouse. Casey hopes to get some time to relax later with a game of golf, but Dawson nixes that idea in favor of him picking up their son from daycare. Casey, Dawson, and Louie have been living as a family up until this point, but technically Louie isn't on record as Casey's foster son, just Dawson's. Not that either one of them take that detail too seriously, but it comes into play in small arguments like this one. Casey agrees to pick up Louie after doing an informal inspection of the warehouse, but he never gets the chance to get Louie.
Remember all those days you spent in chemistry class completely confused by all the chemical equations you had to learn? Turns out those lessons were pretty important. Casey's ordinary Saturday turns deadly quickly when a forklift in the warehouse hits a barrel carrying illegally stored sulfuric acid. Liquid and fumes start flying everywhere, killing one warehouse worker and knocking out the warehouse manager before he can call 911. Casey has to think fast to get the forklift driver to safety, locking them both in the kitchenette with the worker's daughter Laurel. Laurel and Casey work together to keep the fumes out of the room and keep her Dad alive as he did inhale some fumes and has minor chemical burns. They're only safe so long as they're in the room, unless something bigger than the fumes gets them. Another chemistry lesson: what happens when you mix sulfuric acid and aluminum? Don't try it! Don't ever, ever try that because you'll get more than sparks! Also don't ever add electricity to the equation, because let's face it, who needs the extra sparks? Their only hope is for Laurel to crawl through the small hole Casey made to break into the other room to go get help while Casey improvises a tracheotomy to get her father breathing again. She calls for help just in time, and Firehouse 51 comes running. Laurel gets the chance to tell her dad how much she enjoys their family dinners, and Casey gets to go home with his family.
Everyone learn something from this week's Chemistry lesson? Good!
Chicago Fire Season 5 Episode 4 Review: "Nobody Else Is Dying Today"
Summary
Casey must use his skills working for Chicago Fire to save a father and daughter from a chemical spill, and get back to his own family safely.