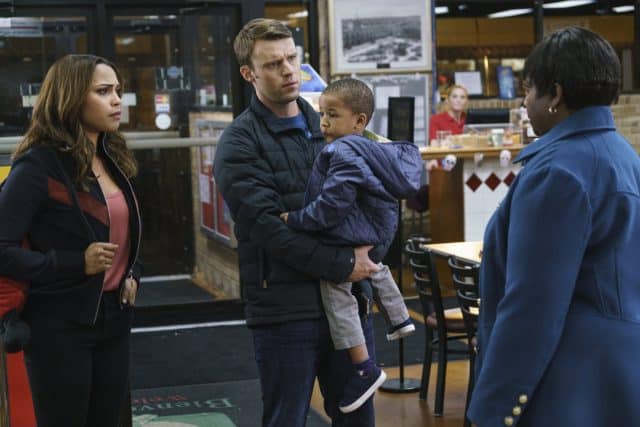 When last we left Chicago Fire, the show dedicated its 100th episode to its beloved city, safe haven, and core couple. Molly's had a great celebration for its centennial to coincide with the show's milestone. Best of all, Casey and Dawson finally tied the knot in an intimate courthouse ceremony with their Firehouse family, Dawson's brother Antonio, and the couple's soon-to-be son Louie. Life is full of dips in the journey, so as happy as 'Dawsey' was, they were bound to get hit by bad news. You'd think they could at least enjoy their first day of marriage before the storm.
Since Andre Keates showed up on Dawson and Casey's doorstep demanding his son, the couple has been panicked. Once it's confirmed that Andre is indeed Louie's biological father, everyone prepares for battle. Casey and Dawson consider Louie their son even if the paperwork doesn't reflect that yet. Andre believes Louie's rightful place is with him, and goes to the Firehouse to basically yell as much at Dawson. Now we all want Casey and Dawson to raise Louie, but ultimately it's about what's best for this little boy. Brett shocks Dawson by revealing that she herself was adopted, and as much as she loves her parents, she would have appreciated her biological parents caring enough to want to find her. Thus Casey and Dawson hear Andre out. It's actually more devastating for them to hear that Andre isn't a deadbeat dad, but a war veteran with a supportive family, and he had no idea he had a son until a month ago. As much as Casey and Dawson hate having to be fair about this process, they know giving Andre a chance to get to know Louie (under proper social worker supervision) is the right thing to do. However, Andre doesn't show up to the next meeting. This could be good news, but it's more likely Andre is gearing up for war. Speaking of war…
You would think that people who spend their days in dangerous situations would want to take it easy on their off time. Then again, a person who thrives under pressure might also be prone to being an adrenaline junkie. The boys find a used tennis table, and Boden sees trouble ahead. That table is not in the house one day before a glass door is shattered, not to mention a few broken chairs and bruised jaws. Evidently no one learned from what is known as the "Foosball incident of '09". For everyone's safety the table is quickly discarded.
Severide may finally find some purpose in his life with his upcoming bone marrow donation. Everyone commends Severide for the generous sacrifice he's making, but Severide doesn't think it's such a big deal on his part. He's no stranger to pain, and it's not going to take his career away, so this is just something he can do to help someone. To him it's not a big deal, but to his donor recipient Anna, it's everything. Severide has more trouble naming an emergency contact. Not wanting to take Casey away from his family at the moment, Severide chooses Stella. It reaffirms the friendship between these two, and Severide gets along great with Anna as well. Unfortunately, Anna doesn't respond well to the preparatory chemotherapy, forcing the donation to be cancelled. Severide doesn't take it well. He drinks his sorrows away, and because he doesn't check in with anyone, the house assumes the worst when they find Severide's totaled car at the scene of an accident. What's worse than that is that Severide isn't anywhere near the car, and has no idea why Intelligence comes knocking on his door.
Switch over to our Chicago P.D. review to see the crossover conclusion.
Chicago Fire Season 5 Episode 9 Review: "Some Make It, Some Don't"
Summary
Following their milestone, Chicago Fire-style wedding, Casey and Dawson fight to keep their family intact.