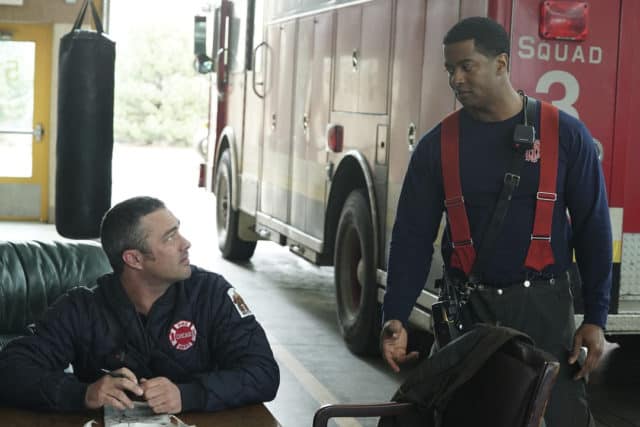 As people who work in life-and-death stakes everyday, the firefighters of Chicago Fire have to get used to the realities of losing people they love. That doesn't mean that they're any more well-equipped to handle grief than anyone else. As Severide grieves the loss of Anna, he must also content with a new change at the firehouse. This change, otherwise known as Kannell, is Squad's newest recruit. Was he Severide's punching bag, or did he find a way to relate to Kannell?
Dawson and Casey are more stable than ever, but that doesn't mean that they are happy to be put through different stressors. Casey has been trying to get a bill passed through city council that would help first responders after a serious and traumatic injury. Unfortunately, Casey seems to be the only one who is interested in doing the right thing. Alderman Mark Blakesly accuses Casey of using his position to push a personal agenda. It doesn't matter what compelling evidence Casey provides that the bill has merit, it's all just a way to sink Casey. Soon enough Casey can't even find peace at home due to in-law troubles. Dawson hasn't seen her father since that fiasco of an anniversary party where he announced his imminent divorce. Dawson's had a hard time forgiving her dad for that humiliation, so she didn't know how badly he was doing. When you spend more than half of your life with someone, it's easy to underestimate how much they do for you. Dawson senior didn't properly manage his finances, and so blew through his entire retirement savings. How that just happens, I'm not sure. Sorry Casey. Guess who's moving in?
Cruz doesn't feel comfortable going to Severide for help when he is charged with Conduct Unbecoming of a Firefighter. That drunk idiot from the bar had the nerve to press charges against Cruz. For trying to earn a little extra money and doing his job, Cruz is being punished. Cruz goes to Mouch for help since he is the Union Representative and has the most experience with these issues. At least Mouch thinks he does. The rules have changed, and so have many of the players. Most of the reliable CFD contacts Mouch built up have retired, so Mouch has no pull with which to help his friend. Cruz is unfairly suspended for sixty days without pay. Even though it wasn't Mouch's fault, neither one of them was prepared for this outcome. Mouch was already wondering if he was getting too old for the job. Now, for the first time, he might seriously be considering leaving Chicago Fire.
Both Boden and Casey have reservations about Severide being ready for duty so soon after Anna's death. Let's not forget that when Shay died he took to the woods to become a mountain man. It's definitely not the best time for Severide to be taking on a new hire. Could he be a tad bit easier on Kannell? Sure, but to be fair, Severide has a history of being tough on all the new guys he doesn't know personally. Kannell needs to prove himself to Severide, and even to himself after everything he's been through. More than anything these two need to be left alone with their grief. They need to be productive, but they can't get into their feelings right now. Building something together in silence seems right. Maybe they could build one of those fancy dryer hangers for the rest of us?
Going into the season finale we could be saying goodbye, at least temporarily, to a few members of Firehouse 51. Does this really seem possible? Tune next week to find out on the Chicago Fire season finale.
Chicago Fire Season 5 Episode 21 Review: "Sixty Days"
Summary
Severide and new Chicago Fire hire Kannell find a way to grieve their losses together in a productive way.