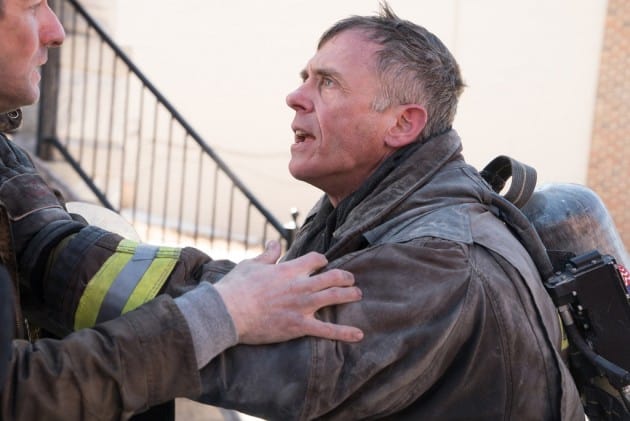 As the title implies, the theme of the week on Chicago Fire is love. Whether it's love of people or love of the job, when you work involves life or death situations, it tends to all blend together.
The case of the week shines a spotlight on Herman. After a dramatic and impressive save of a child from a building fire, the team learns that the fire wasn't an accident. At the very least, it was a case of negligent crackhead father, and at worst he intentionally set the fire with his child inside because he didn't care. The papa bear in Herman awakens and he goes on the hunt for this negligent father. He finds the father at a dive-bar, beats him to a pulp, and the police department is nice enough to look the other way. When the injured boy develops complications, Herman is broken up, wondering what more he could have done. Alas, there was nothing more to be done, as the boy eventually dies in surgery. Not everyone can be saved, but you can find peace in the living and the ones you love.
In the push forward for the Chicago Med launch, Scott reunites April and Severide for a mini high school reunion. It turns out April was one of the most influential people in Severide's life. The summer before their junior year April took Severide in when his father slept with one of his teachers. Because Severide was so embarrassed at the rumors when school started again, he ignored April in an attempt to forget the ordeal ever happened. Not exactly the most mature response, but we all do stupid things in high school. By the end of the episode, Severide makes amends with April and has dinner with her and her parents.
Mills' sister is in town for the reading of a will, which results in them being left a restaurant in North Carolina. Mills' sister is excited to start a new life and take a leap of faith with a new restaurant, but Mills is having none of that. Mills doesn't want to leave knowing there is a chance he could still get his medical clearance for the squad, which he does. It's doubtful at this point that his old position will open up, but it's nice to hear he has a clean bill of health.
In the scenes that made me give a depressed sigh each time, Brett chooses to avoid Cruz instead of outright breaking up with him. Normally I'd argue that avoidance never solved anything, except Cruz is truly the nicest man in Chicago like Brett says. When Cruz starts to notice the signs of Brett pulling away, he tries to bend a little in his habits. Otis makes a good point that really should be on some sort of dating manual. He basically makes Cruz see that if and Brett doesn't want the same things, maybe they're not meant to be together. So he beats Brett to the punch and breaks up with her first, leaving Brett a little shell-shocked.
Now what are your predictions for what's to come on the next new episode which focuses heavily on Chicago Med?
[Photo via NBC]