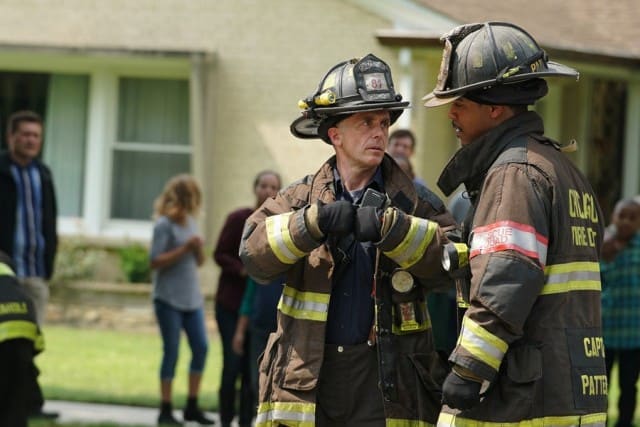 Firehouse 51 knows how to band together when one of their own is in crisis. Therefore, Gabby Dawson fights for her life with her Chicago Fire family nearby in this week's episode.
Gabby and Casey face a crisis when her pain indicates that her pregnancy is abnormal. Will Halstead personally tends to Gabby, but is forced to tell Casey that their pregnancy just wasn't viable. When Gabby wakes up and Casey has to tell her, she doesn't process that she's lost her baby before she crashes. Gabby is forced to fight for her life in a second surgery in 24 hours when she re-bleeds. Luckily, she pulls through, but this time when she wakes up she does remember that her baby is gone.
During a crisis the house always comes together. With Casey preoccupied and Boden refusing to leave his side, Hermann takes over at the house. He's a master at rallying the troops, as is wife Cindy who wastes no time in making sure the house is well nourished while waiting on news for their friend in between shifts. In the midst of trying to keep the house together Hermann is blindsided when Otis informs him that the pretentious Portland transplants had Molly's shut down over a trivial code violation. Borelli sees his new house hurting and decides to step up to help. He calls his cousin who works in construction, and together they get Molly's certified as a City Historical site because the old brick it was originally built with still stands. To celebrate Herman gives a touching speech about how grateful he is that they were able to come out with both their save haven and their best friend alive. That speech is nothing compared to the one he gives Gabby later where he tells her how proud he is to have another daughter like her on top of the children he already has. This writer in particular was reduced to puddles.
Severide refuses to let all of Gabby's hard work to clear Chief Boden be in vain. He grudgingly goes to Jamie to ask if she knows anything about the missing files. Even though she offers to help him, she still preaches that taking Maddox's case was just business. Clearly she doesn't know Kelly Severide as well as she thought she did. Severide puts Mouse on the case and he determines that it was an inside job. At first Severide is unsure, but then realizes that Commander Duffy, who he's known his whole life, is the one who stole the files. Duffy returns all of the evidence he stole. Rather than being angry, Severide is worried, and rightly so since he finds Duffy about to jump off of a bridge. Severide is unable to dissuade his friend from jumping, but he does manage to save him so that he can face the consequences of his actions. Severide has had better days, yet all it takes is a drawing from a child he rescued from a potential fire to remind him of what's important.
Patterson sums up the house best at the end of the episode. He's in absolute awe at the strength and the solidarity of the house, knowing it's because of Boden.
The house is strong, but how many of us were devastated upon hearing about Gabby's loss?
[Photo credit: Elizabeth Morris/NBC]