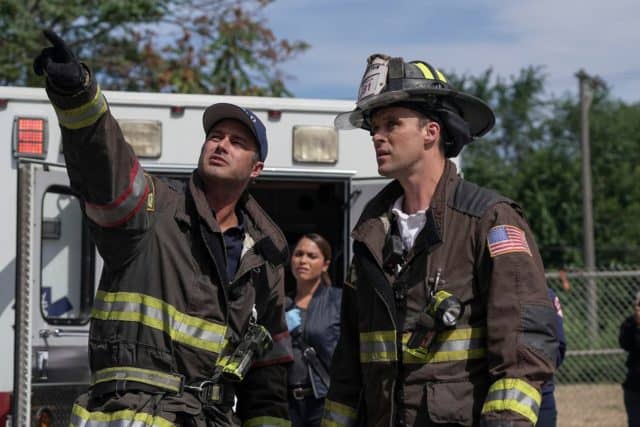 People do not like being told what to do. That is not likely to change, but in a situation where rank butts heads with expertise, things get much more complicated. Casey and Severide have been through this type of situation before. Their initial animosity was the catalyst for their trajectory on Chicago Fire, and sometimes it does affect their friendship. Two alpha leaders in one house is bound to be trouble on occasion, but now Casey has a title that indisputably entitles him to push orders on Severide. That doesn't necessarily mean it is the right thing to do. Heavy is the head that wears the crown, and if the man wearing the crown expected his relationships to remain the same, he was sorely mistaken.
Casey and Severide get into an argument over how to rescue a victim trapped in barbed wire. Both of them have good points, but ultimately Casey pulls rank. Casey might not have realized that was what he was doing, but I'm inclined to agree with Severide. What is the point in asking the expertise of the head of Squad, if he is just going to be ignored? The more Casey pushes, the more condescending he sounds. In most cases it isn't what he says, but the way he says it. That's how you can take Casey's attitude towards Severide, but not others.
With this, on top of all the additional paperwork, Casey does not need another expense like a new piece of equipment. Otis has an expensive, mostly useless, machine brought into the firehouse without Casey's knowledge. Here again, Casey does have the right to be upset. Going off on his father-in-law, who is actually doing well in his life, is not okay. You can assert authority without being mean about it, by choosing the appropriate time and place to do so. There is no reason for Casey to puff out his chest outside the firehouse, especially not when he tries to approach situations as a friend. Those two goals directly contradict each other, and the result is counterproductive for both of them. That's not the scary part of the situation. The point that scares Casey is Boden's point that while he has few friends, he is also on his third marriage. Animosity in the house can be dealt with. It has before. Letting those issues affect his home life is not an option.
It is debatable whether or not Casey's judgment is slightly impaired by his new rank. What is not debatable is that Hope is not to be trusted. At best she is lazy and incompetent. At worst, she is a manipulative liar. Neither one of those things is good. Yes, she is Brett's friend, but Brett does not have the best judgment. Case in point, she winds up dating a married doctor because she is too trusting. It really hurts her to realize that people have regularly taken advantage of that. Sure enough, Hope did hide Stella's check so that she could make a lot of noise about finding it and be seen as the hero. With Brett no longer cutting her slack, how long can Hope's manipulations last?
Was Casey too harsh, or is he simply adjusting to his new rank?
Chicago Fire Season 6 Episode 5 Review: "Devil's Bargain"
Summary
Chicago Fire pits rank against judgment when Casey makes a call against Severide, and it's debatable whether or not it was the right call.