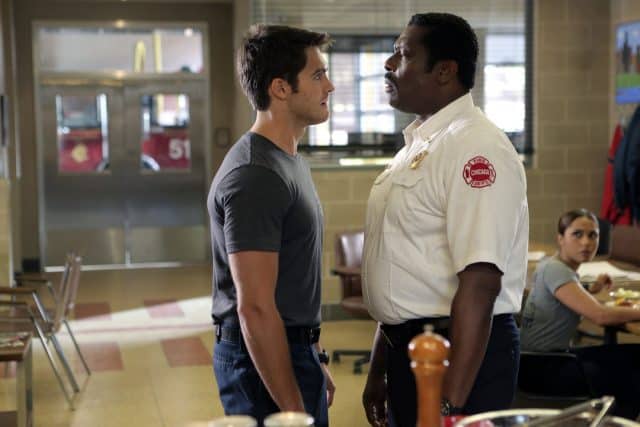 Chicago Fire's always blazed brightest for its bookend episodes, and the Season 5 premiere was no different. Picking up right where Season 4 left off, things spiral fairly quickly. Everyone tries to move forward in their lives, and some do. Others make one single move which could slingshot them so far back its unnerving. It's anyone's guess where Firehouse 51 will go this year.
Quickly, let's recap where we left off last season. With the help of Firehouse 51 and political consultant Susan Weller rallying the community, Casey became a City Alderman. While Casey worked to balance his duties as a firefighter and an alderman, Dawson felt an immediate connection to a young boy she rescued from a fire. Dawson went through the process of becoming Louie's foster mother, despite the strain it put on her relationship with Casey. Faced with the choice of breaking things off with Dawson when Susan hit on him, Casey decided to fully embrace his new place in Dawson and Louie's lives. Severide started a new romance with his former fire academy student, now Firehouse 51 firefighter Stella Kidd. Their efforts to keep things casual are slowly disintegrating because of the dangerous presence that is Stella's ex-husband. Last year's new recruit Jimmy Borelli was welcomed into the team. His connection to the house is what kept him from leaving when his older brother offered him a place at his own firehouse. On a call which both of these houses responded to, Chief Boden allowed Jimmy's brother to stay in a collapsing building to retrieve one more victim. The building collapsed, killing Jimmy's brother, and Jimmy's respect for Boden.
The morning after where we left off, most everyone is in relative states of contentment. Stella and Severide are happy in their new relationship, until Dr. Charles calls to let Stella know Grant walked out of the hospital without receiving treatment. She tries to downplay the situation even after finding Grant's hospital bracelet in her apartment. Casey and Dawson finally feel happy with Louie to look after. Even Herrmann comments how great the trio looks as a family. The Dawson family isn't doing so bad in the love department, as Antonio makes an unexpected connection with Brett on a call. The firehouse enjoys some entertainment via an adult fan fiction section of a Firehouse blog, which Brett hilariously figures out is being written by Mouch. Like most side projects members of the house indulge in, a creative venture springs to life. Brett asks Mouch to co-author a piece with her, which Mouch agrees to so long as they can keep the project between them.
That's about it for the happy people. Jimmy is slowly seething under the surface of a cool demeanor. Jimmy asks Boden to be back on truck, which Boden decides against because he doesn't believe Jimmy is emotionally ready for yet. Swiftly Jimmy notifies Boden that he has filed an official grievance against him for his brother's death. If looks could kill, the outright threat Jimmy screams at Boden in the middle of the house, followed by the Boden's quiet announcement that Jimmy is suspended, wow! Few people have spoke to Boden like that and walked away with all their joints still positioned correctly. Severide demands Jimmy drop everything, and Jimmy slams the door in his face. Again, rarely has anyone done that to Severide and walked away intact. Jimmy's complaint isn't going to go away quietly. Unfortunately Boden suspending Jimmy right after he filed the complaint looks bad, so Jimmy has to be let back on truck.
Dawson and Casey naturally settle into a family life. Susan Weller's ridiculous attempt to seduce Casey convinced him more than ever that his place is as a firefighter, boyfriend, and even perhaps a father. Severide sees his friends happy and decides to give them the apartment so Louie can grow up in a bigger place. All the details which once seemed insurmountable are suddenly falling into place, until the ultimate issue of a parent in a dangerous job rears its head. After a close call at a school bus accident, Dawson is wrecked wondering what would happen to Louie if she was hurt or killed on the job. With potentially two parents in danger every day, Louie could be alone again. The thought is too much for Dawson. As much as she wanted to be a firefighter, she loves being a mother more. With Jimmy going back on Truck 51, Boden asks Dawson to take over her old position in the ambulance permanently. She's all too happy to accept.
Severide is not as optimistic as Stella is that Grant isn't a threat. He's absolutely right since, armed with a knife from her kitchen, Grant stalks Stella all over town. He attacks Stella outside of Molly's, which Severide only barely is able to intervene. I expected Severide to fight back. I didn't expect him to do so with an ax.
Will Boden and Severide's actions come back to haunt them?
Chicago Fire Season 5 Episode 1 Review: "The Hose or the Animal"
Summary
Chicago Fire's 5th season kicks off with happy beginnings, inner house threats, and a shocking attempted murder.