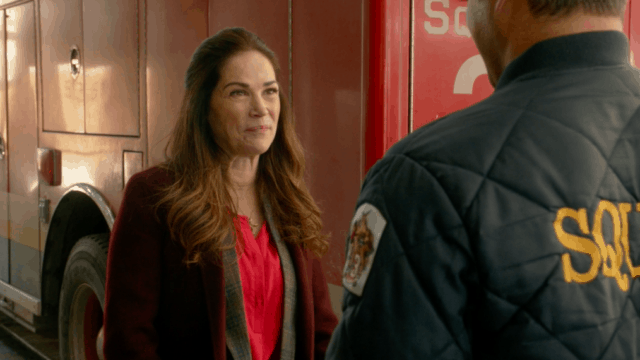 Chicago Fire produced a very awkward Severide family reunion by bringing Severide's mother Jennifer Sheridan (guest star Kim Delaney) home to Chicago for a visit. Severide's mom is pretty much the opposite of her ex-husband Benny (guest star Treat Williams), leaving us with a lot of questions about where this reunion is going. We suspect nowhere good. Luckily, Severide has plenty of fires (literal and otherwise) to put out that do not involve being caught in the middle of his divorced parents.
While he goes through physical therapy, Otis has agreed to take a desk job at 51. Though he would prefer to be in the middle of the action, there is value in any job. When 51 rescues a little boy from a swimming pool and is unable to get him to talk, Otis does. Unfortunately, Otis didn't realize that he was handing the kid over to the parent who didn't have custody. The mom goes ballistic, and CFD is willing to cut her a check to keep her happy. Luckily, Otis saves the day. He has the heart to go over to this woman's house and personally apologize, only to find that the mom and dad are happily married scam artists, just trying defraud the Fire Department. Otis saves the day, and he didn't need to go into a fire to do it.
Dawson continues to lie to Casey about her past involvement with Cordova. Figuring that Cordova will flame out since he's already burned so many bridges, Dawson thinks he will be out before she needs to tell Casey anything. But people start to come around to Cordova, and she misses her chance to tell her husband the truth. Instead, Casey hears about his wife's old boyfriend from a random firefighter. Casey could care less about Gabby's past, but his wife lying to him is a whole other matter. Casey's not going to blow up something into more than it is. As long as everyone stays professional, there won't be a problem.
This whole Cordova mess gets Gabby thinking about building some boundaries between her work life and her personal life. A few private sector paramedics push how great their jobs are, but they can afford to say that as they do not pick up patients without insurance. I guess they don't get hazard pay for picking up an old lady short of breath instead of saving Dawson and Brett from a drive-by shooting. Dawson would rather deal with a little drama than sell out. But this thing with Casey isn't a little drama, it's a pattern. Why does Dawson constantly keep things from her husband? She promises never to do it again, but can she keep that promise?
To give a little background, Severide's mom and dad split when he was in high school because of Benny Severide's philandering, and Jennifer lost it for awhile. During that time, Kelly Severide moved in with his friend April's (of Chicago Med) family. Benny comes around from time to time, but Jennifer moved to St. Paul and got more involved with the church. She returns to Chicago for a few weeks to set up a new church. Seeing her son is an added bonus. However, Jennifer takes an immediate disliking to Stella. To be fair, Stella was pushing the conversation like only a nervous girlfriend can. Once she relaxes, the two women in Severide's life get along fine. Jennifer and Benny do as well, much to Kelly's shock. A lot of kids would love to see their parents get back together, but Kelly Severide doesn't look like one of them. Of course, that look could also have been horror at watching his parents come out of his bedroom.
Is Jennifer and Benny's reunion a disaster in the making? Can Dawson keep her promise to her husband?
Tell us what's wrong with this post? How could we improve it? :)
Let us improve this post!