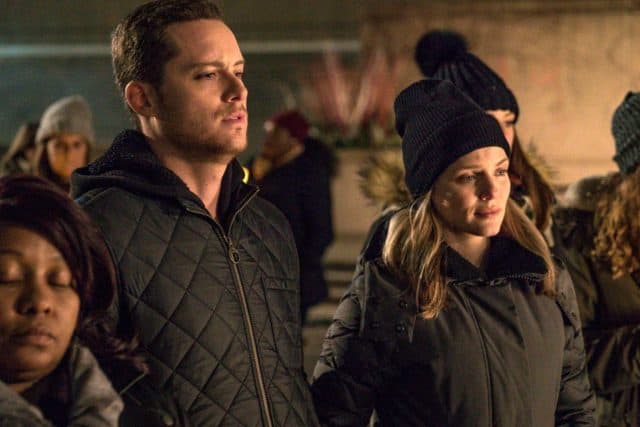 Chicago P.D. has enough on its plate trying to stop race riots and homicides. There is no need for more stress, but a case doesn't get more personal than when it involves the safety of your own child. The tension between Voight and Denny Woods is a powder keg in and of itself, without adding the weight of an entire community's anger, fueled by Denny's own daughter. Brianna Woods writes an article about members of the basketball team taking a knee during the national anthem, but the resulting violence is about so much more than a flag.
Of all people, Denny's daughter Brianna is the one leading a peaceful protest. Intelligence was already scoping out the protest in anticipation of the arrival of a white nationalist named David Dixon and his 'Freedom Caucus'. The protest quickly turns violent, and one of Brianna's friends, Clay, ends up dead. Dixon denies killing Clay, but that's pretty much the only thing he isn't guilty of. In the middle of solving Clay's murder, Intelligence realizes that he may not have been the target. If he was, Brianna wouldn't be getting shot at. Even more confusing is that the car Brianna's shooter was riding in belongs to her boyfriend's assistant basketball coach. The coach's street recruiter Kendrick Gaines becomes the prime suspect in Clay's murder, but his connection to Brianna takes some explaining.
Kendrick recruited Clay, and Brianna's boyfriend Jamal for the coach, but in exchange, Kendrick wanted his just dues. Kendrick forced Clay and Jamal to shave points, and when they refused, and Brianna found out about it, Kendrick killed Clay and tried to kill Brianna. Taking a knee was a temporary stall for Clay and Jamal to figure out how to get out from under Kendrick's thumb. Denny wants the case quickly wrapped up, with Brianna cleared of the entire debacle.
Not that Denny is wrong in wanting to prevent more violence, but it's funny how he expects Voight's support only when it's about his family, not Voight's. Brianna's situation is not all that different from Justin's. They both tried to help someone they cared about, and thought they could handle it on their own. They couldn't. Justin paid for it with his life. Brianna still could.
Denny has a very different approach to helping his child than Voight did. Denny has no problem throwing Jamal under the bus to keep his daughter safe. But Brianna's got a mind of her own. Unfortunately, she doesn't yet have the good sense to know every aspect of a situation before she walks into it. Just as she miscalculated Clay and Jamal's situation, she makes another huge mistake and walks in on a sting against Kendrick. She is shot for her trouble. Now there are two outstanding questions. The first is whether or not Brianna will survive her injuries. The second, whether or not Brianna survives, will Denny put the blame on Voight?
Chicago P.D. returns February 28 on NBC, following the 2018 Winter Olympics.
Tell us what's wrong with this post? How could we improve it? :)
Let us improve this post!