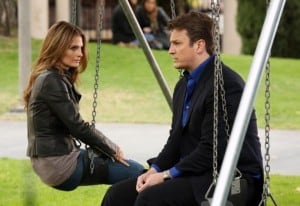 As a lot of you know, ABC released a screener of the finale to the press late Friday night. In our excitement, we didn't realize there was a catch and when we got to the end of the screener we understood what a huge mistake we had just made. You might be wondering what that catch was, right? Brace yourselves (and keep in mind that you have just watched the entire episode): the last three minutes were missing.
That's right. The last scene, the most important darned thing in the episode was missing and waiting another three whole days just to watch those final minutes was torture. Just imagine, watching the entire episode without the proposal scene.
Not. Cool.
Either way, I have just gotten to watch it and oh my god, I'm trying really hard to keep a professional front and not give in to my fangirling tendencies. Because, you guys, he proposed! Of course I am keeping a positive attitude and seriously, for the love of god, Katherine Beckett, you'd just better say yes.
I was supposed to write a preview over the weekend, but without that ending, the episode could have swung either way and up until the moment that Kate calls him asking to talk (that was when the screener ended for us), I still wasn't sure if I liked the finale or not. Because even though I was hoping for a happy ending, I admit I was terrified that she was actually going to break things off with him and go to DC.
Hey, stranger things have happened in this show, okay?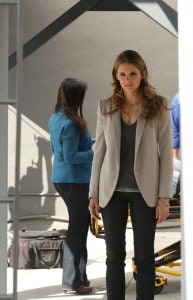 But I am so ridiculously happy right now that I can even overlook all the heartbreaking angst we had to endure during "Watershed". Also, I was a little surprised about how case heavy it was when Marlowe said in different interviews that the finale would focus more on their relationship and not on the case of the week. So, when I was already twenty minutes in and we still hadn't gotten to the good part, I was starting to get a little frustrated.
Then we did get into it and we got Lanie and Papa Beckett and a lot of good stuff and and I really, really loved how Ryan revealed that Jenny is pregnant, but all I could think about was what the hell was Beckett thinking? Of course it was a great opportunity, but hello, would it have killed her to talk it over with him first? Why hide? She simply repeated the same mistake Will made way back before season 1, when he left her to go to Boston. I really, really disliked that. Because it just seemed that all this amazing progress she made over the past couple of seasons was thrown out the window with one bad decision.
I have to hand it to the writers, though, because I really didn't have the slightest idea how it was going to end. Up until the moment he got down and on one knee and proposed, I thought he was about to tell her to take the job and go to Washington. So really, well done. They kept me on the edge of my seat until the very last moment and I was seriously in shock when he actually coughed those four little words out. A proposal had been one of my theories for the finale, but I never thought it would actually happen.
When Martha sat him down and had that talk with him, I thought this is it. Now he is going to do something drastic: either let her go or take a step forward in their relationship, but I was still leaning towards the first option.
It has been over an hour since I have watched that last scene and I still can't process it. Because, okay, great, he proposed. But what will that mean for them? Will she say yes? What if she says no? Will she still take the job in DC? How is it going to affect their partnership?
So. Many. Questions.
And an entire summer to think about them. Now it's up to you guys. My brain is mush.
But, oh my god, he proposed!
Did you survive?