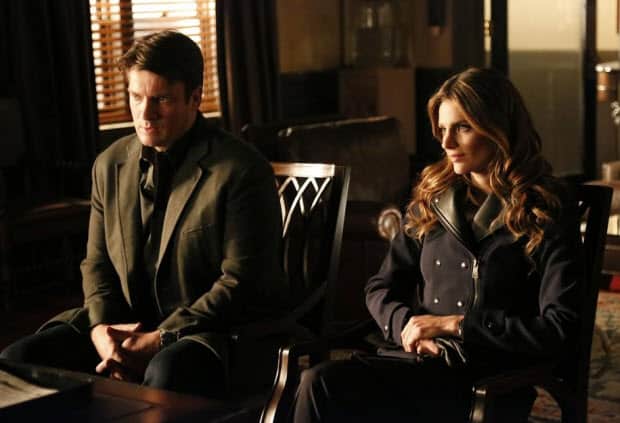 On this week's Castle, we get some Wall Street intrigue and meet Captain Gates' estranged sister! Meanwhile, Castle and Beckett must figure out what to do about their very, very large guest list.
Our victim, Peter Cordero, works for Wall Street firm JP Harden and was found murdered on his bed. An anonymous tipster calls it in, but doesn't identify herself. His shirt was unbuttoned, so it looked like the killer was looking for something. "Or a bunch of cash on his chest, like Wolf of Wall Street." His cousin thinks something was bothering him at work, but she doesn't know much. Their family came from Venezuela after the earthquake.
At JP Harden, Jamie Berman dumps a million dollars on the table to get his employees working. If only I could just get my hands on a stack… I honestly thought Berman would be the guy to do it, because I recognize his face as one of those actors who's in a lot of stuff and is often the villain. Berman tells them that Cordero met with a shady character a few days ago. Castle and Beckett recap their Wall Street trip for Gates, just as the anonymous tipster walks in with US Attorney Elizabeth Western, Gates' sister!
It seems fitting that these two women are called Elizabeth and Victoria. Their regality shines through them. Also, it's worth it to note that Victoria is married, but it's implied that Elizabeth is not–no proof really, except Espo's comment of attraction, which is circumstantial at best. (Though it makes me nervous, because Queen Victoria is known as a famous widow who mourned Prince Albert for years after his death. Future plot possibility?) The two women create icy tension at first–and second–meeting. "Subtle chill? More like polar vortex!" Castle, of course, is intrigued. I was a bit surprised there wasn't more theorizing as to why they didn't speak, I wanted Castle to come up with some fun sibling rivalry stories! He bets Beckett to ask Gates, but she likes her job too much to pry.
The woman with Elizabeth is Stephanie Goldmark. The two work in the US Attorney's office and they were investigating Berman for all sorts of illegal things, insider trading, etc. Cordero was their guy–he got caught with cocaine a few months ago and jumped at the chance to help for immunity. Berman denies knowing anything and plays the lawyer card. But he wasn't lying about the sketchy guy, the gun used to shoot Cordero is tied to Hector Nunez, known for cocaine, assault and attempted manslaughter.
Castle and Beckett head uptown to meet Nunez. My problem with the scene was the awkward dancing behind Nunez while they spoke. Awkward dancing to low music. I wish they'd picked a different background shot for the meeting. Anyway, Nunez and Cordero were once friends and Cordero felt like he was in danger, so he asked Nunez for the gun to protect himself. Cordero also asked Nunez to take an envelope to a bank manager to transfer some funds. Nunez unknowingly transferred 25 million dollars!
Gates calls Elizabeth and the two have a mirrored stand-off [just like Penny Johnson Jerald warned me in our interview!]. The two women sound, look, and dress alike–though Elizabeth has a lighter tough with those pearls. The tension ramps up; when Gates asks for the recordings, Elizabeth stone walls her saying she can't. "Can't or won't?" Gates knows its all a political move for Elizabeth's career and when she calls her out on it, Elizabeth begins to crack as well. She fires back.
"I have to think about the greater good! You could never play the game could you? It's why you're stuck behind a desk, instead of running the entire force, down at 1PP."

"I'm not stuck anywhere. And I will never apologize for doing my job to the letter of the law. Now I'm going to need those wire recordings. Or am I going to have to go over your head?"

"Anything you find, you bring it to me first. Do you understand? I will not have you screw up another one of my investigations."
Door slam!
"Let's not put her on the list." Castle and Beckett watch as Elizabeth leaves. The hint we get at their past is brilliantly written, but again, I wish Castle had gotten to theorize why they're upset with each other!
Turns out, Cordero had been making calls to the Venezuelan Consulate. He was trying to get a passport under his birth name, Armando Garcia. The team figures out he was trying to run away with the $25million without helping the US Attorney's office. Everything he gave them is now suspect, which Gates has to tell her sister, especially after their past: Gates once ruined Elizabeth's case by doing her job and it hasn't been the same since. Now she has to tell Elizabeth that Berman paid Cordero to throw the case.
Berman knew about the wire and the case, but they can't connect him to it. It still ruins Elizabeth's case, but not as much as the fact that her partner Stephanie heard all this on the wire and killed Cordero to try to save the case. She also was the one who planted the drugs on Cordero to get him on their case in the first place!
Elizabeth thanks the team for their hard work. Kate: "We were just doing our jobs, following our captain's lead." Cordero donated most of the money to earthquake victims back home in Venezuela, so Elizabeth won't fight to get those international funds back.
"Thanks you, Victoria."

"For what?"

"For doing your job so well."
They decide to go out for drinks as sisters.
On the wedding side, Castle and Beckett's guest list reaches up to nearly 500 (with the mother of the groom adding some names to the list), but in the end they figure out that they only really need each other there to make them happy. They run down the list of close friends and family–though it seems that adding Gates' family as well is what will continue to push the guest list back into astronomical territory!
The next episode isn't until April 21st, so we've got a bit of a break here. Then it's a fast track until the wedding! I'm excited! See you in four weeks!
[Photo via Richard Cartwright/ABC]