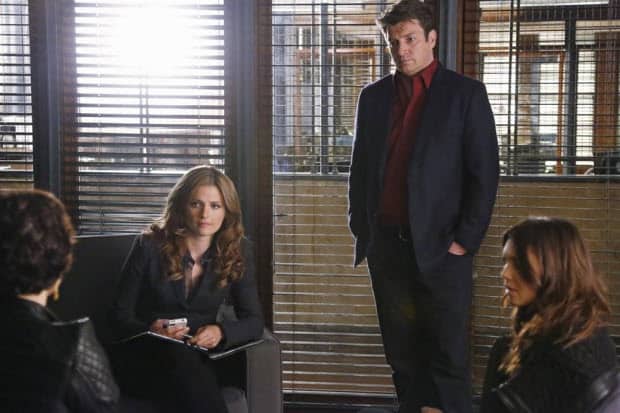 Castle has really been sharing the love for it's supporting characters since it returned from hiatus. First episode back, we got to hang with Ryan and Jenny, last week we re-met Papa Castle and spent some extra time with Martha, and this week we got a little time with Alexis, who we haven't seen since Christmas. Here, the themes of the episode are about looking at your choices and the way they are both driven by and affect other people.
Our victim, Mandy Melody, former teen star a la Miley Cyrus, was caught during a binge night with her ex-boyfriend right before her comeback tour, and ended up dead. Well, her decoy ended up dead, and Mandy ended up trying to figure out how she got so, as Alexis put it so tactfully "messed up." Turns out, it wasn't quite her fault, it was Mommy Dearest (who seems to have more of a present hand in the adult life of her daughter than, say, Billy Ray does) who was controlling the strings. Momma Melody was looking to cash in as her daughter's manager and actually wanted her daughter to continue the wild party girl phase for all the publicity it drummed up. So she staged a decoy with Mandy's ex, broke them up, then killed the decoy Mandy when she was itching to tell the real Mandy how she was being manipulated. Thankfully, Mandy gets to go off with her boyfriend, hopefully to a more peaceful life, but not after taking a hard look at her past choices and deciding to make a choice to continue down that peaceful path. It would have been easy to go back into the limelight.
For Alexis, she has her own choice to make. She and Pi are on the rocks–she's trying to help him get a grant just so he could travel more and be out of her hair–but she doesn't quite know how to rectify her grown up mistakes. It definitely says something that she doesn't talk to her dad about her problems, when in the past she would have–though I suspect it has a lot to do with not wanting him to say "I told you so." But Alexis realizes she must handle this on her own, and presumably she goes off to break up with Pi, choosing to own up to her mistakes and take a different path going forward.
And finally, Beckett makes a choice too. She is an incredibly private person, this hasn't changed since the pilot, but she looks at her life and the choice she made–to be with a "somewhat famous" mystery writer–and decides to own up to it. While she spends the episode conflicted over how she should feel about Castle being in Page Six being seen with Gina, his ex-wife/publisher, she decides that she wants the public to print the truth. She announces their engagement (only about, what? 6 months after the fact) and takes full responsibility for her choice in partner. Though not for his choice in wedding venue. Still a no on Space Wedding.
All in all, all three ladies that drove this episode must come to terms with their past choices and make a decision about how it is going to affect them going forward. They could have chosen for things to remain as they were, where they were unhappy, but they chose happiness and were all the freer for it. A good episode with strong themes, classic Castle.
[Photo via Richard Cartwright /ABC]
Tell us what's wrong with this post? How could we improve it? :)
Let us improve this post!