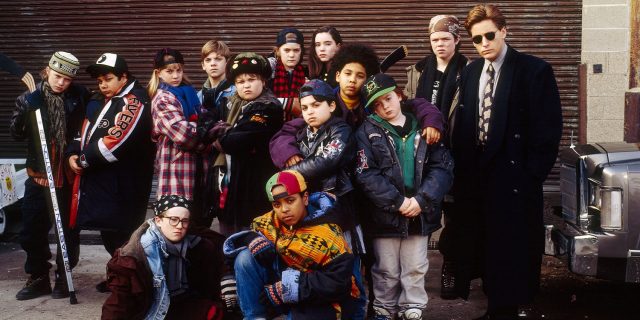 It's hard to believe it but it's literally been 25 years since the release of The Mighty Ducks. I think I and the collective public never thought that this movie had a remote chance of being successful. But here we are in 2017 celebrating one of our favorite underdog sports movies. In fact that movie was so successful that it had not one but 2 sequels. I would say there's zero chance that we'll ever see another installment of this movie but it's fun looking back.
Here's another thing that's super hard to believe. I'll never get over the fact that to this day a real NHL team is named after this team. They may deny it all they want but come on Anaheim! Actually they don't deny it at all. P.S. How awesome a name is Gordon Bombay? Check out what the cast of The Might Ducks looks like today:
Emilio Estevez- Gordon Bombay
Emilio Estevez finally stood out of the Brat Pack spotlight when he played the Mighty Ducks coach. He kept acting through the early 2000's, but has lately been focusing more on directing. Gordon Bombay is still near and dear to him, however, and he showed that in 2015 when he brought the character back to life in a live-tweet support session for the Anaheim Ducks in their playoff game against the Chicago Blackhawks. He called the Blackhawks "windy city windbags" and told them to "suck it."
Aaron Schartz- #11 Dave Karp
After playing the chubby prankster in the first Mighty Ducks Schwartz joined Danny Tamberelli for an eight-episode ruin on The Adventures of Pete and Pete, as well as teaming up with Shaun Weiss for Heavyweights in 1995.
After a 15-year absence, Schwartz popped back on the screen in Gossip Girl. He was on the show for three years, but other than that his roles have been short-lived on shows like Law and Order, Suits and The Originals. You can catch him next playing Young Ego in Guardians of the Galaxy Vol. 2. He plays the younger version of Kurt Russell's character.
Marguerite Moreau- #18 Connie Moreau
After the trilogy ended in 1996, Moreau starred in Wet Hot American Summer as camp counselor Katie. She then had a major role in Queen of the Damned shortly after, but after that her career began to focus more on television. She's appeared in Smallville, The OC, Lost, Mad Men, Shameless, and most recently The People v OJ Simpson.
Danny Tamberelli- #2 Tommy Duncan
Tamberelli played defenseman Tommy Duncan in the first film, but opted out of the last two so he could play Little Pete Wrigley in The Adventures of Pete and Pete. He went on to Nickelodeon fame when he joined the cast of Figure It Out and All That in the late 90s. He left the network in the early 2000's and turned to voice work.
His voice acting resume includes Arnold Perlstein in The Magic School Bus as well as a gig on Disney's animated comedy Fillmore!, after which he switched to the gaming world where he was the voice of Michael De Santa in Grand Theft Auto V. These days he's busy with his Brooklyn rock band Jounce, which is what he's wanted to do ever since he had an amp-exploding encounter with Iggy Pop while filming The Adventures of Pete and Pete.
Vincent Larusso- #99 Adam Banks
Larusso portrayed the archrival-turned-teammate in all three movies, despite the fact that he was originally cast as a background actor. He got his break when the original Adam Banks caused a lot of problems on set.
Larusso has since stayed away from acting, except for a surprising role as the bank robber in the 2008 spoof Superhero Movie. He now works as an inventory controller for the hospitality chain Soho House.
Brandon Adams- #9 Jesse Hall
Before his role as the sharpshooting forward, Adams got his big break when he played Zeke "Baby Bad" Michael in Michael Jackson's bizarre 1988 action/musical hybrid Moonwalker. He then went on to work with Wes Craven in 1991's The People Under the Stairs, but he was really known for his 90's TV career, which including The Fresh Prince of Bel-Air, Sister Sister and Boy Meets World. After the 90's, his career came to an end.
Garette Henson- #00 Guy Germaine
Henson's movie career was dynamite in the 90s, appearing in ten films over a six-year period. You'll probably remember him from Casper, in which he played the guy Christina Ricci had a crush on.
He says he still enjoys reminiscing about The Mighty Ducks, but towards the end of the 90s he got sick of being associated wit the films. "I think it most annoyed me around 1998 right when I went to college, when I first stepped away from acting," he explained. "It's obvious I didn't have a traditional childhood, but for me, going to college was my opportunity to experience traditional young adulthood."
He briefly returned to acting in 2006 when he played a prisoner in The Mansfield 12. It got a few positive reviews, but not nearly enough attention to get him back on the map.
Matt Doherty- #4 Lester Averman
Before he hit the ice, Doherty played the son of Uncle Rob in Home Alone. His name was Steffan, and if you don't recognixe him it's because he only appears for a couple of seconds in the family's French hotel room.
When he grew up he had his fair share of supporting actor and extra roles (he was an uncredited butler in Argo) and lately he's turned to TV movies. His resume includes the 2015 sci-fi production Supernova 45, in which he plays Jetset, a tech-savvy sidekick of one AWOL pilot Ganymede Pan.
Jussie Smollett- #1 Terry Hall
After he opted out of the sequels to work with Elijah Wood and Scarlett Johannson in the 1994 comedy North, it would be almost twenty years before he added another film to his resume. He starred in 2012 dramedy called The Skinny, but it wasn't until the Fox hit series Empire that he pulled a Mighty Ducks comeback of his own. His role as a talented musician has earned him lots of attention, and he's set to star in the upcoming Prometheus sequel Alien: Covenant.
JD Daniels- #24 Peter Mark
Daniels had more than 30 film and TV credits under his belt by the time the 90s came to a close. He ended up moving to voice work, providing the voice for the football head in the pilot episode of Hey Arnold before being invited back to Disney to work on the TV show versions of Aladdin and The Little Mermaid. He hasn't acted in over a decade, but he still works for the Actors' Equity Association.
Shaun Weiss- #33 Greg Goldberg
Weiss's career began with a few TV shows before The Mighty Ducks, and in between filming the trilogy he starred in Heavyweights. He finished out the 90s with a four-episode gig on Freaks and Geeks, but the biggest role he had in the 2000s was an unnamed bus driver in 2008's Drillbit Taylor. He did, however, just recently guest star on the ABC show The Goldbergs.
Elden Henson- #44 Fulton Reed
After the Mighty Ducks trilogy ended, Henson had a hard time making his mark in Hollywood. He had supporting parts in Dumb and Dumberer: When Harry Met Lloyd and Evil Alien Conquerors, but it wasn't until recently that he really hit his stride.
In 2014 he started his role of Pollux in the two-part Hunger Games finale, and his character Foggy on Netflix's Daredevil will be reprised in the upcoming series The Defenders.
Joshua Jackson- #96 Charlie Conway
Jackson was never actually supposed to play the role of the championship-winning penalty scorer. Jake Gyllenhaal was originally offered the part, but luckily for Jackson, Gyllenhaal's parents wouldn't let him miss that much school for filming. Jackson's career began, and he went on to star in Dawson's Creek and Fringe. He continues to have success on the small screen and is currently preparing for Season 4 of Showtime's The Affair.
Save
Tell us what's wrong with this post? How could we improve it? :)
Let us improve this post!