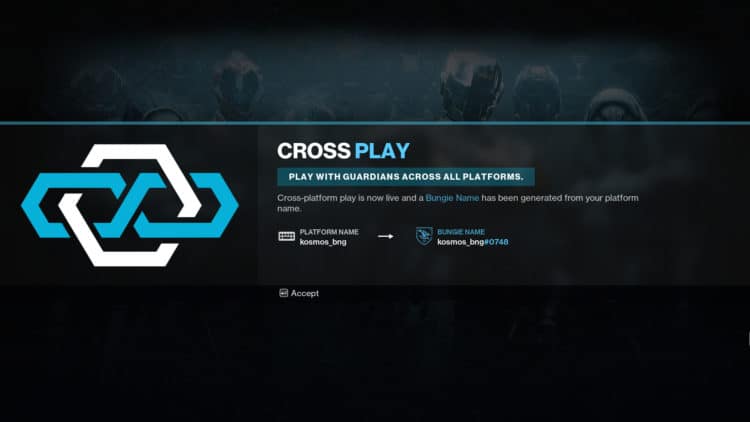 It looks like Destiny 2 players are finally getting some good (and somewhat mildly disappointing) news regarding the upcoming crossplay features coming to the game sometime in Season 15. In the latest This Week at Bungie blog post, our trusted dmg04 (shout out to the best community manager), handed readers over to the Cross Play Team that is currently working on the game's most requested feature to tell us a bit more about what we can expect about Destiny 2 crossplay at launch. While there wasn't an exact release date yet, we got a whole bunch of other information that ended up being extremely useful and actually a lot more than I think any of us really expected. So, what can we expect when crossplay finally comes to Destiny 2?
Bungie Names
To start things off, Bungie is changing the way that online names work in Destiny 2. "We're converting everyone's name over to an identity that will remain consistent across all platforms you play from. We're calling this your Bungie Name. While this will cause a one-time naming reshuffle, we feel this is better for everyone in the long run." Currently, the Bungie Names system is set to work and look like this:
"Bungie Name": PlayerName#1234
"Display Name": PlayerName
"Hash": #
"Numeric ID": 1234
This way, everyone can have their own display name across all platforms no matter which console you're playing on, so your friends can easily find you on any platform. While I'm sure that some players won't exactly be all that thrilled about the naming reshuffle, I do think that overall, this system is the way to go. Unfortunately, there may be some naming issues if you currently have a name that doesn't fit the naming conditions for Bungie Names. "It is possible that due to removing these characters, players will end up with empty names, or names that result in offensive terms. If your name ends up empty or includes a moderated term, you will find the quite unremarkable "Guardian[Random Number]" name over your character's head. While we won't have a name change feature at launch, we are working diligently to get you an early version of this feature this winter. We highly recommend you think carefully about what name you'd like to rock in Destiny 2 sooner rather than later, as we don't want you to be stuck with a handle you're not overly fond of when the name change feature goes live."
You've Got to Have Friends
When Destiny 2 crossplay goes live, there will be three different ways to add your friends from all platforms to your Bungie Friends:
Log into Destiny 2 on a device where you want to turn platform friends into Bungie Friends, and then issue requests via our Roster screen.
Search for your friends using player search on the Invite screen.
Use Bungie.net friends finder, where you can link all of your platforms, and then issue Bungie Friends requests to all your platform friends.
Finding a Fireteam
Bungie has also built a new tool to allow players to issue fireteam invites to all platforms, this tool is called "Fireteam Finder." Unfortunately, as with any online game, there will always (but hopefully some day there won't) be members of the community who experience targeted harassment. In order to help protect those players, Bungie has added a block system that will allow players to protect themselves from said harassment. Alongside this feature, Bungie also says "we've also added additional privacy tools so that players can protect themselves from broad harassment. Most of the social privacy settings can be accessed from the Roster screen, where you will have control over the different kinds of invites you're willing to see and consider. For the time being, your privacy setting for clan invites will still be controlled through your personal Bungie.net privacy settings."
Matchmaking Pools
Now, the one massive looming question that everyone will undoubtedly have on their minds: how is matchmaking going to work? Well, for competitive modes, it will look like the following (Crucible, Iron Banner, Trials, Gambit):
PC players will match with other PC players.
Console players will match with other console players.

Note: Stadia will be in the Console pool.

Fireteams with any combination of PC players and console players will match in the PC player pool.
Within PvE modes, everyone will be matched together in a single, global matchmaking pool. I think that most people assumed this was probably going to be the way that crossplay matchmaking in Destiny 2 was going to work, but there were fears that PvP modes would also have a global matchmaking pool, which definitely would have killed the game's integrity. That being said, it looks like we don't have to worry about that, since competitive modes will have a separate matchmaking pool.
Clear Comms
Unfortunately, cross-platform voice chat will not be a feature that works at the launch of Destiny 2 crossplay, though Bungie is currently working hard on a solution to solve the problem that is causing the delay.
Crossplay Roadmap
So, what else can we expect from Destiny 2 crossplay?
Early Season 15

Bungie Name and Bungie Friends
Cross Platform Invites, Multiplayer, and Matchmaking
Player Search and Social Privacy

Soon after launch – Cross Platform Voice Chat
Winter – Bungie Name Changes
Winter – Text Chat Display on Consoles
Winter – Text Input Via USB Keyboards on Consoles
That's pretty much it, folks! See you all soon when crossplay becomes available in Destiny 2 with Season 15!