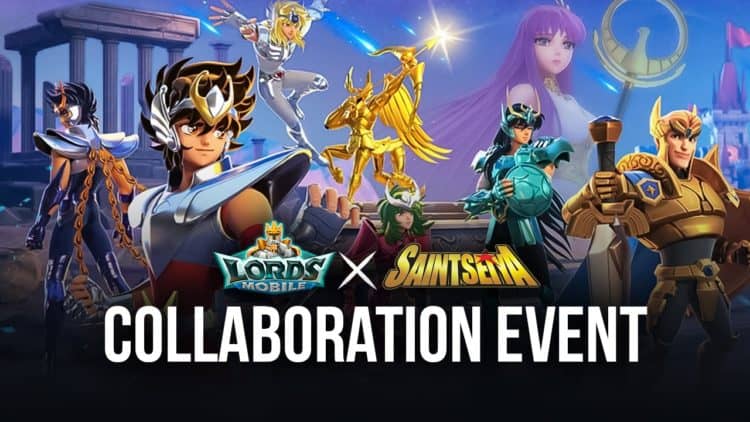 If you love playing video games, you've probably heard of the Lords Mobile x Saint Seiya collab happening in 2021. Lords Mobile is a multiplayer game that has been popular since its release back in 2016. Gamers worldwide have praised it for its creative world-building, battle options, great music, and solid graphics. The fantasy battle game was developed by a Singapore company named IGG. Its also responsible for successful games like; Clash of Lords 2, Castle Cash, and Galaxy Online 2. The Lords Mobile game is so successful that it has had more than 200 million active players worldwide. On the other hand, Saint Seiya is one of the most famous animes of all time. The collaboration between these two is something fans only dreamed of, never thinking it would happen. This article will get into everything you need to know about the Lords Mobile x Saint Seiya collaboration.
Lords Mobile: Conquering A Kingdom
So what kind of game are Saint Seiya characters joining? In the fantasy world of Lords Mobile, a player gets to create their kingdom entirely from scratch. You get to build houses, form villages to your liking, conduct research, and, most importantly, train troops to battle other kingdoms. It's a great game to learn patience and how to strategize and win wars. There are countless activities that you can play to earn coins and upgrade your turf. The more powerful you become, the better your ranking and ability to join existing guilds. You also have your pick of players from mermaids, robots, elves, and other creatures to fight enemies and conquer kingdoms. The Dragon Arena mode lets you battle with a rival team for fun.
The Collaboration
During the 5th anniversary of the Lords Mobile game, they announced the surprise collaboration with the game version of Saint Seiya. In a statement by Lords Mobile, they stated the limited-time collab between them and Saint Seiya would introduce a new hero and multiple non-player characters in the Lord's Universe. Most fans of Lords Mobile love the hero battle element, and now Masami Kurumada's Saint Seiya: The Knights of The Zodiac will be joining the game. Saint Seiya is a popular Japanese manga. It's about five bronze knights who have the power of gods that can shatter entire skies. For over 30 years, fans have followed Seiya and the other knights through different adventures in films, anime, and game adaptations. Now the knights will be battling a different foe in the new realm of Lords Mobile with your help!
The Crossover
Lords Mobile isn't Saint Seiya's first crossover mobile game since the manga began. The characters of Saint Seiya have appeared in multiple games separate from the ones based on Masami's epic manga. 2014 was their most significant collaboration with Puzzle and Dragons, Pegasus Seiya, Andromeda Shun, Cygnus Hyoga, Phoenix Ikki, and Dragon Shiryu featured. In 2016, Saint Seiya collaborated with Monster Strike to feature a few characters. It was a way to introduce the characters from the movie Saint Seiya: Legend of Sanctuary. Other classics that have collaborated with Puzzle and Dragons include Dragon Ball and Batman. This collaboration event was an excellent way to introduce the Saint Seiya franchise to a new audience in the gaming niche that might have never known about it.
All Saint Seiya Options in Lords Mobile
The game will have a Saint Seiya-themed loading screen, which is great instead of a blank screen. There is a log-in bonus for this Lord's Mobile event to get you started with 10 Pegasus Seiya Medals that instantly unlock Pegasus Seiya's character. But it only applies for the first time, not every time you log in during the event. The collaboration will have updates and custom challenges running between April 1 to May 31. The 'Cosmo Unleashed' Limited Challenge will give players the chance to win more Seiya medals and acquire different equipment to help upgrade their status in the game.
Characters
The most exciting part about the collaboration is that gamers customize their territories with Saint Seiya-themed decorations and shields. Even better is being able to battle with Pegasus Seiya against other crews. He has hero skills like Comet Crush, Pegasus Meteor Fist, Athena's call, and Cosmo power that you can use against other kingdoms. Other non-player characters in the Lord's Mobile event from the Saint Seiya universe include Phoenix, Crystal, Andromeda, Sirio, Shiryu, Hyoga, Ikki, and Athena. Athena is a goddess. A plus is soon after receiving the legendary Seiya as your character; he remains yours even after the event ends.
Features
Along with the new characters, the collaboration event will feature Saint Seiya Mall packs with Meteor boots, Saint badges, and a temporary Castle skin. You can also get Pegasus medals at their Gem Mall for a price. The collaboration event will also feature a Saint Seiya exchange shop where you can use Athena's blessing to buy emotes, avatars, and exclusive equipment for your turf. You can find and download the Lords Mobile game for PC, Android, and IOS. It's also available for free with a few in-app purchases. Now fans of Saint Seiya can take on the role of Pegasus Seiya during the one-time event on the Lords Mobile battlefield.
Tell us what's wrong with this post? How could we improve it? :)
Let us improve this post!