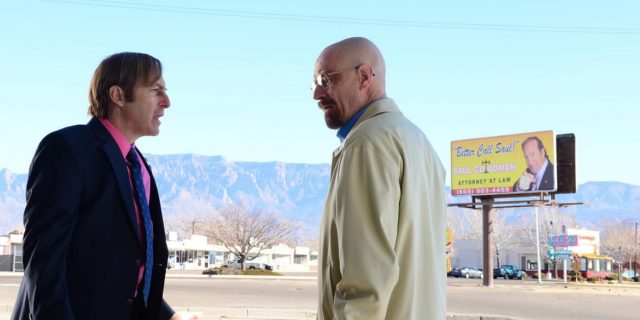 While Bryan Cranston had a very long "journeyman" career as an actor before Breaking Bad, it was the role of Walter White that turned him into a bonafide super star. And it's not like Breaking Bad was a one hit wonder for his talents. Cranston has taken the big screen by storm and is regarded as one of the finest actors out there. He also has not forgotten about Walter White or the success it has given him.
Cranston's done a couple of Walter White appearances since Breaking Bad has ended, namely on SNL. However, in a recent interview Cranston opened up about the possibility of playing Walter White again in the Breaking Bad spinoff/prequel Better Call Saul which is also a Vince Gilligan project on AMC.
Now preparing for its third season, Saul has also gone on to garner plenty of critical praise for its stars Bob Odenkirk and Jonathan Banks, both of whom reprised their roles as Saul Goodman (or Jimmy McGill, really) and Mike Ehrmantraut. The series has successfully incorporated key elements of its originator while still finding a way to make the story of a gifted scam artist who can't stop failing upward into something that stands on its own. (Screenrant) Fans have been wondering if the show will ever incorporate Walter White into the mix.
On reprising his role as White, Cranston had this to say to Moviephone:
I don't know. You could. I actually think it'd be fun. I have not been approached by it. I know that Vince [Gilligan] wouldn't do anything that would damage the overall brand that he's worked so hard to develop on a stunt-cast kind of thing. Then I think, "Well, what if it's just a brush-by? If it's just two guys in a market. Are those ripe? I don't know." We don't even register that we knew each other three years before we see each other again. That's life. It's actually very honest. It happens. So the bottom line is, I would do it in a second. If Vince wanted me to be on the show, I'd be on the show.
Another character, Jesse Pinkman, has also been talked about. Better Call Saul may have just gotten 100 time better.