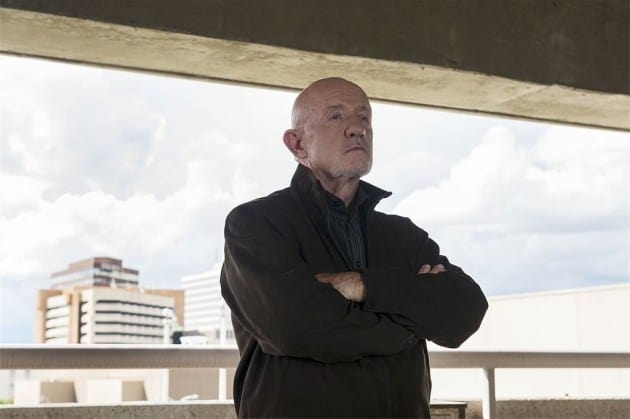 It's always about power, isn't it?
All roads lead to power. Every bit of money, status, prestige. It's our lizard brain, long since relegated to a support role, asserting itself. It's our most uncontrollable impulses screaming for a seat at the metaphorical table. Even the best of us are corrupted by power.
That was nowhere more apparent than on tonight's Better Call Saul. Chuck is supposed to be the benefactor of Jimmy's rise to respectability. But the problem with respectability politics is that it's all an illusion. Respectability is in the eye of the throne. Those in power decided that a man (and I do mean a man) who wore a suit was respectable. They decided that a man who drove a nice car and frequented nice restaurants was respectable. They decided this because that would make it impossible for their status to be questioned.
Chuck made a grand speech tonight about how his brother was not a real lawyer. He made a speech about the sanctity of the law, and the damage that could be done if someone was allowed to use the law for their own self-serving purposes. But do you believe, for a second, that Chuck is railroading his own brother because he's trying to protect people? He might believe it, sure. But the truth is that Jimmy found this case, he dug through fecal garbage, and he even acquiesced to taking the case to HHM. Jimmy's been taking care of Chuck for a year and a half, too; and yet. No, what this is about is much more simple: Chuck doesn't want to share. He doesn't want Jimmy to be his peer. He wants Jimmy to work in the mailroom. He wants Jimmy and his fast-talking, easy-going nonsense below him, figuratively and literally. He's mad because Jimmy got his law degree and passed the bar and climbed the ladder because of who he is, not what he knows.
And damn, ain't that the thing. Jimmy keeps getting back up, because at the end of the day people see something in him. Jimmy McGill is accused by his own brother of taking shortcuts, but making peanuts in the mailroom of a law firm and going to night school and getting your law degree and passing the BAR EXAM by YOURSELF is not a man who takes shortcuts. A man who takes a bribe and then gives it all back at the possible expense of his freedom and a man who turns down thousands of dollars to get a client the best possible outcome (and help a friend!) is not a man who takes shortcuts.
No. You wanna know who takes shortcuts? Men like Chuck. Men like the two police officers who killed Mike's son. They see an opening to save their own hides and maximize their own profits, and they just can't help themselves. Those men had no more evidence that Mike's son was gonna flip than Chuck did that Jimmy would, but they didn't care, because it was never about this. A new guy was upsetting the established order, and they were fat and happy. A new guy was trying to be respectable, like the men they looked up to, and they killed them for it.
It's so funny that Jimmy McGill becomes Saul Goodman, because it's all Chuck's fault. It's so funny that Saul is living in Omaha in black and white, because it's all Chuck's fault. It's so funny that a kid is going to be nearly poisoned to death and a nursing home is going to be blown to pieces. It's so funny that a young girl is going to choke to death on her own vomit, and all of this, every last minuscule detail, can be tied into this one conversation with Chuck McGill. Everything that comes after, like ripples in a pond, is because of this one conversation.
And all because one man can't bear to share. Ain't that a shame.
Stray Thoughts
– I loved this episode with all my heart.
– I'll probably do a rewatch of this entire season the moment it gets on Netflix. It goes to figure that the one show that I am most excited for week to week I don't have on screeners. Man.
– Mike's story was pretty awesome. I'm super into what he's doing. Also, that dude he was working with looked so much like Walter White.
– I love this show.
[Photo via AMC]