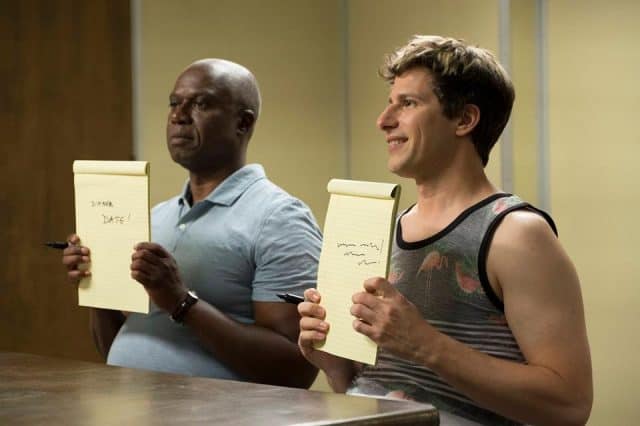 The squad is back! In the second installment of Brooklyn Nine-Nine's fourth season as well as part two of three of the Coral Palms trilogy, we were reintroduced to the squad who was so sorely missed in the first episode. Not only that, we were also gifted with a great group of guest stars as Maya Rudolph returned as Marshall Karen Haas, Ken Marino was introduced as CJ, the new captain, and Jim O'Heir appeared as a small town cop in Florida. Adding this talented trio to the already hilarious cast, it seemed inevitable that there'd be plenty of laughs this episode. While that was partially true, it didn't quite deliver like I thought it would. In the end, the episode fell a bit short in terms of comedy for me, but as the middle piece of the trilogy, it did what it needed to do, advancing the plot forward and setting up the big resolution we'll surely see next episode.
With the viral video uploaded for everyone to see, Jake and Holt started this episode as sitting ducks, waiting for Figgis to find them. In a fun scene with Maya Rudolph, they got a bit sidetracked giving her advice for her love life, but did end up confirming that no one above them knew about the video, meaning that they were truly on their own in this. Knowing they needed to be prepared since it was just the two of them against Figgis and all his men, they went to buy guns and ammunition. In what had to be social commentary on the state of our country right now, Jake and Holt were able to get guns without even needing to show identification, as many lethal weapons, along with a bucketful of bullets, were just handed to them. Jake even took a second to point out that the ease with which they were given guns means our country is broken.
As prepared as they could be, all the duo could do at this point was wait. Easier said than done for Jake, who got caught speeding by Jim O'Heir's small town cop character. Seeing the guns in their backseat, he immediately brought them in for questioning. The two weren't able to talk their way out of the situation, landing them in jail. Resorting to the truth, they tried to explain to the small town cop, who learned everything he knows about interrogation from the Newlywed Game, who they really were but he didn't believe them. And when they had him call the Marshall to confirm their identities, it was Figgis who picked up, claiming not to know them. With Jake taking the phone, Figgis informed him that they had the Marshall and were coming for the duo.
Despite being unable to convince the cop they were actually detectives, they were, however, able to put together a jail break plan. In one of the more humorous moments of the episode, they gathered the other inmates and used each of their unique skills to escape. Of course, in the end, it was the small town cop's outdated views on homosexuality that allowed them to escape, as he tried to break Jake and Holt apart when the two started kissing. Adding to the social commentary of the episode, they were quick to call out the cop on his homophobic behavior, laying all the blame on him for letting Jake and Holt escape. The two played this moment off perfectly, though I always thought if Jake were to kiss another male character on the show, it would be Charles.
Free from jail yet without any weapons or backup, Jake finally had to address the big question he had been pondering throughout the episode: why didn't Holt want to call the Nine-Nine and bring them in to help? True to his character, Holt explained that he was embarrassed that the squad had already had to rescue him once when he was kidnapped and didn't want them to have to help him again. Holt isn't a character that likes showing weakness and in his mind, asking for help is weak. Jake was quick to remind him that there is nothing wrong with asking for help from people who care about you, proving once again that this group of people are more than just coworkers. And even someone as emotionally closed off as Holt was able to realize that, agreeing to call them in for backup.
While all of this was happening in Florida, back at the precinct the squad was adjusting to a new Captain. The unqualified people-pleaser CJ was given the position and, noticing his weakness, Gina immediately took advantage of it. Realizing he would say yes to anything they asked of him, Gina hired herself an assistant who was willing to do all her work for her, including insulting Amy. At the same time, it was Amy who was working to get the whole squad to sign a letter requesting a new chief. Always one to value hard work, Amy saw no potential in the new captain who let them get away with anything.
Gina got to the rest of the squad before they signed the letter though, showing them all the benefits of a pushover captain. Rosa was able to get walls put up around her desk to stop Hitchcock's creepy staring, Boyle got himself a treadmill desk, and even Terry gave in as his love affair with yogurt continued in the form of a yogurt refrigerator at his desk. Frustrated with everyone, Amy lashed out, calling them all selfish. She reminded them that Holt taught them better than that, always expecting the best from them, and that he would be ashamed right now. Her speech finally opened everyone's eyes to their behavior and they all banded together to talk to the captain, telling him that it was his job to sometimes tell them no. Unfortunately for them, the one time the new captain finally decided to put his foot down was right after they got word from Jake and Holt that their assistance was needed in Florida. In another open-ended finish to an episode, we were left with CJ telling the squad they couldn't take off and go to Florida, leaving Jake and Holt alone again with no backup.
This episode wasn't without it's highlights, with Ken Marino's portrayal of the pushover captain providing some of my personal favorite moments. Overall, it felt much more like an episode to advance the story than anything else though. There were a few nice character moments, with Amy standing up for what Holt taught them and Holt being vulnerable about his embarrassment over being rescued. And of course, it was nice to have the squad back (mostly) together again. Gina seemed especially harsh towards Amy this episode which seemed almost over the top, but there were fun moments between others, like Amy and Terry and his 'blood yogurt.'
One thing that is undeniable while watching these episodes though, is that Brooklyn Nine-Nine has really found it's grove in telling multiple episode story arcs. It worked for them at the end of last season and they're picking up right where they ended, stringing together episodes to tell a great story. Not many comedies can do this, and while not every episode may be laugh out loud funny while doing so, it is true that every episode has it's value in the overall scheme of story-telling.
[Photo via FOX]
Summary
Jake and Holt prepare for a confrontation with Figgis while the rest of the squad meets the new Captain in a solid episode of Brooklyn Nine-Nine.