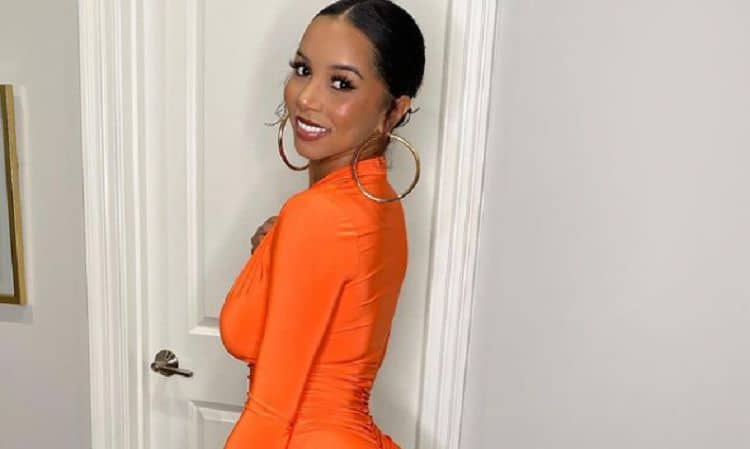 For years, Brittany Renner has been well-known on social media for her love for fitness. In addition to having a great body of her own, she also shares tips and workouts with her followers. Recently, however, the attention she's been getting hasn't had anything to do with her brand. Instead, people are accusing her of "grooming" her ex-boyfriend, professional basketball player, PJ Washington. Many believe that she intentionally had a kid with him so that he would be forced to pay child support. Unfortunately, these allegations have been overshadowing the fact that she just welcomed a beautiful baby into the world. Keep reading to learn 10 things you didn't know about Brittany Renner.
1. She Is From Mississippi
Brittany Renner was born and raised in Ocean Springs, Mississippi. She has never revealed much information about her family or her upbringing. As you can imagine, Mississippi isn't a place that has a lot of opportunities for someone who is looking to be in the spotlight. Although she will always have love for her home state, it appears that Brittany currently lives out on the West Coast.
2. She has A YouTube Channel
Instagram is the platform where Brittany has gotten the most attention, but it's not the only place you can find her on the internet. She has a YouTube channel where she's posted fitness-related content, but unfortunately, she hasn't added any new videos in about five years. Despite the inactivity on her channel, Brittany still has more than 17,000 subscribers. Additionally, she has gotten over 217,000 views.
3. She Has An Audiobook
If you thought that being a social media influencer was the only thing Brittany could put on her resume, you might want to think again. She is also the author of an audiobook called Judge This Cover which is exclusively available on Audible. According to the book's description, it "details the experiences of a woman whom some love and others love to hate". We didn't find any information on whether or not Brittany has plans to do more books in the future.
4. She Has Some Acting Experience
Fitness has been Brittany's primary focus for the last several years, but it looks like she's also trying her luck in the entertainment industry. She made her acting debut in 2019 in the TV series American Soul. She also appeared in two episodes of The Haves and the Have Nots in 2020.
5. She Doesn't Let The Haters Get To Her
Being in the spotlight comes with a lot of perks, but it also has its downsides. One of those downsides is the fact that countless people are going to have opinions about everything you do. In the wake of the "grooming" allegations, Brittany has gotten a lot of negative comments. Despite what people say, though, she isn't letting the cruelty bring her down.
6. She Is A Private Person
Even though Brittany is very active on social media and has a large platform, she has never been one to share much about her personal life. Outside of a few basic details here and there, there isn't much information about Brittany outside of her fitness work. With the backlash her personal life has gotten her recently, there's a good chance she will continue to be very private.
7. She Loves Riding Horses
Brittany enjoys spending time outdoors and riding horses has become one of her favorite new hobbies. In an Instagram post in July 2021, Brittany said, "Man oh man it's so humbling being in the presence of these stunning creatures. I'm looking forward to learning more about horses, their care, and riding!!!"
8. She Used To Play Soccer
Even before Brittany embarked on her personal fitness journey, staying active has always been a big part of her life. She played soccer for much of her life and played two seasons of division one soccer at Jackson State University. After college, she also spent some time playing semi-pro.
9. Rosa Acosta Was One Of Her Early Inspirations
During an interview with Bossip, Brittany shared that she's always been a big fan of Rosa Acosta. She added that she wanted to look like Acosta when she started. Ironically, Brittany now has more Instagram followers than Rosa Acosta and she has become body goals for millions of people around the world.
10. She Didn't Plan On A Career In Fitness
While talking to Bossip, Brittany said that become a fitness influencer wasn't her original plan. However, she didn't mention what her original career plans were. Once she started sharing her meal plans and tips things just kind of grew organically.
Tell us what's wrong with this post? How could we improve it? :)
Let us improve this post!