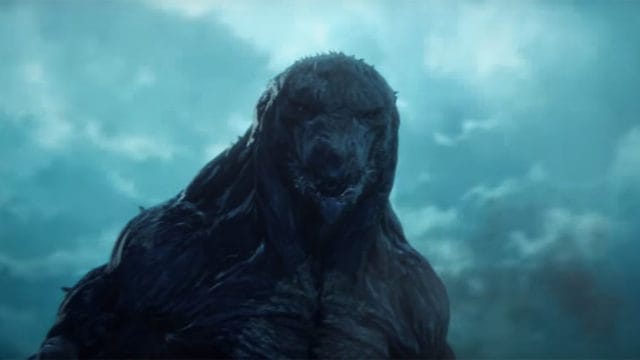 This is the Godzilla we imagined when we first watched him in all his original, 1954 black and white film glory. For many fans, the original was the only version parents allowed, thinking that the monster story's special effects weren't sophisticated enough to be too scary. For others, sci-fi loving parents sat right alongside and enjoyed the movie, too. Since Ishirō Honda's 1954 movie introduced the popular monster, there have been 32 films to continue the story, and plenty of television shows, video games, comic books and novels to spread the saga around the world.
This newest story about the monster we loved to fear as children will be Godzilla: Monster Planet. It's the first time Godzilla will star in an anime feature film. In this version, King Godzilla rules over the monsters and the entire world. It's a futuristic tale which has as its premise that the monsters "kaijus" have taken over 21st century Earth. In this new future, Godzilla and the kaijus have battled humans several times. The monsters currently rule the planet.
"Who will be ruined, Human or Godzilla?"
After 50 years of wars against these gigantic kaijus, humans have plans to leave Earth. The humans have chosen to investigate a new planet for possible colonization and they leave Earth for their own safety. They travel through space for twenty years. But, the planet they consider is not habitable. A small team returns to Earth to consider if it is possible for humans to return. They discover that Godzilla and the kaijus dominate Earth's ecosystem. Now, the humans must defeat Godzilla on Earth, and will battle fiercely to reclaim their home planet:
"We're taking back what was stolen from us."
The trailer describes how Godzilla's attack left humans with no other choice than to escape from Earth. It also tells the story of Haruo, this story's protagonist, and how his family died. Haruo was young when he saw his family die, and he has returned for revenge against Godzilla. Haruo has also brought a team of warriors with him, and time has passed differently on Earth since they first escaped Godzilla's wrath:
"Despair is evolving."
The time which has transpired for Godzilla has allowed him to become significantly powerful. During Haruo's time away, more than 20,000 years have passed, and Godzilla has evolved. This may mean that Haruo's quest for revenge will be meaningless, and humanity may become extinct with this encounter with Godzilla.
The film is a classic example of the popular Japanese genre of films known as tokusatsu (special effects) kaiju (strange beast). In Japanese tradition, kaiju describes a kind of strange, tragic being which is born too heavy, too strong and too tall. They are tragic because they are not evil by choice. The genre of tokusatsu kaiju cinematic entertainment commonly includes these giant beasts, which are usually translated into English using the word "monster". Godzilla is the most popular kaiju, and may also be called daikaiju, or "giant monster". The prefix dai is added to describe great status or power.
The film is produced by Yoshihiro Furusawa and Takashi Yoshizawa. They both come to this project with extensive film credits to their names. It is the 30th Godzilla film for Toho Animations, and it will be animated by Polygon Pictures. Co-directed by Kobun Shuzuno and Hiroyuki Seshita, this version of Godzilla will be the first anime project for Toho. It's scheduled for theatrical release in Japan this coming November, with streaming on Netflix to follow.
Shuzuno and Seshita understand the power of the upcoming film. Fans have had a glimpse of it in the most recent, spectacular trailer. Shizuno described animation as allowing "freedom of imagination" which gave the production team the chance to create a "cool new Godzilla". Seshita has noted that "our Godzilla" has the 'enormous presence of a fearsome deity" which required the production team to "prostrate themselves before it". Shizuno and Seshita have reimagined what our classic black and white Godzilla wanted to be. We still love him, but this intensely visual anime is oh, so much better.