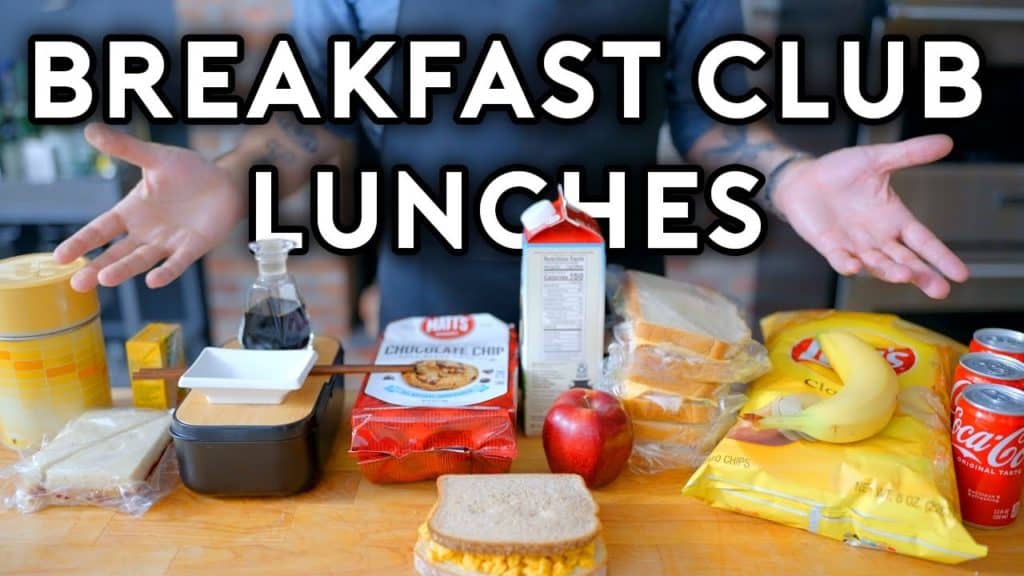 It's been heard that movies like The Breakfast Club couldn't be made today, and after I'm done laughing at the irony after watching the movies of today, I'll get into this. Babish is always good for a few laughs and an impressive recipe, but this is one of the many meals that is actually more than a little iconic when it comes to the movies since it came from a movie that a lot of us still remember fondly and happen to like. Yes, there are a few disturbing images in the movies, to some folks at least, and it does deal with a few issues that people might feel are a lot more serious today, but folks are really going to compare the high school experiences in this movie with the kind of stuff that's been shown in recent years, then they might need to look in the mirror and realize that this movie wasn't that bad, since it is a matter of perception. But thankfully we're only here to talk about the lunches since this one particular scene was actually kind of funny given how it was broken down.
Those of us that watched and enjoyed this movie probably can't forget the sugar and Cap'n Crunch sandwich that Ally Sheedy's character, Allison, brought to school with her. We also can't forget the others since they were either put on blast or simply noticed in a way that was hard to forget. Claire, played by Molly Ringwald, brought sushi, while Brian, played by Anthony Michael Hall, brought a very well-balanced lunch. Andrew, played by Emilio Estevez, brought everything but the kitchen sink, while John, played by Judd Nelson, had a soda and not much else, but he ran commentary for Brian's lunch in a very amusing manner. And wouldn't you know it, Babish stayed as true to this meal as he has to any other, and it turns out to look rather impressive.
Starting off with Claire's lunch, Babish at least admits that he's not that great at rolling sushi, but it definitely comes out looking okay. The tube device that 'poops' the sushi out is something that one can't help but get a chuckle out of since it's fair to think that a traditional sushi chef may or may not appreciate such a device. But give Babish credit, he did make it work for admittedly not being that great at it. Back in the 80s sushi was definitely a thing, but it was also something that wasn't that well known in a lot of American high schools, so even the mention of raw fish was enough to turn someone's stomach unless they'd tasted it and found the dish to their liking. Brian's lunch was likely one of the simpler ones since whether Babish wants to agree or not, it does feel as though Mrs. Johnson was the type to toss a can of Campbell's soup in the thermos and call it a day. But it's easy to agree that when the jelly in a peanut butter and jelly sandwich bleeds through the bread, that's a sure sign of a sack lunch or a school lunch. A juice box is a great way for a parent to emasculate their high school kid while remaining practical enough to buy lunch materials for kids of different ages.
Then there's Allison's lunch, which consisted of a sandwich that Babish thankfully ate the meat from instead of tossing it behind to stick who knows where. But then, the real test, to see in an adult's taste palette could hold up to the sugar that so many of us were capable of taking in when we were younger. The butter, sugar, and Cap'n Crunch cereal sandwich looked…disgusting. Washing it all down with a Coke is even worse since that's just more sugar on sugar to round out a cloyingly sweet lunch. At least with Andrew's lunch, there were fruits, chips, sandwiches, cookies, and sodas, but there was enough to feed about three people, rounding out to around 6,000 calories. How many of us can remember being able to put that much away and still exercise not too long afterward? This kind of lunch roundup is what memories are made of obviously, and it was pretty cool to see Babish put them all together.
His idea of making Allison's sandwich into French toast was kind of interesting and it definitely made a lot more sense than the sandwich idea. But then, a lot of things probably made more sense from a culinary perspective when we were younger, at least until one remembers the looks her classmates were giving her when she bit down. One has to wonder if Ally Sheedy really swallowed every bite she had to take or if she was just waiting to spit it out.