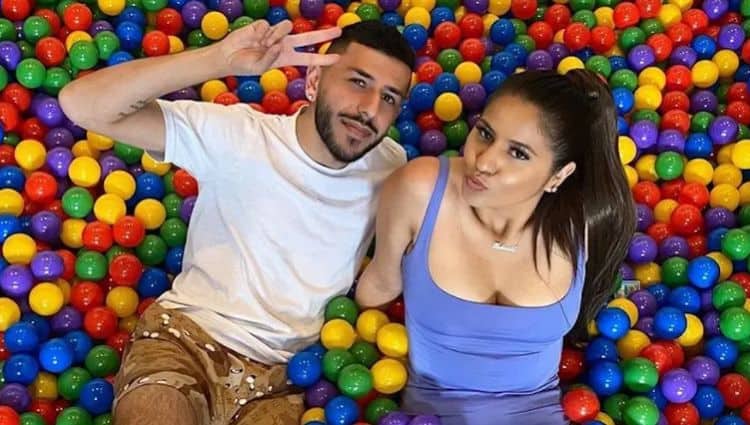 The Kardashians aren't the only ones who have made a family business out of being popular on social media. Brandon Awadis and some of his family members have also found success on social media. Awadis is a well-known YouTuber whose parents, brother, FaZe Rug, and cousin, Anthony Jabro, are also popular online. Since launching his channel, Brandon has become famous for his prank videos and love of basketball. He also had a relationship with fellow influencer, Jackie Figueroa, which brought them both lots of attention. Although social media is what has made him 'famous' his ultimate goal is to be a sports analyst. Keep reading for 10 things you didn't know about Brandon Awadis.
1. His Parents Immigrated From Iraq
Brandon and his brother were both born in the United States, but his parents immigrated here from Iraq more than 25 years ago and settled in California. Brandon's parents always made it a point to teach their kids to be proud of their beautiful heritage and culture.
2. Social Media Drove A Wedge In His Relationship With Jackie
YouTube was a very big part of Brandon and Jackie's relationship. Although it helped boost both of their popularity, it also ended up being the thing that drove them apart. In a video explaining the reason for their breakup, Brandon said that they had started arguing constantly about comments and interactions on social media.
3. He Went To College To Study Journalism
Brandon considers himself the Phoenix Suns' biggest fan, and he has always dreamed of becoming a sports journalist and analyst for the team's games. Brandon got one step closer when he enrolled at San Diego Miramar College to study journalism. We aren't sure whether or not he's still a student there.
4. He Dealt With Bullying
Brandon may be extremely popular now, but that isn't always the case. He had to deal with lots of bullying and racism growing up due to the fact that his parents are Iraqi. Things got especially bad after September 11th when there was a heightened sense of Islamophobia in the United States. However, Brandon and his family do not practice Islam.
5. He Loves Spreading Positivity Through His Content
Sure, creating content has become Brandon's job, but he sees it as much more than that. He enjoys creating videos that spread good vibes and help lift people up. He has lots of respect and appreciation for his fans and hopes that he can be a positive force in their lives.
6. His YouTube Channel Has Gotten Over A Billion Views
Saying that Brandon Awadis is popular on YouTube doesn't really describe just how big he has become on the platform. Not only does he have more than 4.8 subscribers on YouTube, but his channel has gotten more than 1.2 billion total views since its launch in 2015.
7. He Was Raised In A Catholic Family
Since Brandon's family is from Iraq, many people assume that they are Muslim, however, that isn't the case. He actually comes from a Christian family that practices Catholicism and is part of the Chaldean. Despite the faith he was raised in, it's unclear whether or not religion plays a big role in his life today.
8. He's A Dog Dad
Brandon hopes to have kids of his own one day, but for now he is perfectly content with being a dad dog. He has an adorable mini golden doodle named Booker Awadis who often makes appearances on Brandon's social media. Like any good pet parent would, Brandon has made Booker his very own Instagram. At the moment, Booker has almost 195,000 followers.
9. He Wants To Get Back With Jackie
Since Brandon and Jackie's breakup, lots of people have been wishing and hoping they would get back together. Brandon recently decided it was time to give it another try and he came up with a plan to ask Jackie to be his girlfriend. Unfortunately, Jackie let him know that she wasn't in the right headspace to be in a relationship. Her response definitely caught Brandon off guard, but he's still holding out hope that they'll get back together one day.
10. He Was Interviewed By The Phoenix Suns
If there's one thing everybody does know about Brandon it's that he loves the Phoenix Suns. In May 2019, he was overjoyed when he got the chance to be interviewed by the team's official podcast. During the interview, he explained that despite not being from Phoenix, he chose to support the team because he was a huge fan of some of the Suns' most legendary players like Steve Nash and Shawn Marion.