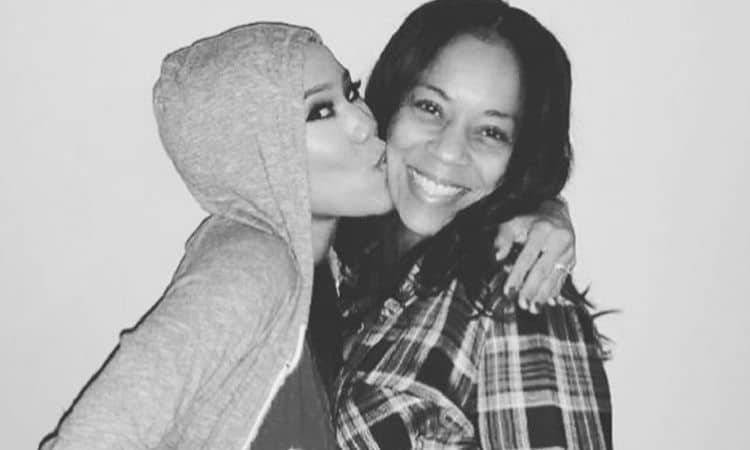 Life is always full of challenges, and it is upon us to face the challenges and get something good out of it. Brandi Boyd has been through a lot of problems in her life, and as part of the Love Hip Hop Hollywood cast, we caught some of her issues on television and in her social media. Brandi is a producer and an actress who was born on 9th September 1984 in Los Angeles. Get to know more about her by checking these few facts.
1. She is married
As far as her relationship is concerned, Brandi is married to Max Lux. In 2013, they received the blessing of a son Prince Brandus. Their marriage life has been full of ups and downs. The husband, at some point, cheated on her, and she got bitter about it. They are now struggling with the baby mama whom they got a child with in the process of cheating. They have even been forced to stay with the child because of child support. She sometimes gets into some beef with the husband over family issues but is always on the move to settle the disputes. After all, Brandi believes that communication is crucial, and they will get along together and live happily.
2. She became broke after quitting Love & Hip Hop Hollywood
Max and Brandi left LHHH after the cheating scandal and relocated to South Carolina. According to Moniece in Blasting News, the two did not go to South Carolina because they wished to, but they were broke and needed to find ways of surviving. The couple went as far as seeking the assistance of $200 through Western Union from a family member. Brandi denies the fact claiming that Moniece was lying, but the big question remains as to why someone would request the assistance of $200 if they are not broke.
3. She experienced miscarriage
Losing a baby is the worst thing, especially for a woman who knows how beautiful it is to have one. Brandi was trying to keep the pregnancy private to protect their baby from bad energies and negativity. It was devastating when she lost her baby through a miscarriage. According to Madame Noire, Max and Brandi had been waiting eagerly for the baby until the sad news hit them. A post on her Instagram about the same shows how bitter it was losing her child. She had also been praying God to protect her child, but the worst happened.
4. She once was arrested
When we are bitter about something, and we end up taking the law in our own hands, we might end up facing the consequences the hard way. Brandi has been a victim of circumstances after she realized that her husband was cheating on her. She was enraged and decided to act by going into Becky's house, and Becky ended up calling the cops who arrested Brandi.
5. She had some business
When her husband gave her $27,000 for her son's future, she decided to use the money to start a business. Brandi chose to open a clothing store with the money. She was not used to handling large sums of cash and thought that Max could be mad at her for investing the money in a clothing store. Max was not happy with the idea of her spending the funds meant for the son, but they are working to fix the issue. She believes that through the mutual understanding they have for each other, things will work out like before.
6. She began dancing when she was a child
Brandi started dancing while she was still young, having been inspired by looking at dancers and admiring them. Dancing became her stepping stone when an agency discovered the talent in her and went ahead to enroll her at a dance school in Washington. She later got the chance to participate in many dance commercials. She then rose to fame and ventured into acting and singing.
7. Brandi's beef with Princess Love
Brandi once posted a picture of Princess Love's child on Instagram and did not tag her in it. The post of her child made Princess get mad at Brandi and demanded that she delete the picture. The two ended up exchanging words because of the post saying that they were not even that close to being in the position to talk together. Princess insulted Brandi as a thief who stole her son's money to start a business. Brandi responded to her, claiming that she wanted to triple the income belonging to the son. The beef heightened to higher levels as the two continued washing their dirty linen in public.
8. She uncovered Moniece's alleged sex tape
Tit for tat is not a fair game. Brandi happened to have beef with Moniece. Moniece exposed her when she faced arrest after the confrontation with Becky, who was her husband's side chick. Brandi denied the claims and to revenge on the same Brandi uncovered a sex tape belonging to Moniece and the two never settled their differences.
9. She has a heavy Instagram presence
Most of Brandi's story is on her social media. She has a substantial presence on social media platforms, especially Instagram. A look at her Instagram account will show that she has a total of 428,000 followers and 6,176 posts. Instagram is the platform where she exposes much about her life. Brandi has a lot of pictures of her with her son, although her fans were not happy when she posted the miscarriage story on her Instagram.
10. She loves dogs
We all have pets depending on our taste and preferences. Brandi Boyd loves dogs, and she has one that she spends time with when at home. The evidence is on her Instagram account, where Brandi has pictures of the pet spending time with her when she is free.
Tell us what's wrong with this post? How could we improve it? :)
Let us improve this post!