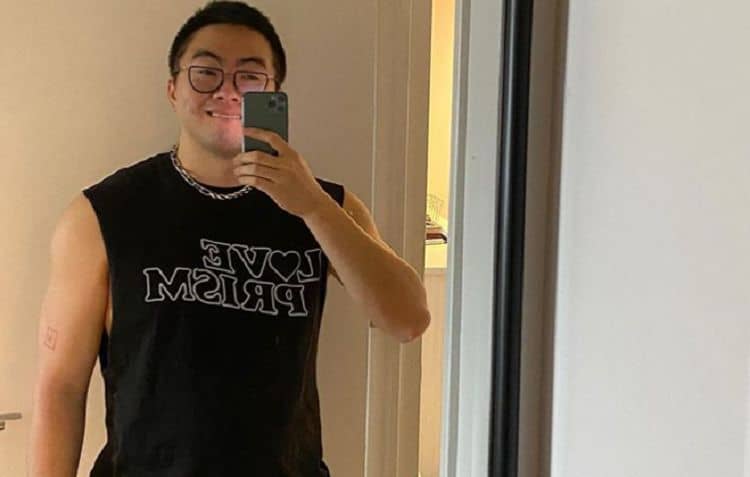 Bowen Yang is best known by fans for his appearances on "Saturday Night Live." He recently became a member of the cast of the show during its forty-fifth season. He's funny and fans love him, but there is a lot about him that they have yet to learn. He's been in the film industry a little longer than most people know. Although still in his 20s and young, he's had a role behind the scenes that not everyone is aware of. To help you get to know him better, here are 10 things you might not know about Bowen.
1. He's also a writer
In addition to being an actor and a comedian, Bowen is also a writer. In fact, he was actually behind the scenes writing content for "Saturday Night Live" a year before he was welcomed as a new member of the on-air cast. He's a funny guy and quite capable of coming up with his own stuff. He was hired in 2018 to write for the show.
2. He's first-generation American
Bowen's parents immigrated to America from the country of China. Bowen grew up in the Denver, Colorado area and attended Smoky Hill High School. He is a first-generation Chinese-American.
3. His Education
Many of Bowen's fans are not aware that he's much more than just a funny guy. It would make sense for him to have a degree in English since he's such a great writer, but for his education, he went another direction. After being named Smoky Hill High School's "Most Likely to Be a Cast Member on SNL," in 2008, he graduated and then enrolled in classes at the New York University. There he studied in the chemistry program and earned his bachelor's degree in the discipline.
4. He made a Forbes list
Yang has achieved a great deal in his professional career, and he has done this while still in his 20s. Forbes magazine has named him to a prestigious list that highlights successful professionals. In their 2019 Hollywood & Entertainment list, he was named as their 30 Under 30, which means he was a part of a group of elite entertainers under 30 years of age who had made noteworthy accomplishments in their lives.
5. He brings diversity to SNL
Bowen Yang is a Chinese-American who is openly gay. In a predominantly straight cast, he brings diversity to the group, and this is refreshing for fans who have noticed a lack of it on the show over the years. He's made history by being the first Asian-American cast member and it's not that often that they've had an LGBTQ presence on SNL. This was a good move on the part of the casting crew because it's about time that SNL offers a better cross-section of the real world
6. He appeared as Kim Jong-Un
Bowen played the role of Kim Jong-Un in an SNL skit that included actress Sandra Oh. This was a character that has become popular, thanks to Bowen's funny interpretation of the notorious political figure. It's also a character that rumor says, we're going to see a lot more of in the episodes to come.
7. Yang performs on other comedy shows
For those of you who only know Bowen Yang through SNL, there are a lot of other performances of his that you can catch. One of them is on HBO's Dope Queens. He appears in his full glory as a standup comedian and you're likely to see him at the Weekend Update desk doing some great standup comedy. It's been rumored that he's set to appear on the show by episode three.
8. He's a big star on Twitter
New fans can catch Bowen Yang on Twitter. For those of you who didn't know, he's an amazing lip sync artist and he's made a lot of admirers through his posts. It seems that there is just no end to the humor when it comes to Bowen Yang and his stand up comedy. He was also the subject of one of the major trending topics on Twitter until another new SNL cast member took the center stage and the limelight.
9. He's good at digging up material from the past
Yang dug up a bit of news trivia from a long time ago that he used in his writing of the Weekend Update skit. It was involving an intern for the White House press who made up a totally fabricated video that shows reporter Jim Acosta assaulting him. He found a way to make the incident hilarious, as he does so well, and co-wrote a ditty that made everyone laugh. Yang knows how to take almost anything that happened and transform it into a laughable moment, and for that, we all appreciate his efforts and his successes.
10. Bowen Yang is important in entertainment
Bowen is a talented young comedian, actor, and writer who has a lot to bring to the entertainment world. He's a representative of the change that's taking place in Hollywood and beyond. It's an exciting era where we're seeing a greater level of diversity and acceptance, but the changes have been coming slowly. Bowen has an amazing sense of humor and he can take just about any situation and turn it into something humorous. In this day and age, we need more laughter. It helps to ease the tensions that we're experiencing as our nation goes through the throes of death of an old way of thinking. Being Chinese-American and gay, Bowen has the potential for impacting our world in a positive way. We expect to see a lot more from him as his fan base is steadily growing. We look forward to the new material he writes and we're also happy that we can see him act out his humor live in front of the cameras.
Tell us what's wrong with this post? How could we improve it? :)
Let us improve this post!