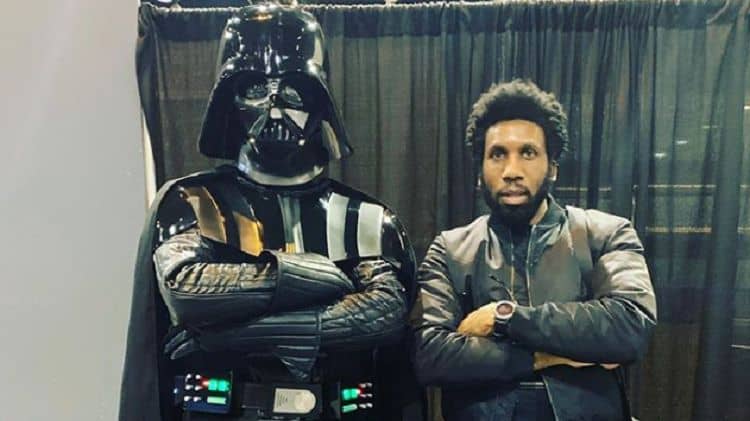 When Nyambi Nyambi made his professional acting debut at 27-years-old, he was slightly older than most people when they get their start. However, in the last 15 or so years, he's definitely made up for lost time. Over the course of his career, Nyambi has had appearances in several popular shows such as Law &Order and Blindspot. Most people are probably most familiar with Nyami from his roles on Mike & Molly and The Good Fight. No matter the show or the role, you can always count on Nyambi to deliver an entertaining performance. Keep reading for 10 things you didn't know about Nyambi Nyambi.
1. He's Done Voice Work
On top of his on screen appearances, Nyambi has also had several voice acting roles. Most notably, he had a voice role in The Teenage Mutant Ninja Turtles TV series in 2017. He also made a voice appearance in the video game Call of Duty: Black Ops III.
2. He's From Oklahoma
Nyambi is a first generation American. His parents immigrated to the United States from Nigeria to study at the University of Oklahoma. Nyambi was born and raised in Oklahoma and lived there until he went away for college.
3. He Has a Degree In Business
Nyambi's parents were adamant about him attending college. Although they acting may not have been their first choice of a career for his son, his father told Nyambi that if he graduated college he could pursue anything he wanted. Nyambi attended Bucknell University in Pennsylvania where he graduated with a degree in business.
4. He's Worked With Al Pacino
Getting the chance to work with Al Pacino has definitely been one of the highlights of Nyambi's career. In an interview with Geeks of Color, "Working with Al Pacino was an absolute dream. He is hilarious, down to Earth, humble and generous. I learned so much watching him prepare and play on stage. The respect he gave me was retirement level respect. It was an incredible cast. NY Shakespeare In The Park was the most fun I've had on stage to date."
5. He Was A Basketball Player
Nyambi grew up playing basketball and became a standout player in high school. He continued to play during his four years at Bucknell. When discussing his career, Nyambi said, "I love playing in front of big crowds because if I feel the crowd, the more I concentrate. That I learned while playing basketball at a high level. At the same time, I had a lot of difficulties when I was playing at Bucknell and from that I learned how to persevere and how to self-motivate in a way."
6. He Loves To Watch Movies
Even though Nyambi spents a lot of time on screens himself, he still loves to watch TV and movies. Since quarantine has resulted in him spending a lot of time in the house, he's been watching a new movie every day and has also been binge watching his favorite shows.
7. He Attended Grad School At NYU
After completing his degree at Bucknell and deciding he was ready to take acting seriously, he enrolled in grad school at NYU. He describes his time there as an "incredible experience". He credits the university with helping him get more in tune with himself and being more confident and his abilities.
8. He Caught The Acting Bug In College
Nyambi can remember the exact moment when he began to think of himself as an actor while giving a speech at a Martin Luther King Jr. gala at Bucknell. He said, "When it came time to do the speech, it was an out of body breakthrough experience which would later be called "catching the acting bug." When Professor Glyne Griffiths came up to me afterwards and said, "Nyambi! You're an actor!"
9. He Likes To Draw
Acting is Nyambi's passion, but that isn't the only form of art that he enjoys. Nyambi also likes to draw and often does sketching exercises. At one point, he was even doing a series of daily sketches which he uploaded to his Instagram highlights.
10. He Loves Comic Books
During his career, Nyambi has been in has appeared in three superhero related productions. However, those opportunities were more than just roles for him. In real life, Nyambi is a huge comic book fan and he loves to visit local comic book shops to add new things to his collection.