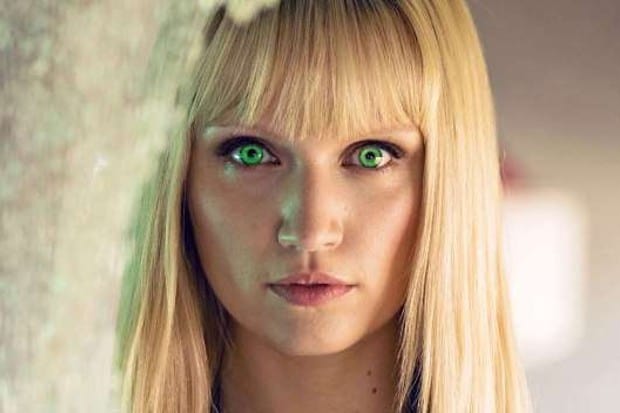 Emily Berrington is an English actor born in Oxford, Oxfordshire, England. She was born on December 7, 1986. to parents who were both who were both in the same profession and worked as social workers. She grew up in a family of high achievers and a strong interest in politics. Although Berrington had other ideas for her future and attended college to begin working on those plans, her life took a different road and today, Emily Berrington is out carving quite a name for herself in the film industry. She is a beautiful blonde with a sweet personality, but her attributes go beyond that. She is a very talented actress and is getting lots of roles in some top rated films and show. If you recognize this young actress from a show you love, keep reading to learn ten things you didn't know about Emily Berrington.
1. She was a painfully shy kid
Yes, Berrington is beautiful and by all means, seemingly confident and a head-turner now, but she claims she wasn't always all that. She is striking with her blonde hair and gorgeous blue eyes as a young woman in her twenties today, but as she explains in an interview, at 16, she was extremely shy and awkward, especially around boys. Hard to picture someone this beautiful every having a shy and awkward period, but if she did, she made a total 180.
2. Anti-bullying
Berrington likes to give advice to kids on bullying and how to overcome these obstacles in school. She tells kids to make an armor out of good things around you. Build up a bunch of interests to keep your mind and body active outside of school. Join social groups, spend time with family, make friends outside of school, start a band or anything that makes you feel good and happy. She advises so not let what is going on socially affect your work because you may come up on a time when the grades you make in school are important, but when it comes to the kids, down the road, you won't even remember who was in your class.
https://www.instagram.com/p/BlSpM8rgWnc/?hl=en&taken-by=emily_berrington_
3. She's been a robot
Berrington had an interesting role in the movie, Humans, a movie that is all about robots that look human. Berrington talks about her experience on the show and talks about how the actors had to attend what is something like a "synth school" that is run by choreographer, Dan O'Neill. He would be present during the shoots to monitor the actors and make sure they didn't move to human and notify them when they did, like, move their hands when they talked. She said the whole process made her a better actor.
4. Was impressed with Kiefer Sutherland
Berrington landed the role of Simone Al-Harazi in the Australian show, 24. Originally only supposed to be a two-episode role, she was invited back for a longer run with the character as the character grew into a bigger part. As impressed and excited as she was about her role, she as even more impressed with how her big name actor, Kiefer Sutherland was with her mom. Her mom came to Australia and was on-set with her daughter, and it was Sutherland who played host to her mom, always making sure she was comfortable and getting her cups of tea. He was amazingly kind, and so wonderful, she has said about him.
5. Has high-achieving siblings
Emily isn't the only Berrington who did great things with their life. She is one of four children, and her other three siblings are also doing amazing things with their lives. Berrington has talked about the interesting things her brothers and sister are doing; older sister Amy is a professor working in the US, her brother Tom is currently living in Abu Dhabi working for the sport, media, and fashion company, IMG, while her younger sister is a writer for Vogue.
https://www.instagram.com/p/BkuOnvmg_9c/?hl=en&taken-by=emily_berrington_
6. In a relationship and living together
People had been wondering if Berrington was in a relationship or not, but it appears she is. She and her man kept their relationship under wraps for quite some time, secretly dating for about two years without getting noticed. Partly because Berrington would sneak out in disguises to meet up with her beau, the British star, Ben Lloyd Hughes. Once they finally came out to the public, they decided to take their relationship to the next level and actually live together. The two of them bought a new house together and have plans to marry and live as husband and wife in it.
7. She loved getting new stationary (paper) for school
Not all kids love returning to school after a long break, but Berrington has said that as a young girl in school, going back to school after a summer holiday was something she kind of looked forward to. There was something about getting all new, clean paper that made her think of the possibilities of a new school year. It was like having a clean slate and a chance to start anew.
8. She never planned on being an actress
Sometimes people just "happen-upon" their destination. Life works in mysterious ways, and here's one example of someone who had a lot of different plans for life, wound up being one of the most popular faces in Hollywood today. Berrington was born into a highly educated and politically involved family. She grew to love politics and studied politics and geography in college. Only because her friend encouraged her to audition for Drama School did she look into it and fell in love with the art.
9. Was nominated for an award
There are many actors and actresses that find themselves in a position to be nominated for some kind of an award for their good works. Berrington may be young, but she is obviously proving herself to be worthy of notice and appreciation, which is why she was once nominated for the Women's Image Networks Award, which is an award that embraces women. It honors artists and others who's work promotes the value of women.
10. She loves politics
Berrington is a fan of politics and likes to be involved. This was one of her majors back in college, and her family has always been very interested and very well versed in political gab. Berrington herself, has worked with some important people in important positions in politics. One of her opportunities she took, was working for the Labour Party as a case-worker for MP Siobhain McDonough. Prior to that, she interned for Margaret Hodge while she was in the position of Secretary for Culture and Sport.
Tell us what's wrong with this post? How could we improve it? :)
Let us improve this post!