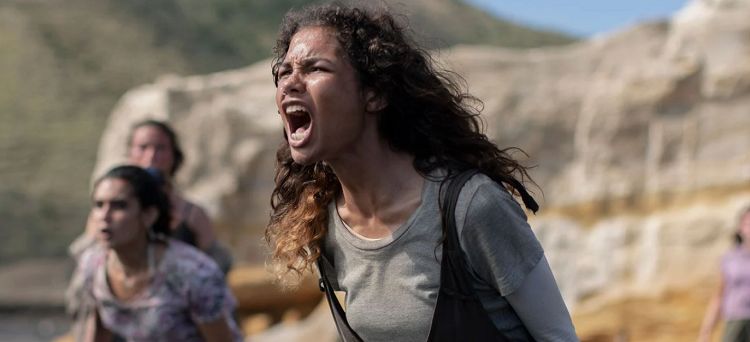 Helena Howard might not be a name you're familiar with yet, but that probably won't be the case for much longer. The up and coming actress has been working hard to make a name for herself and she's finally seeing some of that hard work pay off. In 2018, she got her first big break when she was cast as the title character in the movie Madeline's Madeline. She then went on to appear in the Quibi series Don't Look Deeper. Now she has yet another huge opportunity with the Amazon Prime series, The Wilds. The show focuses on a group of teenage girls who get stranded on a remote island and it's the perfect opportunity for viewers to see just how talented Helena is. Continue reading for 10 things you didn't know about Helena Howard.
1. She's Originally From New York
Helena was born to a white mother and a black father in New York City but was raised primarily in New Jersey. Helena's decision to get into acting probably didn't come as a surprise to the people who knew her well because she grew up in a very creative home where both of her parents were artists.
2. She's Always Wanted To Be An Actress
Helena is one of the lucky people who has always known that she wants to do with her life. She told I-D Vice, "I've always wanted to be a film actor — ever since I saw The Mummy when I was three years old. That's the first film I remember watching. My dream was always to be a film actor."
3. She's A Cat Person
Finding out whether someone is a dog or cat person is always interesting. For some reason, which fury friend you prefer can often give some insight into your personality. For those of you that were wondering, Helena is a cat person. During her interview with I-D Vice she even referred to herself as the "cat whisperer".
4. She's A Meryl Streep Fan
Helena may be young but she has lots of respect and admiration for the talented actors who came before her, especially Meryl Streep. She's a huge fan of Streep's work and has been watching her movies since she was a child. Helena hopes to have a career as long and successful as Streep's has been.
5. She Loves Music
I think it's safe to say that listening to music is a part of almost everyone's life, but Helena has an extra special connection to music. She has a wide range of musical taste and she loves putting playlists together with her favorite artists. If you want to know what she's listening to, you can check out her playlist here.
6. She's A Formally Trained Actress
From an early age it was clear that Helena was working with some raw talent, but she has also worked hard to get the acting education to back it up. She earned a scholarship to study at the American Academy of Dramatic Arts which has campuses in Los Angeles and New York City.
7. She Has A Close Relationship With Her Mom
Having a close relationship with parents and other family members is a blessing that not everyone gets to have. Helena is fortunate to be one of the people who does. She considers her mom to be one of her best friends and she has stood by Helena through her entire acting journey.
8. She Understands The Importance Of Mental Health
Although mental health has become more openly discussed in recent years, it's still something that many people are afraid to talk about. Helena, however, isn't afraid to talk about mental health and she understands just how important it is. During an interview with Dazed Digital she said, "My mental health certainly hasn't been easy, and I think that's just the society we live in. There's so much to be anxious about – the mind is a wanker."
9. She Loves To Watch Movies
Many on screen actors like to stay far away from the screen during their free time, but Madeline has always been someone who enjoys watching movies. In addition to being inspired The Mummy, she cites the movie Sophie's Choice as one of her favorite movies of all-time.
10. She Doesn't Like Technology
Despite being in her early 20s, Helena isn't someone who is heavily into technology. In fact, she told I-D Vice that she 'hates' using her phone. While she does have an Instagram account, she expressed that she doesn't like the pressure that comes with trying to build a large following on social media .
Tell us what's wrong with this post? How could we improve it? :)
Let us improve this post!