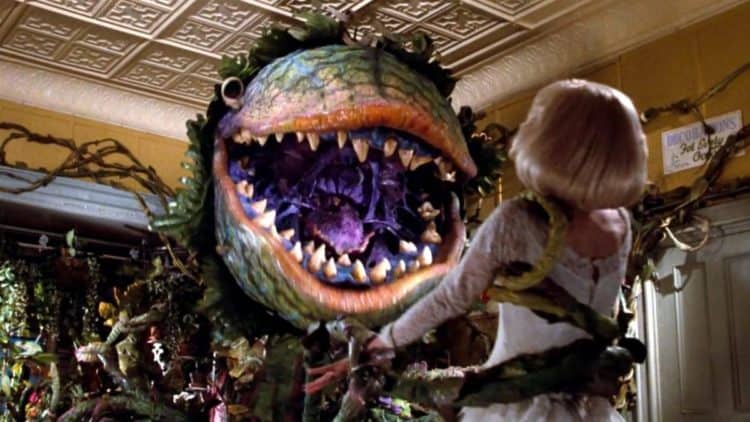 The 80s movie scene was an entire universe of its own. It was filled with unique characters and random oddities. But nothing encompasses the 80s movie culture more than the film, Little Shop of Horrors. When it came out in 1986, it became an instant cult classic based on a low budget 60s film. We've seen it remade on stage many times, and now that it's been more than 30 years, it might be time to reboot the original. The 1986 film starred some big names including Rick Moranis, Steve Martin, and guests such as Jim Belushi, John Candy, and Bill Murray. To cast Little Shop of Horrors today would be a tall task, but here are some actors we think would be perfect for a reboot.
1. Jimmy Fallon
If we could cast Seymour Krelborn today, Jimmy Fallon would be one of our top choices. Jimmy is at the top of his game now as a primetime talk show host. Throughout his career, he's slowly won fans over with his boyish charm and undeniable talent. His experience in Saturday Night Live really prepared him for the career path that he's been following. He may never win an Academy Award for best actor any time soon, but Jimmy Fallon is a talented entertainer. He can act; he can sing; he can make us all laugh. He reminds us a bit of Rick Moranis in the 1986 movie, and we're saying that as a good thing.
2. Chris Pine
It wouldn't be so wrong to have a heartthrob actor play the role of Seymour. The story of Little Shop is a love story at its core after all. We're picking Chris Pine as an alternate for several reasons. First, he's got more than enough talent to do the character justice. Second, we know that he can actually sing. He's done musicals in the past, and he's impressed us quite a bit. Third, he's charming and believable, but he can also be sinister at the same time. Chris Pine is one of the most talented actors of our time, and seeing him as Seymour would be just the right representation for this generation.
3. Bryce Dallas Howard
There are so many actresses that can probably pull off a decent Audrey, but for some reason Bryce Dallas Howard just seems to fit the character. We've seen Bryce do so many different roles in the past, and we're pretty sure she can be a convincing Audrey. In the movie, the character is very demure and kind. Bryce has a naturally soft demeanor that would make it seem as if she was born for the role. If a reboot follows the cut edition, it would mean that Audrey would die in the end. Bryce has the chops for all the required parts of the role, and she'd definitely put dimension to the character that wasn't necessarily there before.
4. Kristen Bell
We can go a totally different route with Audrey and cast Kristen Bell instead. We already know that she can belt out a tune from her recent Disney success as Anna from Frozen. Since that role, we learned that she truly had been holding out on us. If she were to play Audrey, she'd have the singing down. We also know that Kristen will have the comedic bits down. Kristen is a talented actress that can probably virtually do any role. She's got the innocent charm to her, but she can also rock a tough character. We can picture Kristen as Audrey trying to fight off Audrey II for sure.
5. Alec Baldwin
He may be older now, but he's still golden. Alec Baldwin as Mr. Mushnik may be odd to some, but we can totally picture it. Alec still plays a variety of roles today, and there's no doubt he can portray a good grumpy Mr. Mushnik. Alec Baldwin has been active in the industry since 1980, and he's not slowing down any time soon.
6. Steve Carrell
Steve Carrell is the ultimate funny guy. He can make us laugh with very little effort, but we've also seen him impressively serious on several occasions. He's versatile, and he also plays a good grump. This is why we think he's a viable alternative as Mr. Mushnik. Mushnik's Flower Shop is the setting for the entire film, and the character of Mr. Mushnik is important in this movie even though it's just a supporting role. Steve Carrell will bring a lively energy to Mr. Mushnik that will be important for a successful reboot.
7. Joseph Gordon-Levitt
We all know he can sing. We also know that he's a talented actor. It's difficult to be compared to the legendary Steve Martin, but we don't have to compare in this case. If Little Shop were to be rebooted, the role of Orin Scrivello would probably be slightly different. Scrivello is the abusive boyfriend of Audrey, and Steve Martin did an incredible job in the 1986 film playing the role. It might have seemed unnatural at times, but it was good nevertheless. With Joseph Gordon-Levitt playing the role of Scrivello, there will be a more youthful and natural angst vibe to it. We can also picture Gordon-Levitt's Orin with Kristen Bell's Audrey. It would be a good match to watch on screen.
8. Ryan Reynolds
It might be hard to picture Ryan Reynolds as the bad guy, but he's certainly played the part in the past. We're taking Reynolds as an alternate choice for the abusive Orin Scrivello only because we can picture him doing it. He may not be the strongest singer around, but these days that really don't matter anymore. Reynolds is as skilled an actor as they get. Even though he's usually the good lovable guy in films, we know he can definitely play Scrivello with no problems. He is Deadpool after all.