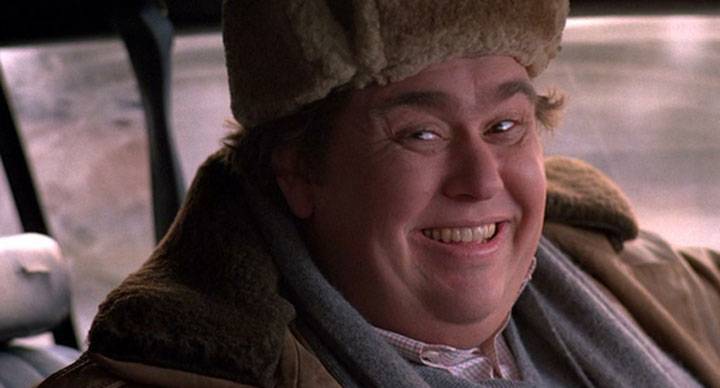 John Candy was one of the funniest men alive in his day and was the kind of guy you looked forward to seeing on the screen at one point or another. His career actually took a little time to really cultivate as he spent some time with the Second City group in Toronto and then went on to appear in a few low-budget films before he really got rolling. Once he hit the big-time though there wasn't a lot that could stop him since he became a known commodity very quickly and didn't slow down until years later, shortly before his passing. He was the kind of guy that could make you laugh with very little effort and was able to create characters that were uniquely different from one another no matter that when you looked at him you saw the same guy more or less on the screen. Some of his characters were wildly different, while others were more down to earth and hard to distinguish.
Here are some of his best movies from his career. There are a lot of them so picking just a few was kind of difficult.
5. Summer Rental
A lot of us know what it's like to need a vacation, but not a lot of us have the experience of needing a vacation from that vacation in order to really relax. When his character takes his entire family to the beach for a month-long trip things just tend to go from bad to worse as he has to deal with the fact that their vacation home looks like a flophouse and the rich townies that own the vacation home are bound and determined to ruin his family's good time. Things do tend to take a turn for the better however when he ends up showing the townies just how determined he really is to be a good and loving father by uniting his family in a way that brings them closer together.
4. Spaceballs
This was without a doubt one of the greatest parodies ever made since it incorporated so many different aspects from so many different films. Mel Brooks has proven to be a master of slapstick and continued to prove it in this comedy as John Candy and Bill Pullman played the iconic heroes Lonestar and Barf, much like Han Solo and Chewbacca. There was a nonstop laugh riot the whole way through this movie since despite some of the jokes being, as usual, delivered with Brooks' flair and what some might call lack of sensitivity, the movie was still crafted in a way that really drew the audience in with its multiple 4th wall breaks throughout its length.
3. The Great Outdoors
Candy was definitely into family-friendly films as well as those movies that were kind of geared more towards adult thanks to their content. In this one he plays a family man that wants to show his sons a good time and have a little fun with his wife out in the midst of nature. Unfortunately they're joined by the jet-setting members of their family that want to liven things up and tend to get on his nerves more often than not. The family aspect of this movie does come into play quite a bit thought as both families discover what's really important and pull together by the end of the film. In this scene though Candy apparently cracked a few ribs since this was really him under the door.
2. Planes, Trains, and Automobiles
Ever met someone that you just can't stand and yet they somehow grow on you? Neil and Dell were complete opposites going into this movie and Neil couldn't wait to get away from him. But throughout the film you can see how the two men grow just a bit closer as they come to understand one another and realize that as different as they are, they share a lot of the same principles. But Dell is without a doubt annoying and Neil is very controlling, which makes for a volatile mix that isn't bound to end well in most scenarios. When you wake up kissing the ear of a man you just met it might be time to wonder what path your life is going down.
1. Uncle Buck
In a way it's very sad that Buck was ostracized from his brother and extended family but it's also kind of understandable since he's not the cleanest or even most reputable guy in the world. But when he gets a chance to reconnect with his nieces and nephew he does try and he does manage to become a person that's dependable and willing to be there for them when they really need him. Watching the battle of wits between him and Tia was actually a lot of fun even though a lot of us adults would probably seethe at a young woman daring to cross us like this. Oh yes, teenagers are SO much fun.
You were one of the best Mr. Candy, and you are missed to this day.