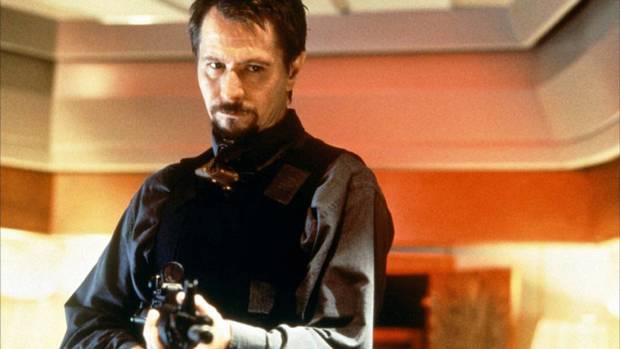 At one point and time the Russians were always the bad guys in American films in one form or another. During the Cold War era and for a while after it was over, they were still considered to be the antagonists that American filmmakers could use to stir up the crowd. American sentiment being what it is, the Russian villains were universally hated and reviled in film despite the fact that their popularity stemmed from these emotions. Without the cold-hearted bad guys there could be no real chance for the hero to shine.
The role of the villain can take on many different dimensions. Keep that in mind when you read this list.
5. The Russian Hockey Team – Miracle
So technically they aren't bad guys, but they were the most dominant team in the world of hockey during the time period this film is set in. No one had ever beaten the Russian's decisively in their Olympic career, and none were expected to. Hollywood did in fact takes some liberties with this story but overall it was a very moving and riveting film that showed that despite the strength and power of the Russian team, they were not unbeatable.
4. Xenia Onatopp – Goldeneye
The beautiful ones are sometimes the most dangerous. Onatopp, aside from her comical name, is a deadly operative that receives pleasure from the suffering and killing she is such a big part of, and that's not even the sickest thing about her. Like all Bond villains she has a special quality that allows her to stand out from the rest. She can squeeze hard enough with her thighs to crush a man's body with ease. Worse than this, she becomes aroused in the act. Her end is kind of fitting as she is eventually squeezed to death when she is lodged in a tree while still tied to a slowly crashing helicopter.
3. Ted Winter – SALT
Ted Winter is unfortunately what many individuals have come to fear over the years since the rumors began. In SALT the idea of sleeper agents planted in America is a very large part of the premise and it is absolutely terrifying because there is nothing to say that such a thing is not possible. How in the world would one watch for this kind of thing? The only upside to this film is that Jolie's character actually works in the interest of America by silencing Winter for good in a most unconventional fashion.
2. Ivan Korshunov – Air Force One
The reality of espionage and the betrayal of those that seek to cement their name in history is something that Hollywood seems to love using over and over. It does get a lot of notice and it does happen to get Americans watching as they want to see their own country come out on top. In this action thriller the Russians are most definitely the bad guys despite the short and ear-burning speech that Oldman gives about his country being given over to a weaker regime. His actions and his words are less than inspiring to an American audience and it makes the satisfaction of the audience all the more powerful when Harrison Ford snarls, "Get off my plane!"
1. Ivan Drago – Rocky IV
Much like Miracle, the Russian isn't truly a bad guy. He's responsible for Apollo's death of course, but this is considered a hazard of the profession more than anything. He's big, he's imposing, and he's able to knock most anyone out with a few hard punches, but that's not enough when one faces Rocky Balboa. Granted, Balboa looks like he's punch-drunk after the first round, but if you've ever watched a Rocky film you know it takes a lot more to put down the Italian Stallion. Drago had to find out the hard way.
So in the current date Russians aren't always the bad guys in films any longer, but there are moments when it still makes sense. Despite current relations between Russian the USA however, there is still just enough unease to make such films work.
Save
Tell us what's wrong with this post? How could we improve it? :)
Let us improve this post!