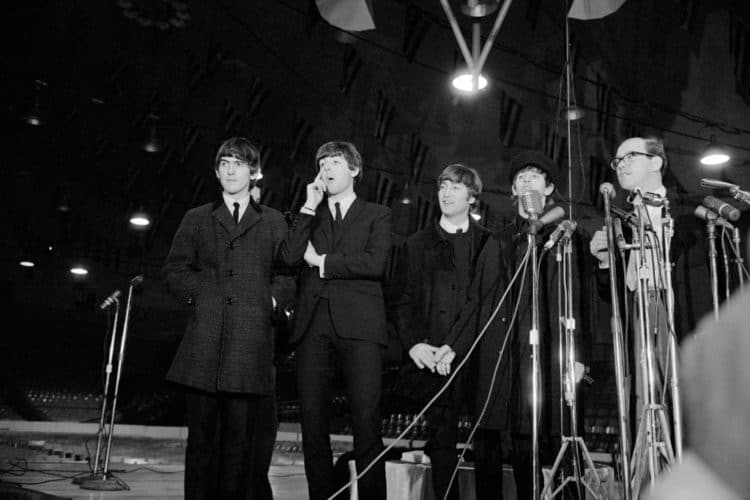 The Beatles are the world's most popular band from the 1960's. The band sold over 800 million albums. They had 20 Billboard number one hits. They changed the face of rock and roll and pop music and influenced music. The "Fab Four" each went on to have successful solo careers following their 1970 breakup. The Beatles were inducted into the Rock and Roll Hall of Fame in 1988, and John Lennon, Paul McCartney, George Harrison and Ringo Starr were all inducted for their successful solo careers.
Sixteen year old John Lennon and fifteen year old Paul McCartney met in Liverpool, England, in the summer of 1957 and began writing music together. McCartney's friend Harrison joined the duo and began playing lead guitar in 1958. The group played in local clubs, and Pete Best joined the group as a drummer in 1960, and Lennon's school friend, Staurt Sutcliffe joined the group as bass player that year. The foursome hired manager Brian Epstein and Producer George Martin and began recording. Ringo Starr became the band's drummer in 1962 with the four remaining Beatles, John Lennon, Paul McCartney, George Harrison and Ringo Starr sharing writing and performance skills, although Lennon and McCartney continued to be the main songwriters.
The Beatles' music became a hit in the early 1960's. "Beatlemania" hit the world by 1964, and the group toured internationally. They began making films including "A Hard Day's Night" and appeared on "The Ed Sullivan Show" in New York City. During their decade recording and touring together, The Beatles deeply influenced the music scene combining rock and roll, pop and counter cultural music. They experimented with psychedelic, Indian, hard rock and ballad styles. Each of the "Fab Four" went on to have successful solo careers. Lennon was shot and killed by a disgruntled fan in December 1980. Harrison died of lung cancer in November 2001. McCartney and Starr remain active in the music scene.
Here is how we would cast a biopic about The Beatles:
John Lennon
There are many great actors who could portray John Lennon. Joseph Gordon-Levitt would be perfect in the role. Gordon-Levitt is a good actor who has shown the ability to transform himself for a role. He could easily play a young John Lennon, through his successful Beatles years and his solo career through his tragic death in 1980. Gordon-Leavitt began his acting career as a child with roles in television and film including 1992's "A River Runs through It". He went on to appear in the sitcom "3rd Rock From the Sun" from 1996 through 2001. He studied acting at Columbia University. He won awards for his role in 2009's "500 Days of Summer". He's also a singer. Gordon-Levitt recently starred as CIA whistleblower Edward Snowden in the 2016 biopic "Snowden".
Paul McCartney
Jim Sturgess would be a great choice to play the iconic Paul McCartney in a Beatles' biopic. Sturgess is an English actor and singer. His break out role was in 2007's "Across the Universe." The Julie Taymor directed film used The Beatles' music as a backdrop for the romantic musical drama that followed Jude (played by Sturgess) as he searched the world for love. Sturgess has appeared on many television shows and films including "The Other Boleyn Girl" "Cross Over" and "The Way Back". He's performed his own music since he was 15 years old and recently records and performs with his band Tragic Tears.
George Harrison
Who better to play George Harrison in a Beatles biopic than his own son, Dhani Harrison? Dhani not only looks like his father, he also inherited his dad's musical gifts. Dhani was born in 1978 to Harrison and his wife Olivia. He was named after the sixth and seventh notes of the Indian music scale. Dhani grew up with his father's music. He formed his own band thenewno2 and performed at musical festivals including Lollapalooza and Coachella. Dhani performed with his dad on his final album, Brainwashed" and finished the album after his dad's 2001 death from lung cancer. Harrison plays multiple instruments, writes, composes and sings his own material. He has produced scores fro television and film including 2013's "Beautiful Creatures" and Netflix's "Dogs".
Ringo Starr
Tom Dunlea would make a great Ringo Starr in a Beatles biopic. Dunlea is a young British musician and actor who appears to be ready to catch a great break in film. He has the looks a young Ringo Starr and would be able to carry his charisma into the role. Dunlea can sing, play the keyboard and play the drums. He appeared in 2011's "Actor Musicianship" and 2013's "Jimi: All Is By My Side" about musician and rock legend Jimi Hendrix. In 2014 Dunlea appeared in "Cilla" and "The Guvnors".
George Martin
British actor, film producer and musician Tom Hiddleston would make a great George Martin in a Beatles biopic. Hiddleston studied at Cambridge and the Royal Academy of Dramatic Art. He began his career on stage in London's West End, has appeared in television and in film. He has won several awards including a Lawrence Olivier Award and a Golden Globe Award. Hiddleston continues to appear in theater and television. He has played the role of Loki in Marvel Studios since 2011 in "Thor" and "The Avengers" series.
There would be several other roles to cast in a biopic about The Beatles including important characters who helped get the band where they were and after they became one of the most successful bands of all time. The band members found their rhythm and their sound, made it big at a young age, and disappointingly, broke up. However, they went on to have successful solo careers and influenced countless other bands at a time when rock music was taking many different paths. Some other important roles to cast in a biopic of The Beatles include Pete Best, Staurt Sutcliff and Brian Epstein as well as the women in the members of The Beatles lives including Cynthia Lennon, Yoko Ono and Patti Boyd.
Tell us what's wrong with this post? How could we improve it? :)
Let us improve this post!