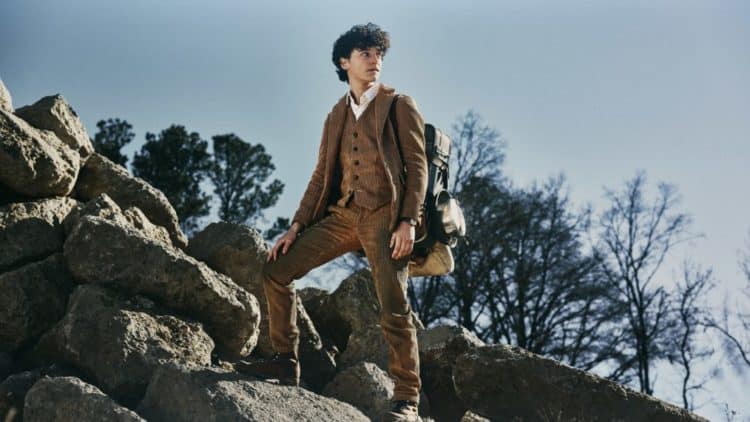 Nicolas Cantu may be just a teenager, but he's already found his career path. The talented young actor started his career as a voice actor in 2016. He has voiced characters on several well-known shows including The Powerpuff Girls and Lego Star Wars: The Freemaker Adventures. In 2017, he made his first on screen appearance in a TV series called Teachers and he has continued to do his thing ever since. Now he is officially on the brink of his break out role. Nicolas will play a main character in the upcoming TV series, The Walking Dead: World Beyond. The show will follow the first group of kids to grow up in a post-apocalyptic world. If you're a fan of The Walking Dead, World Beyond will probably be right up your alley. Keep reading for 10 things you didn't know about Nicolas Cantu.
1. He's A Popular YouTuber
On top of the success he's found in acting, Nicolas has also found lots of success on social media. His YouTube channel, Junky Janker, has become a huge hit and currently has over 421,000 subscribers. Even more impressively, the channel has more than 6.2 million total views.
2. He Makes Custom Fan Videos On Cameo
Nicolas has built a large fan base over the course of his career, and there are plenty of people who would love the chance to get a shout out from him. Thanks to Cameo, they can easily make that happen. Nicolas sells personalized video shouts on the platform for just $21.
3. He Was Replaced In The Amazing World Of Gumball Because He Hit Puberty
For two years, Nicolas voiced Gumball Waterson in the cartoon The Amazing World of Gumball. However, fans of the show may have noticed that Nicolas' name is no longer in the credits. That's because he was replaced by Jacob Hopkins after Nicolas' voice began to change due to puberty.
4. He Got His Start In Commercials
From an early age, it was clear that Nicolas had the natural ability to entertain others. His outgoing personality and confidence made it clear that a career in entertainment was in his future. He decided he wanted to give acting a shot when he was just 7-years-old, and got his start in the industry by doing commercials.
5. He's Done Stand-Up Comedy
Nicolas is already showing that he's a young man of many talents. On top of acting, voice acting, and YouTube, there's yet another thing Nicolas appears to be good at: stand-up comedy. In 2019, he did a stand-up show at The Ice House comedy club in California.
6. He Likes To Skate
In a lot of ways, Nicolas' life is nothing like other people his age. Instead of thinking about homework and school dances, Nicolas has a full-time job that makes it hard for him to maintain the typical teenage routine. However, he does still like to do some 'normal' teen things. When he isn't working, Nicolas enjoys skating and riding his RipStik.
7. He Has Mexican Roots
Nicolas was born and raised in Austin, Texas but his family's roots are actually in Mexico. During his stand-up routine, Nicolas joked about how he doesn't look like the rest of his family. In addition to being proud to be from Texas, Nicolas is also very proud of his Mexican heritage. In 2017, he and his family took a trip to visit Mexico.
8. He Loves To Give Back To Others
Nicolas has a huge social media following and he has used his platform to help those in need. In 2020, Nicolas teamed up with SMP Live to help raise money for Crisis Text Line. Nicolas was able to help bring in over $26,000 for the organization which provides free mental health services via text.
9. He Enjoys Interacting With His Fans On Social Media
Not only does Nicolas have lots of followers on social media, but he also likes to interact with them as much as he can. On his Twitter account, it's not uncommon to see Nicolas responded to tweets from his fans or answering questions. Most would agree that one of the coolest things about following a celebrity on social media is that you might actually get a chance to engage with them.
10. He Likes To Play Video Games
Video games are something else Nicolas likes to enjoy in his free time. He has been a gamer for several years and even made a video in 2019 discussing his opinions of Minecraft. In the video, he shared that he spent many hours playing the game. He also enjoys playing other games such as Fortnite.