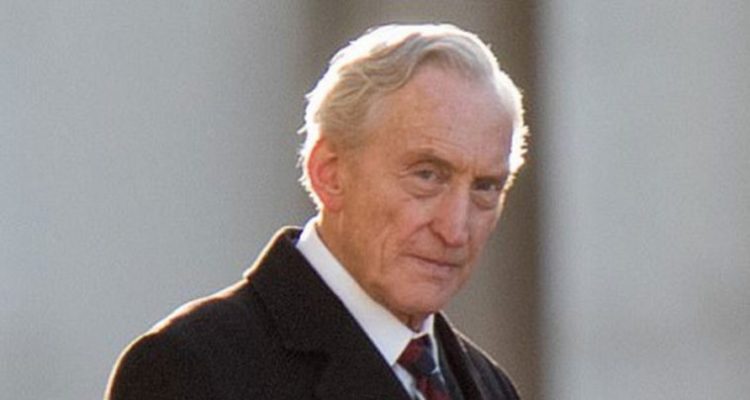 If you haven't watched Game of Thrones then it's likely that you might not quite know who Charles Dance is since he had such a prominent role in the HBO series as Tywin Lannister. Charles has been around since the 70s though, so anyone that hasn't seen him likely hasn't watched a lot of movies. He's played a villain quite often but he can be a very personable good guy, someone who's sophisticated, polite, and still right to the point when he needs to be since there doesn't appear to be a lot of desire on his part to beat around the bush in some roles that he's taken on. At the age of 74, it feels safe to say that he's starting to age out of many roles that he might have enjoyed when was still a decade or two younger, but he has managed to hang on and present himself as a kind of elder statesman of the acting world since to be fair, he's been in the business longer than many of his costars have been alive. This means he's seen quite a few changes come to the business over the years and has no doubt had to weather some of them as he's gone from movie to movie and show to show. But through all of it, he's continued to be someone that's absolutely impressive when he plays a role. And even better, he can take on a campy role and still rock it fairly well since he's just that good of an actor.
Talking about all of his roles would take too long, so taking on a few of them to discuss sounds like it would be a better idea. He did star with Sigourney Weaver in the ill-fated Alien 3, where he took on the part of an inmate and doctor by the name of Clemens. The sad thing about this character is that, like many of those that get close to Ripley, he ended up in an encounter with the xenomorph that had come to the prison planet and had a set of inner jaws thrust through his skull, and not too long after he'd revealed his backstory to her since she had asked why he had a barcode on the back of his neck like the other prisoners. He also played the villainous role of Benedict in Last Action Hero with Arnold Schwarzenegger, which was an odd choice since he wasn't much of a physical combatant at that point, and even if he had been he wasn't in Arnold's weight class and would have been rightfully stomped. But he did still fulfill his role despite the goofy nature of the movie.
One role that he felt perfect for was that of Tywin Lannister on the series Game of Thrones since as an older character he was ruthless, he was poised, controlled, and completely in control of himself and his house, as much as he could be. Tywin was the kind of lord that didn't brook any insolence from those that were beneath him and didn't suffer fools gladly. The fun part of this role came off-screen when it was shown that he eased back just like everyone else and was on good terms with his fellow costars and could laugh at mistakes and bloopers every now and then since he made them as well. This is the kind of actor he is though and it's fun to see since those that are just too uptight tend to be a little less fun and way too rigid. But there are other roles that he's taken on throughout the years, within the last decade in fact, that have shown his characters to be utterly ruthless, even more so than Tywin Lannister. His role as the master vampire in Dracula: Untold was kind of interesting since he was a man infected by a demonic spirit, as the tale went, and was looking for someone that could lift his curse so that he could step into the light once again. Once he found him, things appeared as though they might get a little more interesting, but then a sequel never came and we were kind of left flat.
His time in Godzilla: King of the Monsters, was kind of interesting as well since he played the villain again and was just as ruthless as any of them since he was trying to set titans loose to help them cleanse the earth for his own agenda. In short, Charles Dance is the kind of guy that looks severe, can act as the bad guy in a very convincing way, and is someone that you might think would be incredibly uptight, but as it's been shown he's actually the kind of guy that's worth remembering for his acting talent and because he's a pretty decent guy.