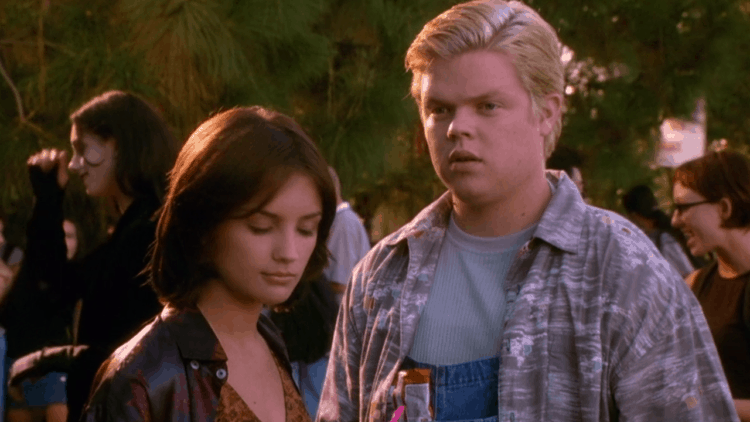 If a person doesn't remember Elden Henson from anything in the past it's likely that they didn't watch a lot of movies as a kid. True, a lot of us were out playing and having a good time when we were younger since our parents didn't always over us and playtime was usually from dawn to dusk, but there were still plenty of chances to watch movies and TV shows that would afford a person the chance to enjoy those actors that made our favorite movies enjoyable back in the day. It's fair if you don't remember Henson from anything he did before The Mighty Ducks trilogy since it might be that he was kind of hard to recognize up until then since he hadn't done anything worthy of note just yet. But after The Mighty Ducks, his popularity soared since it was fun to see what else he could do. He became known as the big guy that did a lot of damage so easily that it was hard to think that he could do anything else, which means he was very easy to fit into a stereotype at one point, and it would have been easy to keep him there for a while, but thankfully he pushed through it and became the actor that people know today.
Let's start out with the most popular role that he played, Fulton Reed. Fulton was, without a doubt, a powerhouse as a kid since he was great at his one special shot, but throughout the movies it became obvious that as an enforcer for the team he had a little more range and was able to learn a great deal from Gordon Bombay, played by Emilio Estevez. The first movie kind of established him as a hard hitter and a valued teammate, while the second movie made it clear that as big as he was, Fulton wasn't the only big kid on the ice since Dean Portman, played by Aaron Lohr, was brought in for team USA to use as another enforcer. The two became the notorious Bash Brothers, who were the powerhouse duo for the team but were still kind of hampered by the fact that they would fly off the hook from time to time. It was kind of a surprise to see Portman return in D3, but it was definitely amusing since watching a team that had played on a national stage being brought back down to the high school level, or up, or down, it's hard to say, was kind of a reality check. But if one is being honest, the Ducks relied on a lot of tricks that probably wouldn't work in real life, especially if going up against seasoned players.
Henson has actually stated that he values the experience that being a part of The Mighty Ducks brought him, since people happen to know him by this role and still speak on it, which he doesn't mind that much. But his other roles, while not quite as substantial, have still been fun to watch since he played the part of Jesse in She's All That, the big-hearted best friend that wants nothing more than to see his friend be happy and ends up hooking up with the sister of the guy that's trying to date his best friend. It's a high school movie, it gets complicated. The same year though he did show up in a movie called Idle Hands with Seth Green, Devon Sawa, Jessica Alba, and Vivica A. Fox. The movie wasn't much to look at, but it was kind of funny in a dark and very odd sort of way since Sawa played a kid whose hand becomes possessed by a demonic spirit as he kills his parents and his two best friends, one of whom is played by Henson. Unfortunately, since his hand was possessed, the two friends are turned into undead corpses that still retain their sense of self, which makes for even more hilarity. Henson has played in plenty of movies where he's a supporting character or an extra, such as The Butterfly Effect with Aston Kutcher, where Henson played the character of Lenny, a best friend to the protagonist that had to suffer through the many changes that Kutcher's character made to the past throughout the movie.
But one role that a lot of people have probably seen him is that of Foggy Nelson in Netflix's Daredevil. He's not just comic relief thankfully, but he does offer a healthy heaping of comedy all the same, which he admits to. But it's been a solid enough career for Henson at this point and it's fair to think that we'll continue to see him pop up here and there as the years roll on, since he's had a pretty solid run thus far.