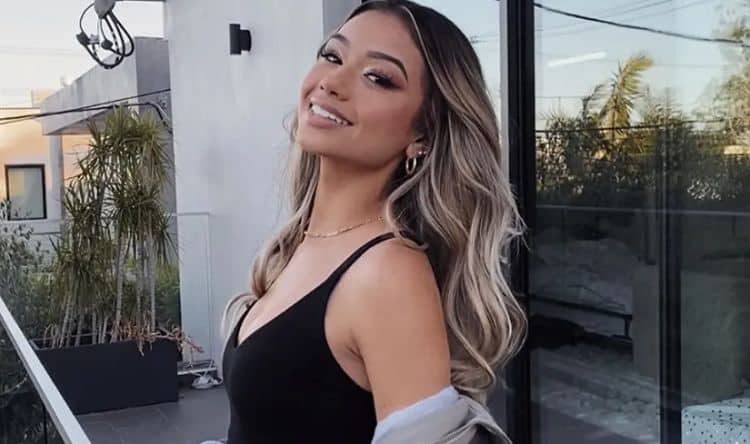 Kaylee Perreira is living the good life. Not only did she recently graduate from high school, but she's also a social media star with hundreds of thousands of followers. Kaylee is most popular on TikTok where she's made a name for herself by making dancing and lip syncing videos. She also does lots of collaborations with other popular TikTok users. She's also built an impressive fan base on Instagram. Despite the impressive success she's had on the internet, Kaylee seems to be dedicated to remaining humble. She's enjoying every moment of the spotlight and she isn't taking a second of it for granted. Keep reading for 10 things you didn't know about Kaylee Pereira.
1. She Struggles With Acne
Lots of teenagers –and people in general– suffer from acne. Not only can it cause people to feel embarrassed about their skin, but it can also be irritating and painful. Many people who have acne do their best to keep it hidden, but Kaylee has been very open about the struggles she's experienced with her skin.
2. She's Been On Social Media For Years
Over the last several months, there has been an increase in people who have suddenly blown up on social media. Since the circumstances of the pandemic have resulted in people being having to spend more time at home, it's translated into people spending more time on social media. However, Kaylee isn't one of the influencers who just started posting on social media during the pandemic. She's actually been on social media since 2013 when she started a YouTube channel.
3. She Has A Diverse Ethnic Background
Kaylee posts a lot on social media, but she doesn't post much about her personal life. Many of the basic details of her life off of the internet have been kept off of social media. However, we do know that Kaylee has Portuguese and Thai ancestry but she hasn't been any more specific than that.
4. She Loves To Spread Positivity
Social media can be a toxic place. What was once simply a place for sharing photos and life updates, has become a playground for bullies and those looking to spread negativity. However, Kaylee refuses to feet into that. Instead, she prefer to focus on creative a positive environment for herself and her followers.
5. She's A Vlogger
Kaylee doesn't have a big following on social media, but she doesn't let that stop her from vlogging. She's uploaded several videos over the years that show different elements of her daily life. Although she only has a little over 3,000 subscribers, the total views on her videos are over 32,000.
6. She's A Brand Ambassador
Having lots of followers who are engaged with the content you post is the perfect recipe for a brand deal. When brands see you have a captive audience that fits their target market, they're usually excited to work with you to sell their products/services. Thanks to her popularity online, Kaylee has gotten the chance to work with brands including Princess Polly Boutique.
7. She Has Posted In Support Of Black Lives Matter
Sharing opinions on topics like race, religion, and politics can be difficult for some people to do. This is especially true for people whose business/platform could be negatively impacted by their opinions. But that hasn't stopped Kaylee from speaking out against police brutality and racism, and speaking up for the Black Lives Matter movement. In an Instagram post on June 1, Kaylee said, "black lives matter… use your voice, sign petitions, protest, donate. Anything and everything helps. We are all made equal and I will always stand for what I believe in and do everything I can in my power to help and support. I will never understand because of the privilege I've been blessed with, but I will always stand and fight for what is right."
8. She Works With A Talent Agency
It's becoming increasingly popular for social media influencers to work with talent agencies. These agencies can help influencers capitalize on their popularity and provide them access to other opportunities. Kaylee Pereira is working with with an agency called Six Degrees of Influencer although it's unclear if she's officially signed to them.
9. She Loves Spending Time Outdoors
Being a social media influencer makes Kaylee a little different from most of her peers, but underneath it all she's still a typical teen. When she has free time, she loves to hang out with her friends and enjoy the outdoors. From hiking to swimming, you can usually catch Kaylee enjoying a beautiful day.
10. She Loves Fashion
Putting together an outfit you love is about more than how it looks. In a lot of cases, it's also about getting the chance to express yourself. Kaylee may not be a professional model — at least not yet — but she loves to put together outfits and get in front of the camera.