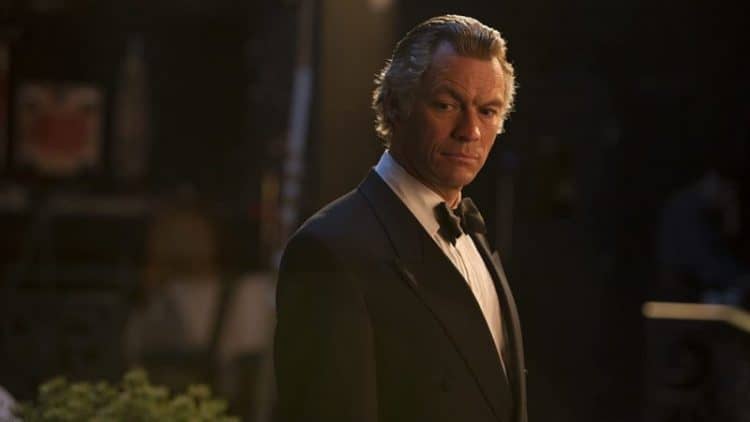 We still have to wait a year before The Crown hits Netflix again with a brand-new cast, but the showrunners haven't been stingy with the deets. The biggest update so far is Imelda Staunton taking over as Queen Elizabeth II, a role that she's both excited and worried to take on. She has all the reasons to be nervous. She's following the footsteps of two great actresses who played the same role, Claire Foy and Olivia Colman, both of whom won Emmy Awards for the same character. We're sure she'd do well, however, given that she's been nominated for an Oscars before. Meanwhile, Jonathan Pryce is set to play Prince Philip, taking over from Tobias Menzies who played the late prince for two seasons of The Crown. Menzies himself inherited the role from Matt Smith, who played Prince Philip in seasons 1 and 2 of The Crown and recently played a character in Last Night in SoHo. We should also expect two more prominent actors to play roles in season 5 of The Crown, Elizabeth Debicki, who will be portraying Princess Diana, and Dominic West, who is taking over Prince Charles from Josh O'Connor.
Looks like Josh is going to be relieved to pass down the baton to Dominic West, telling Town & Country that he had to empathize with the Prince of Wales despite disagreeing with some of his choices. "Prince Charles is a tricky one. I think you have to part ways with the real version of him in order to capture something unique or different," O'Connor said. "There's the sacrifice you sometimes have to make… I just remember there was this amazing thing that Peter Morgan, the writer, said to me very early on. He was like, 'Just try to remember that this boy shares his mother with an entire nation of people.' I was like, oh, my God. It's a terrible affliction on some young kid. So every time someone says, 'Is that a bit harsh the way you're playing him?' I go, 'No. I think he's going through the wringer.'" Fans are excited to see how Dominic West will take on Prince Charles in The Crown. Where else have we seen Dominic West in?
300
Before playing a member of the Royal Family, Dominic West was a Spartan, having portrayed a character named Theron in the 2006 movie. He co-starred with Gerard Butler, David Wenham, Lena Headey, and Vincent Regan. Best known for its stunning visuals and amazing action sequences, 300 released to mixed reviews, with Roger Ebert publishing its harshest review for the Chicago Sun-Times (via RogerEbert.com): "300 has one-dimensional caricatures who talk like professional wrestlers plugging their next feud."
Appropriate Adult
Appropriate Adult is a British true-crime TV drama, based on real-life serial killer Fred West and his wife Rosemary West. Fred West is played by Dominic West (the similarity in surnames is just a coincidence), with Rosemary West being portrayed by Monica Dalon. Talking about playing a serial killer on screen, Dominic West said the project gave him nightmares, according to BBC. "I have this recurring dream where I'm perched on a wall and Fred West is trying to grab me and pull me down," said West. The TV movie was critically acclaimed, with West winning a Best Actor award at the 2012 British Academy Television Awards, but the movie was also criticized for "causing pain" to the families of West's victims. However, the actor defended the project, saying: "I think it's effective without being sensational in any way. Thousands of people still go missing in this country every year and are never found. Fred West preyed on runaways without being caught for 25 years. We should not forget this case, because there could be others like him."
Burton & Taylor
Playing another real-life person, Dominic West portrays Hollywood star Richard Burton, during the latter stages of his life, in Burton & Taylor. Helena Bonham Carter, who played Princess Margaret in seasons 3 and 4 of The Crown, co-starred in this film as Elizabeth Taylor. Burton & Taylor was critically acclaimed during its release. Washington Post's Hank Stuever, singing praises for West and Taylor, wrote: "Bonham Carter offers up a sympathetic Liz who is in the process of squandering her talent; West makes Burton's brokenness seem like a noble resignation. And both seem surprised that each other's company is no longer the cure for what ails them."
The Affair
Dominic West starred in Showtime's The Affair for five seasons, from 2014 to 2019. Ruth Wilson, Maura Tierney, and Joshua Jackson also starred in the series. For his role as Noah Solloway in the series, Dominic West won a Satellite Award for Best Actor in 2015. He was also nominated for a Golden Globes for the same character in the same year. In a review of The Affair for KSDK, Dan Buffa emphasized Dominic West's acting, writing: "The acting made the show great. Without great acting, good drama is futile, a fog hanging over a television without purpose. West is known best for his diligent work on HBO's "The Wire," playing another imperfect yet endearing and good-hearted soul in Detective Jimmy McNulty. But I'd argue his work on Solloway equals or surpasses that performance. It's a tougher assignment. Playing a cop who flirts with corruption and makes bad choices isn't exactly new hat Hollywood; a famous author turning his own troubled life into engrossing, yet poisonous fiction is so much more interesting. West made all of that seem authentic."
The Wire
The Wire was one of Dominic West's first regular TV projects, playing Detective Jimmy McNulty for 56 episodes of the series. According to GQ, Dominic West's audition tape for The Wire was finished in one night, with his then-girlfriend helping him out with the dialogue: "To read, I was given one scene from the pilot and nothing else, and I put myself on tape. I didn't think much of it, but it got too late in the night, and they wanted it the next day, so I got my girlfriend to read the dialogue. It was a scene between McNulty and Bunk, and she read the Bunk part and I held the camera and I did McNulty. She couldn't stop laughing at my accent, so I sent her out of the room and I had no one else and it was late, so I just left a gap for when Bunk spoke and reacted to whatever he was supposed to be saying and sent it off to them."
Tell us what's wrong with this post? How could we improve it? :)
Let us improve this post!