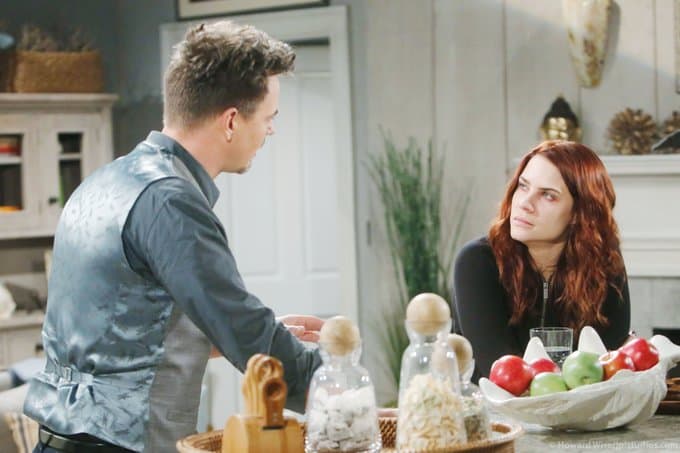 Bold and the Beautiful fans aren't surprised that Flo would go back on her decisions. She's a woman who made a poor choice, and it's finally starting to hit her. She's not sure she's happy that Sally is still alive, and she's not having a good time with that. She's taking her detective work to the next level. She's not happy with anything that is going on right now, and that includes the fact that she believes that Sally should already be dead, but she is not. Remember, Flo only gave up her time with Wyatt because she thought that Sally would die in a few weeks' time and she'd get to have him back for the rest of her life without the worry that Sally would be around anymore. Now that it's been some time, and Sally is not dead, she's wondering what is going on. And she's breaking into the computer of the good doctor.
Meanwhile, Quinn is standing her ground. Other than the fact that her own husband is upset with her for what she did, she's not feeling all that bad about anything that is going on with Brooke and Bill and anyone that was involved in that train wreck. In fact, she's made it her mission in life to feel so UN-bad that she's not even going to entertain the idea of saying she is sorry to anyone for anything. She's done with that, she's over it, and she's not going to make it a thing. And, we have to admit that we think it's pretty awesome that she literally does not care in the least that anyone is mad at her, and that she keeps pointing out they did this to themselves. If they didn't share that kiss, she couldn't share that kiss.
What's Happening on Bold and the Beautiful
Sally does her best to hide her hatred of Flo when she is blindsided by her and Wyatt. WATCH FULL EPISODE: https://t.co/zir8qB2CFD #BoldandBeautiful pic.twitter.com/UEYygU99NW

— Bold & The Beautiful (@BandB_CBS) April 15, 2020
It cannot be easy.
What's Next on Bold and the Beautiful
Sally sees a happy ending with Wyatt, but there's just one thing in the way. Tune in to see what happens on #BoldandBeautiful this week! pic.twitter.com/CYtt2EUxZo

— Bold & The Beautiful (@BandB_CBS) April 12, 2020
Once again, it's Friday. You know what that means. Honestly, not that much. Is there a difference in the days anymore? Is this day really that different than all the days before lately? We know that tomorrow at least means we aren't getting up and logging our kids into their morning zoom meetings with their teachers and doing iReady and Study Island and other work. It means most of us aren't logging into our own computers and working while our kids are home interrupting our regular schedule. But, it doesn't mean we are doing anything, really. We can't travel. We can't go anywhere. We can't do anything. It's a lot of downtime, and that's all right. But, it's Friday. Friday means we get to see flashback.
So far, what's going to go down in LA on Friday is not something we know. The show has been keeping it pretty close to the vest as they choose what to air, and that's all right. Since you've seen it already, you don't really need a spoiler. But, you also know that this means you get to see something that is exciting and fun, and that's something we adore. We love when you get to see something that you've seen before, but this time you get to see it without as much stress. It is more enjoyable and fun to see things this way, so we are down for it. We hope it's another wedding or a baby being born or a major drama being discovered. Either way, though, we cannot wait to see it.
Stay tuned for more The Bold and the Beautiful and be sure to check out TVOvermind daily for the latest The Bold and the Beautiful spoilers, news, and updates.