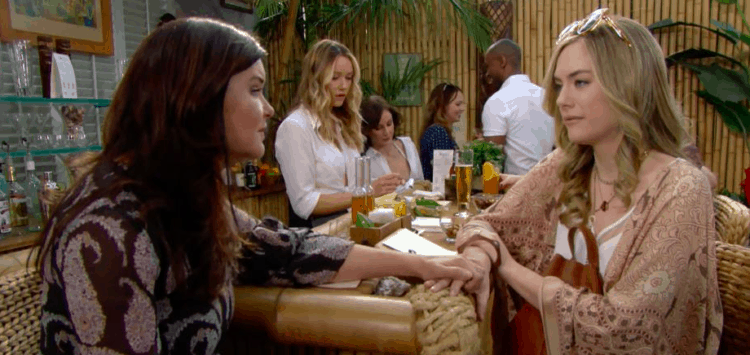 Bold and the Beautiful fans are not going to believe that this storyline is still going on, but it is. We know that Flo has been hearing a lot from Zoe about what is going on in the world, and Zoe has no patience for this woman not sharing the truth with Hope. But, Zoe hasn't shared the truth with her, either. She's allowing a woman to think her baby died, to give up her marriage, and to allow another woman to raise the wrong baby, too, and that makes her no better than anyone else. But, Flo is going to hear Hope speaking with her aunt Katie about things in her own life, and it's not going to end well for anyone. She's overheard her talk about encouraging her husband to go be with Steffy so that he can parent both of those little girls. It hurts her to hear this.
Liam has gone to his brother for some advice, and we might all be very surprised by what he's going to hear from Wyatt. Wyatt is in a very happy place right now with his own girlfriend and his own life, and he might just tell Liam that he should leave his wife and go be with his ex and their daughter and new adopted daughter. It might be shocking to hear this, but he feels that Liam will do better to just honor Hope. He's not sure that Hope can come back from this one. The loss of her daughter was too much for her to take, and she's crushed by all of it. It's not good news for her in the least, but we think that it might just be the answer to everything she's been dealing with. It might be her own salvation.
What's Happening on Bold and the Beautiful
Sally and Wyatt are moving on to Spencer! #BoldandBeautiful pic.twitter.com/xovgMGBomf

— Bold & The Beautiful (@BandB_CBS) February 28, 2019
We loved this moment.
What's Next on Bold and the Beautiful
Betrayal, lies, and threats all lead to the breaking point this week on #BoldandBeautiful! Make sure you tune in. pic.twitter.com/ijdKmWadKC

— Bold & The Beautiful (@BandB_CBS) March 3, 2019
Zoe isn't going to share what she knows with Hope, but she is going to do what she can to get Flo to do it herself. So, she's introducing Flo to Hope as the mother of the baby that was just adopted by Steffy. She knows how Hope feels about this baby, and Flo will be crushed to meet this woman and actually see for herself who is hurting by this entire situation. After hearing what Hope is giving up and how she is feeling about her own life, she will then meet her and feel even worse about it all. But, will she actually make the right decision and share with her the fact that this baby is hers and that it was all a lie? We don't think so. In fact, we hear she's just going to try and convince Hope to have another baby as if that's the best option.
Wyatt will continue to share with Liam that he might consider what Hope wants. He's not sure Hope will ever get over this, and he feels that spending his life with his family when he wife doesn't want him around is probably for the best. But we know that Liam will not be okay with this. And we also know that not one person has considered how Steffy feels about all this. She took herself out of the running in the beginning, and now they are all putting her back in there like it's not even her own choice.
Stay tuned for more The Bold and the Beautiful and be sure to check out TVOvermind daily for the latest The Bold and the Beautiful spoilers, news, and updates.
Tell us what's wrong with this post? How could we improve it? :)
Let us improve this post!